Greetings from the keystone state! I'm in Pennsylvania again for my best friend's bridal shower (hi Jen!). Before I left the city, I squeezed in a speedy workout. My IT band has been bugging me (boooo), so I did the workout at my gym. I thought I might have to cut the workout short and switch to the elliptical or bike, but luckily my legs ended up feelin' pretty good.
Here's the workout:
1/2 mile warm-up
3 miles @ half-marathon pace (21:49, ~7:16 pace)
1 mile recovery jog
3 miles @ half-marathon pace (21:45, ~7:15 pace)
1 mile cool-down
8.5 miles total
After my run I scarfed a banana and thennnnn….Megan and I went to 16 handles for dinner!
Maybe not the healthiest post-run meal, but it was delicious. I love self-serve froyo. My cup was filled with red velvet (amazing!), dulce de leche (delicious), peanut butter (very good), and cookies & cream (a little bland). I topped the froyo with bananas (hey, at least I included a fruit!), hot fudge, Reese's, and chopped peanuts. Mmmm. I want to go back. Now.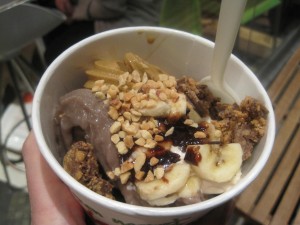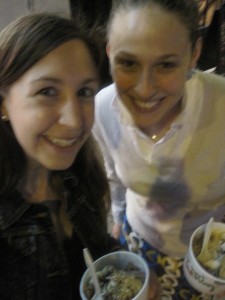 I also had some Kashi Go Lean Crunch cereal when I got home. I love froyo, but 8 1/2 miles of running made me h-u-n-g-r-y.
Friday morning involved an easy 4.5 mile run and a breakfast that I don't remember. I think it involved a banana. And then the best mom ever (mine!) came to pick me up. We hit the road and headed to Pennsylvania for the weekend, stopping at Panera Bread for lunch. Sadly there are no Panera Bread's in NYC, so I have to get my fix on the New Jersey Turnpike.
I love Panera Bread – so easy to choose healthy options! I ordered the black bean soup, 1/2 Mediterranean Veggie Sandwich, and a whole grain baguette.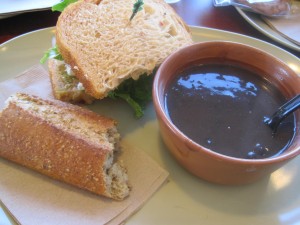 Veggies!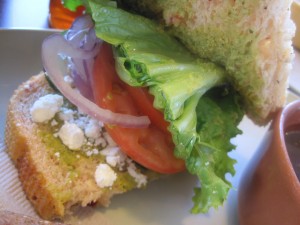 One of my favorite things about visiting the fam is having people to cook for! I based my dinner creation on Alma's peanut butter pasta recipe.
Peanut Noodles with Shrimp and Green Beans (serves 6)
Ingredients:
1 lb environmentally-conscious shrimp (defrosted)
1 box of linguini
1 bag frozen green beans (or your favorite vegetable)
1/4 cup rice vinegar
1/4 cup soy sauce
1/2 cup peanut butter
Chopped parsely
Sriracha sauce, to taste (I brought my bottle all the way from NYC!)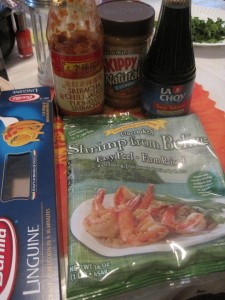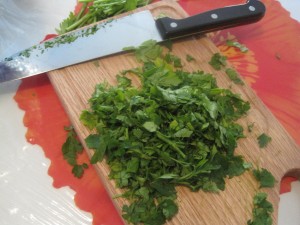 Directions:
Add the shrimp to a pot of boiling water and cook until opaque, about 2-3 minutes, drain and rinse under cold water
Allow another pot of water to come to a rolling boil, add a dash of salt, and cook linguini until al dente, about 9 minutes
During the last 5-7 minutes that the pasta is cooking, add the green beans, once everything is cooked through, drain in a colander
In a medium dish combine rice vinegar, soy sauce, peanut butter, and sriracha sauce – mix until combined into a sauce
Put the pasta, veggies, and shrimp in a large pot or bowl – add the sauce and stir until everything is coated.
Serve and sprinkle with parsley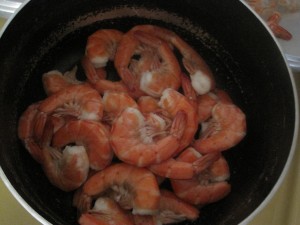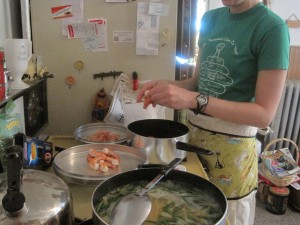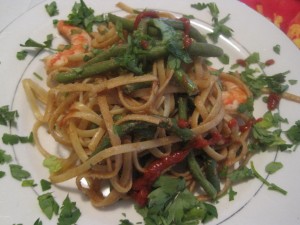 The peanut noodle dish is good served hot or as cold leftovers the next day. The combination of veggies, lean protein (shrimp!), and healthy mono-unsaturated fats (peanut butter) makes it a very balanced dish. AND it's fairly economical:
$7.99 for 1 lb shrimp
$1.00 1 lb pasta
$1.00 bag of frozen veggies
~$1.00 peanut butter, soy sauce, vinegar, sriracha used in recipe
Total $10.99 for the entire recipe, or about $1.83 per serving
After dinner, I put my baking apron on and attempted to make the crispy salted white chocolate oatmeal cookies featured on Smitten Kitchen. Well. The cookies ended up tasting good, but the execution turned into a bit of a disaster. The cookies ran together on the pan and the result was one big giant cookie. Oops. I wasn't about to let 1/2 lb of butter go to waste, so I cut the cookies into squares and then trimmed off the edges. I eventually ended up with round-ish shaped cookies. And a stomachache from eating all the leftover cookie bits. If I were to make this recipe again (it was yummy, I might) I would reduce the butter to 12 Tbs (vs 14 Tbs), chill the dough for 30 minutes before baking, and use parchment paper on the cookie pans.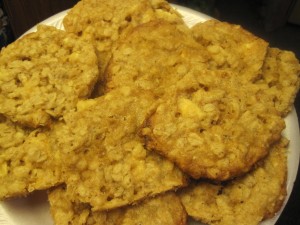 You'd almost never know this was once part of a giant cookie, eh?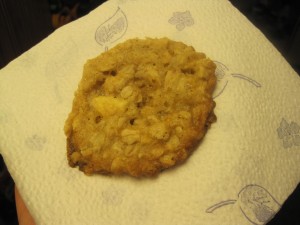 Looking for something fun to do in NYC tomorrow evening? A very cool group of musicians (including my roomie, Alma!) will be holding a FREE concert at the Upper West Side Apple store. The show begins at 7pm. I'll be there!
The latest from True/Slant: Drugs, Running, and LaShawn Merrit.
Question: Have you ever had any baking mishaps? i.e. a giant cookie or a burnt pie crust?