Jam-packed is the best way to describe my weekend. Between travelling to and from Pennsylvania, visiting with my family, bridal shower duties, and time with friends, I felt like I was constantly on the go. I had hoped to do a long run (10+ miles), but that just didn't happen. My motto is – "If you can't run far, at least run fast!" On Saturday I squeezed in a 3-mile run before heading out for drinks with some friends and then on Sunday I managed to fit in a speedy 4-mile run. I got back to my family's house approximately 50 minutes before I needed to get on the bus to NYC. Obviously I didn't have time for a long run, so instead I ran about 4 miles in 29:38 (~7:24 pace). I had about 5 minutes to change into dry clothes (it was RAINING) and hop in the car, but it was worth it! When I travel home for special occasions I plan on being flexible with my running schedule. Knowing that running won't be a priority for a few days motivates me to fit in quality workouts before I leave the city – i.e. the tempo run I completed on Thursday.
Taking a break from my training schedule allowed me more time to spend time with my BFF from high school – Happy Almost Married, Jen! On Sunday, we celebrated the upcoming nuptials with a lovely bridal shower at Kazimi's restaurant.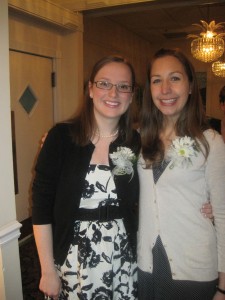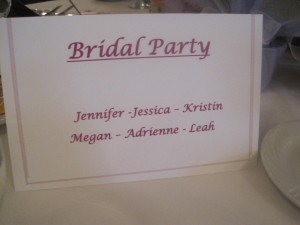 I loved the sweet garden-themed centerpieces! The mother of the bride really knows how to throw a great party 🙂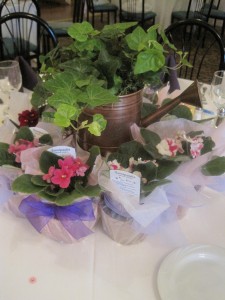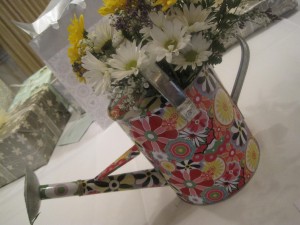 The wishing well (for small household gifts).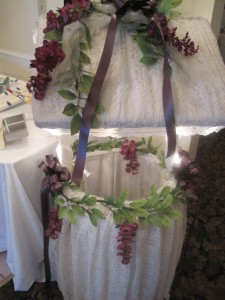 Each guest contributed a recipe card for the couple – I wrote down the recipe for my Peanutty Root Vegetable stew.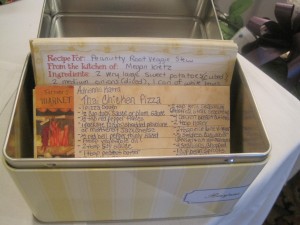 Lunch  started off with a salad – mixed greens, walnuts, feta cheese, and raspberry dressing.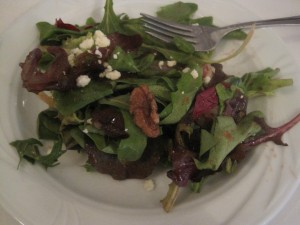 Veggies, roasted potatoes, pasta alla vodka, and baked haddock with zucchini pesto. Perhaps the only things I ate all day that did not contain sugar. Hee-hee.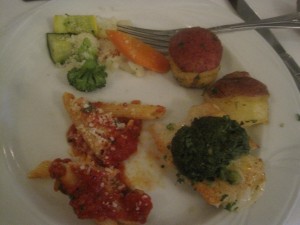 Homemade frosted cookies! The clothespins were part of a bridal shower game 🙂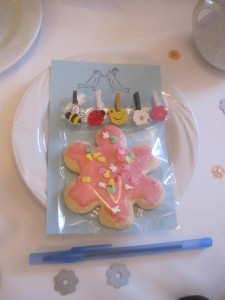 Nibbles for the table: chocolate-covered pretzels, popcorn, and potato chips.
Mmm, cake.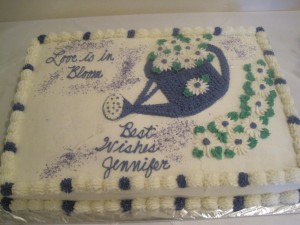 My favorite part of the whole day – a container full of homemade cookies!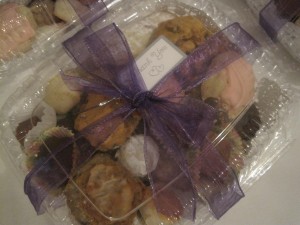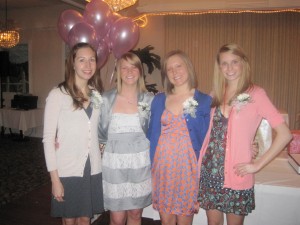 The bridal party – Megan, Krissy, Jen (the bride-to-be!), Adrienne, Leah, and Jess. We wore matching Vera Bradley aprons as we helped Jen unwrap her mountain of gifts. We were workin' hard!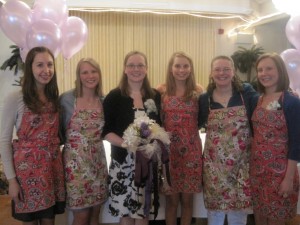 All of the cookies I consumed this weekend must have fueled me well – I woke up on Monday morning and knocked out 10 miles before work. I ended up running pretty swiftly for an easy run (~8:00 pace) and felt awesome. YAY.
The latest from Running Shorts on True/Slant: If the shoe doesn't fit, don't wear it!
Want to run faster this summer? The NY Times says: Drink a slushie!
What's your favorite type of summer treat – ice cream, froyo, italian ice, gelato?
How do you fit in running/exercise when you're pressed for time?