Free (!!) coffee at Starbucks tomorrow. Bring in a reusable mug and get your morning brew gratis on April 15.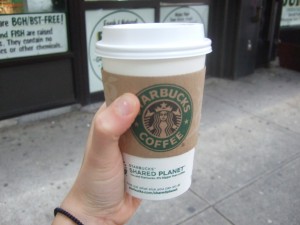 So after 72 hours of rest, I was itching to run again. Unfortunately my piriformis/IT band did not take well to nearly 3 days off. WTF?? I was extremely tight yesterday (probably from sitting at my desk all day) and the workout was not one of my best. Also, apparently I have remedial math skills and was unable to correctly figure out how far 1000m is on the 'mill. For some reason, I assumed that 1000m = .67 mile. When I got home and used a calculator, I figured out that 1000m actually = .62 mile. Oops. That is reason #45678 why tracks > treadmills when it comes to speed workouts. I was way confused as I tried to calculate the intervals and recovery jog  (example: .67 mile fast + .25 mile recovery = .92 mile total, .92 mile + another .67 mile fast + another .25 mile recovery = gahh!!??)
Here's what the workout ended up being:
1.333 mile warm-up (~8:50 pace)
5 x 1075m @ 5k pace (~6:44 pace) with 400m jog recovery
1.5 mile cool-down (~8:50 pace)
Total: 7 miles in about 57 minutes
Today's run was with the Wednesday Central Park crew – Jacqui and Megan! I ran for 1 hour, 16 minutes. I'm guessing it was somewhere between 8.5 and 9 miles? The weather was delightful – much better than last week's 90+ degree temps.
IT band hurting? Mine is. And the foam roller is my new BFF.
Stressed out? Bad mood? Go for a run! It will make you feel better. Promise.
How to make speed workouts fun (yes, really!).
Are you a runner? Caroline wrote a great two-part series on what you need to know about preventing bone loss. Read part 2 here!
Chelsea is hosting a Barney Butter give-a-way. Check it out!
Question: Starbucks, Dunkin' Donuts, or Other??