Curious about my top-secret baking project from the other night? It was a cake for Alma's birthday. Happy 26th roommate!
Inspired by Megan and an Epicurious recipe, I decided to make a chocolate stout cake. With nearly 400 great on-line reviews, I know this was going to be a winner. I topped the rich chocolate cake with a simple whipped cream icing and fresh strawberries.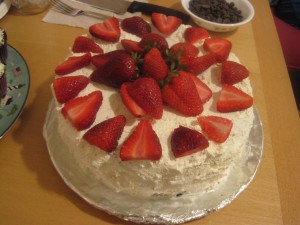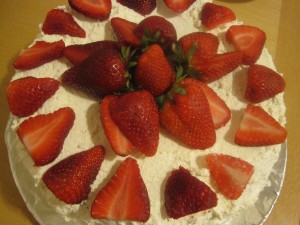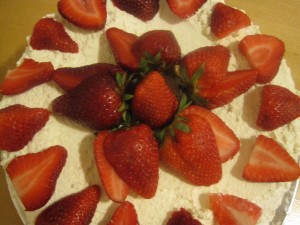 The batter made 9″ double-layer cake and 12 cupcakes.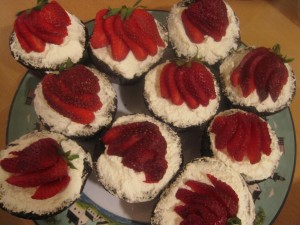 Chocolate Stout Cake with Whipped Cream Icing (Adapted from a Bon Appetit recipe)

Ingredients:
16 oz stout beer
4 sticks of butter
1 1/2  cups unsweetened cocoa powder
2 cups whole wheat flour, 2 cups all-purpose flour
4 cups sugar
1 Tbs baking soda
1 1/2 tsp salt
3 eggs
1 1/3 cups Greek yogurt
2 cups heavy cream
1 tsp vanilla
2 Tbs sugar
fresh strawberries, sliced
Directions (Cake):
Preheat oven to 350°F. Lightly grease two 9″ cake pans and one cupcake pan.
Bring 2 cups stout and 4 sticks butter to simmer in heavy large saucepan over medium heat. Add cocoa powder and whisk until mixture is smooth. Remove from heat.
Whisk flour, sugar, baking soda, and 1 1/2 teaspoons salt in large bowl. Using a stand mixer, beat eggs and yogurt in another large bowl to blend.
Add stout-chocolate mixture to egg mixture and beat just until combined. Add flour mixture and beat on slow speed.
Mix together batter until completely combined. Pour into cake/cupcake pans.
Bake cakes until tester inserted into center of cakes comes out clean, about 35 minutes (25 minutes for the cupcakes).
Cool cakes completely and then remove from pans.
Directions (Icing):
Combine heavy cream, vanilla, and sugar in a bowl and chill for 30 minutes.
Using the whisk attachment on a stand mixer (or hand mixer), beat cream mixture until stiff peaks form.
Frost cake with whipped cream and decorate with strawberries.
Refrigerate until ready to serve.
The cake was gobbled up by our party guests in under an hour – success!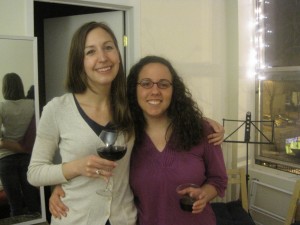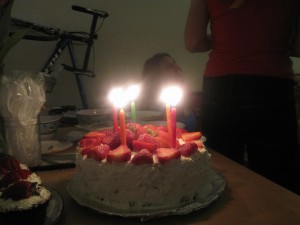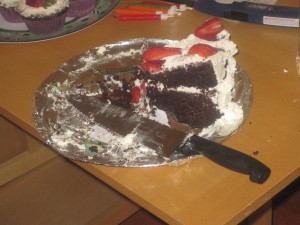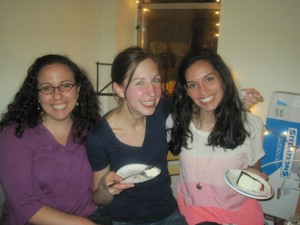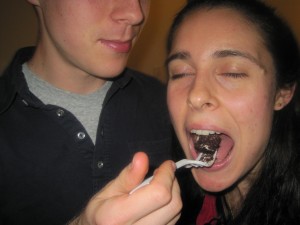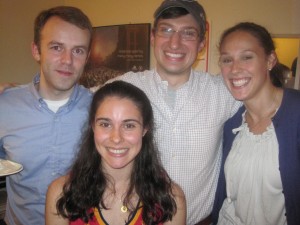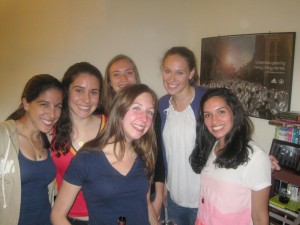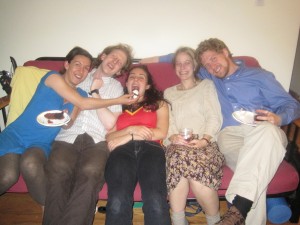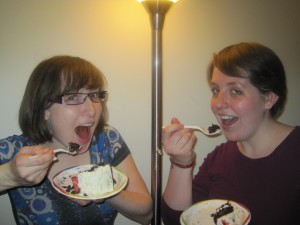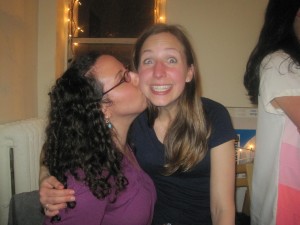 Congratulations to Kate – winner of the Vitatops! Kate – email me your mailing address at runnerskitchen@gmail.com
kate says:
If only there were more Costcos in Iowa! I love the chocolate with chocolate chips – yummmm!
Question: What's the best type of birthday cake?