Happy Wednesday night! We are 3/5 of the way through the work week. Weekend, PLEASE come soon.
It's been awhile since I showcased an entire day's worth of eats and running, so I decided to record everything on Tuesday. Unfortunately my camera battery died and I had to use my camera phone (boo, poor resolution). Anyway, my a.m. meal was the usual coffee, a "breakfast cookie" made with oats, pb, 1/2 smashed banana, raw cacao powder, ground flax, and chocolate chips. Plus a vanilla chobani on the side. It's been awhile since I've had flavored Greek yogurt. I think I prefer the plain.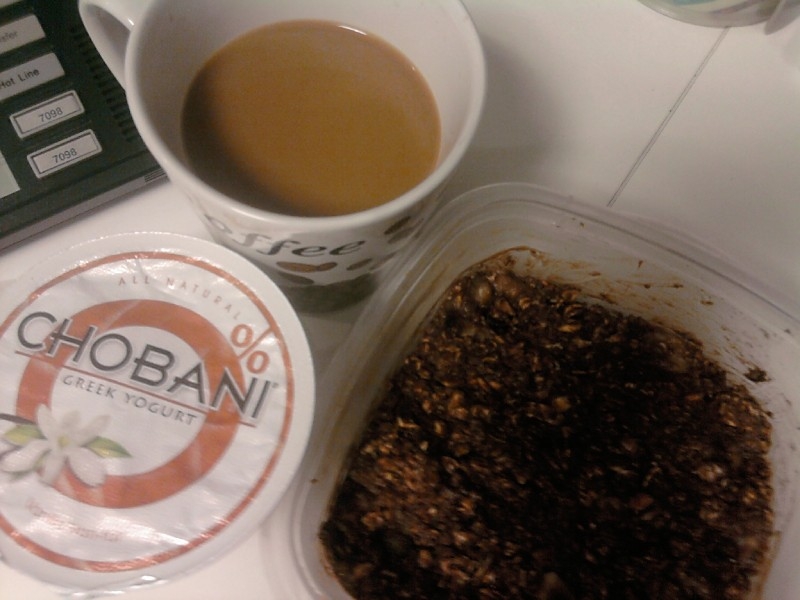 Lunch involved a seltzer (a good substitute for my vice, Diet Coke) and a salad comprised of arugula, grated carrot, goat cheese, and the last of my romesco sauce for the dressing.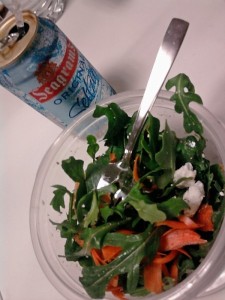 Pop chips!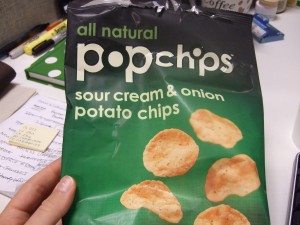 And a few squares of dark chocolate with sea salt. The best.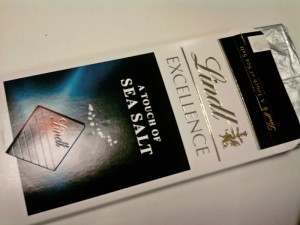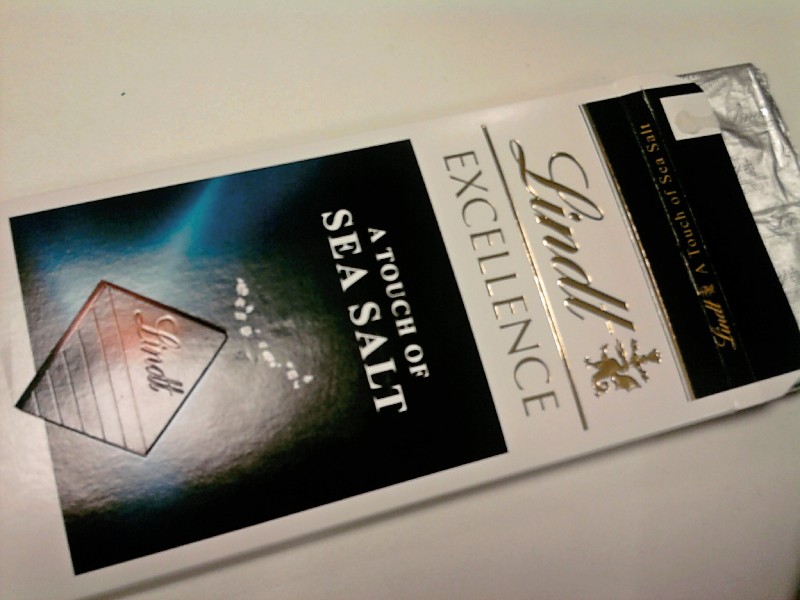 I had plans to go to a CPTC track workout after leaving the office, so I snacked on 1/2 banana and a few servings of galaxy granola around 4pm. the vanilla almond flavor is really tasty!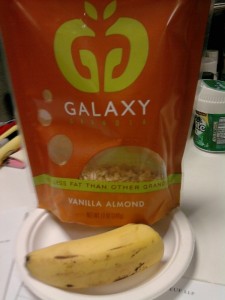 And then…after an 18 month hiatus (seriously), I returned to the E. 6th Street track. The last Tuesday night workout I did here was on October 21, 2008 – about 10 days before I ran the NYC Marathon! It was incredibly windy (the track is right next to the East River), but all-in-all it felt good to come back.
The goal pace for this workout was 5k pace and in retrospect 6:40 was probably not ambitious enough – I didn't even feel that tired by the end of the 3rd rep. Ah well, next time I'll drop the pace.
1 mile warm-up
3 × 1600m w/400m recovery (6:41, 6:38, 6:34)
1 mile cool-down with Sari
We determined that it is exactly 1 mile from the E. 6th Street track to the Whole Foods on Houston St. After my run, I stopped in Whole Foods to warm up and buy some essentials.
I didn't get back to my apartment until after 8:30pm and I was h-u-n-g-r-y! On nights like this I usually just throw together whatever takes the least amount of time. I tossed some arugula in a bowl and topped it with hummus, dried cherries, walnuts, and sriracha sauce. I love this creamy, sweet, crunchy, and spicy combo! I also spread some pb & raspberry jam on a high fiber tortilla and rolled it up.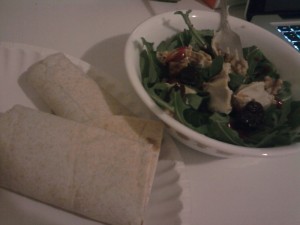 And since I have no control over a jar of peanut butter, I finished off the container with some un-pictured TLC Kashi crackers. No peanut butter shall go to waste as long as I'm around 🙂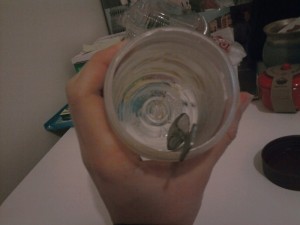 One of my Whole Foods acquisitions was a pack of the new caramel Oikos Greek yogurt. I really enjoyed this sweet treat and my only complaint is that it's too small. Next time I'm going to try popping it in the freezer and making my own froyo!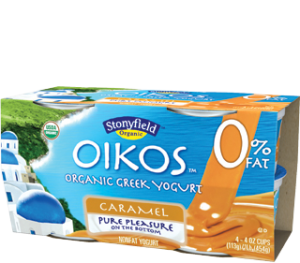 Does your IT band hurt? Check out these IT band yoga stretches from Runnersworld. I did some after my run this morning – they work!
From Real Simple: 10 things ever cook needs to know.
Question: Do you have a favorite track (or interval) workout?