Yesterday I ran the NYRR Colon Cancer 15K and it was tough. I poured so much mental, physical, and emotional energy into last weekend's half-marathon that I just wasn't fresh for this race. I felt like my body and mind were fighting me every step of the way and I had a really hard time focusing for the hour+ duration of the race. In retrospect, racing a half-marathon followed by a 15K was not the smartest plan.
Despite not being at the top of my game, I managed to eke out a PR for the distance. I finished the 9.3 miles (15K) in 1:06:51 (about 7:11 mile pace). I ran pretty evenly and despite feeling tired, my legs are doing OK. I'm very much looking forward to a rest day or two!
Before the run, I fueled up with my usual coffee, toast, banana, and dark chocolate dreams peanut butter.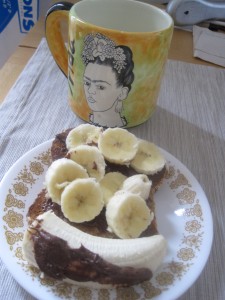 I was really excited to have a blue bib number – first corral!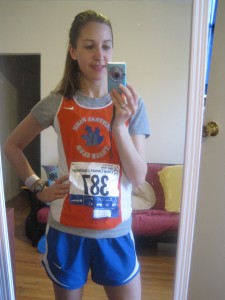 Win: Finishing that jar of chocolate peanut butter butter in ~4 days.
Loss: This peanut butter addiction is an expensive habit. Almost $6 a jar!
After my warm-up (~3 miles), race (9.3 miles), and cool-down (1 miles), I was ready to eat something ASAP. Jacqui, Sarah (my hero – second place female overall!!), and I made our way to Bloomingdale's to check out the semi-secret frozen yogurt shop on the 7th floor. Despite our general post-race gross ness, the security guards did NOT kick us out of the fancy department store. However, I'm not sure how much the Upper East Siders enjoyed the presence of our sweaty selves…
Win: Jacqui snagged us some seats and soon I was enjoying a frozen yogurt big enough to feed a small country. Seriously…the "small" size at 40 Carrots is probably equivalent to a pint of frozen yogurt. Amazing. I ordered the plain flavor (tasted like Fage!) and opted for wildflower honey as a topping. The cold frogurt made the honey turn into a taffy-like consistency. I have a feeling I'll be visiting 40 Carrots again soon. Yay for running friends! And dessert.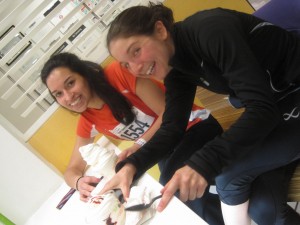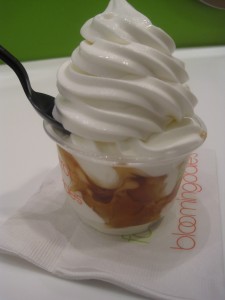 Loss: After downing my weight in frogurt, I had to trek home in the rainy, windy, 45 degree weather. Boo.
After a hot shower, it was time for what else? More food.
A big glass of cytomax, an apple, and a clif bar.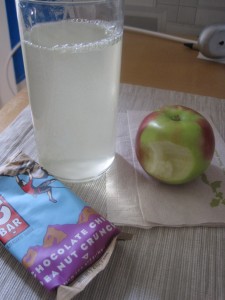 And a bowl of  spinach, sliced fennel, tempeh, hummus, sriracha, and feta. Simple and fresh.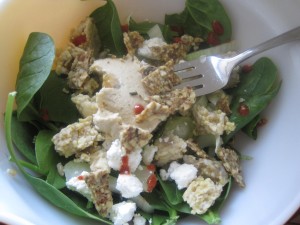 Win: A 90 minute nap. Glorious.
Loss: The subways were running local and what should have been a 30 minute trip…took over 45 minutes.
Win: I finally made it to Bonobos for a yummy vegan dinner with Katie.
I ordered the nut pate sampler plate. Atop a bed of mixed greens, I had BIG scoops of sunflower seed pate, sesame tahini pate, curry walnut pate, and pesto pate. Nuts, seeds, and herbs. Mmm.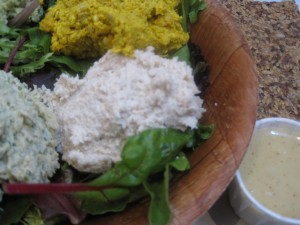 Enjoyed with a raw flax seed flat bread and a deliciously rich coconut chai (young coconut meat, chai masala, raw agave).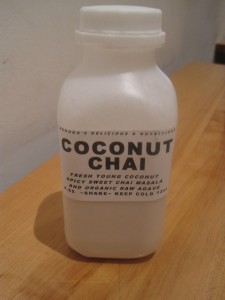 My final win of the night: Gobbling up 1/2 dozen whole wheat-oat-teff-coconut-chocolate chip cookies. At least they were healthy? Full recipe and a fun give away to come SOON!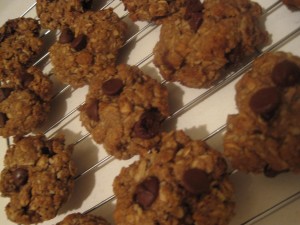 Friends, good eats, a PR – what more could a girl ask for?
Question: What's your favorite brand/variety of frozen yogurt?