Exciting Announcement: The folks at CSN stores have offered to sponsor a give away for Runner's Kitchen readers. The CSN family of stores feature a wide variety of cookware, small appliances, kids furniture, home decor, and unique gifts. Full details at the end of the post 🙂
After months of saying "I really need to try that" I finally made one of Gina's breakfast cookies. I combined 1/3 cup oats, 1/2 scoop chocolate protein powder, and a Tbs of nut butter in a small bowl. Then I added 2 Tbs milk, a whole mashed banana, and a sprinkle of mini-chocolate chips. I pressed the mixture into a tupperware and let it sit in the fridge overnight. This morning I devoured the cookie-like treat with a spoon. I was worried that I wouldn't like it, but it was delish!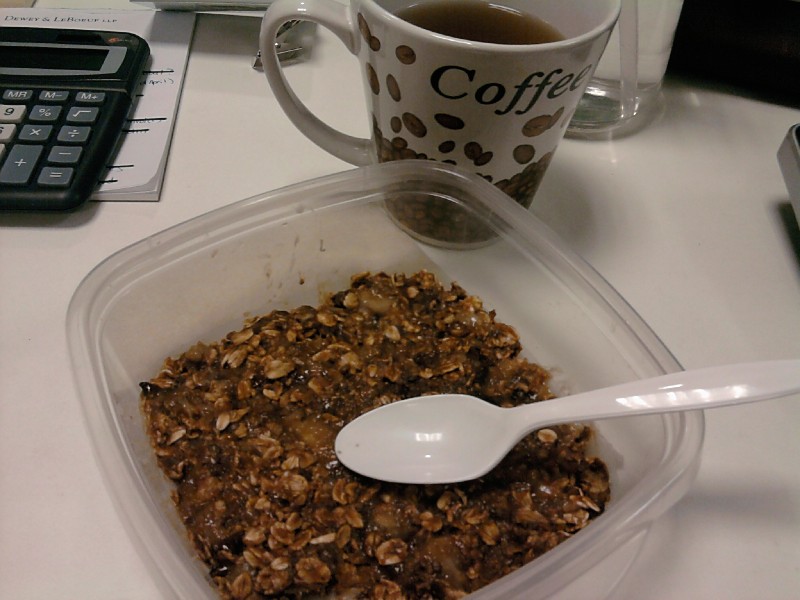 My mid-morning snack was a cup of cream on top maple yogurt. Mmm, full-fat dairy tastes delicious.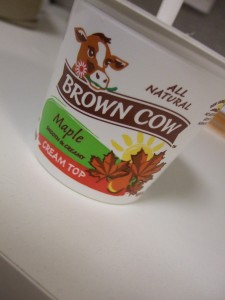 Lunch was a repeat of Tuesday night's dinner: Raw Tabbouleh!The lettuce cups made eating at my desk a little messy, but it was worth it. This recipe is such an easy way to sneak in extra veggies. Yay, cauliflower! I ran out of dried apricots, so I used dried cherries in today's version. Raisins would work nicely, too.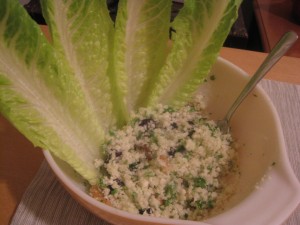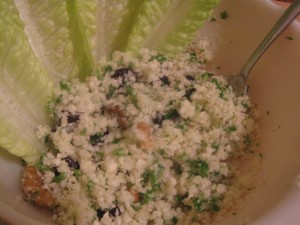 Afternoon snacks included a juicy granny smith apple, nature's path maple pecan granola bar, and a cup of instant oatmeal before CPTC practice.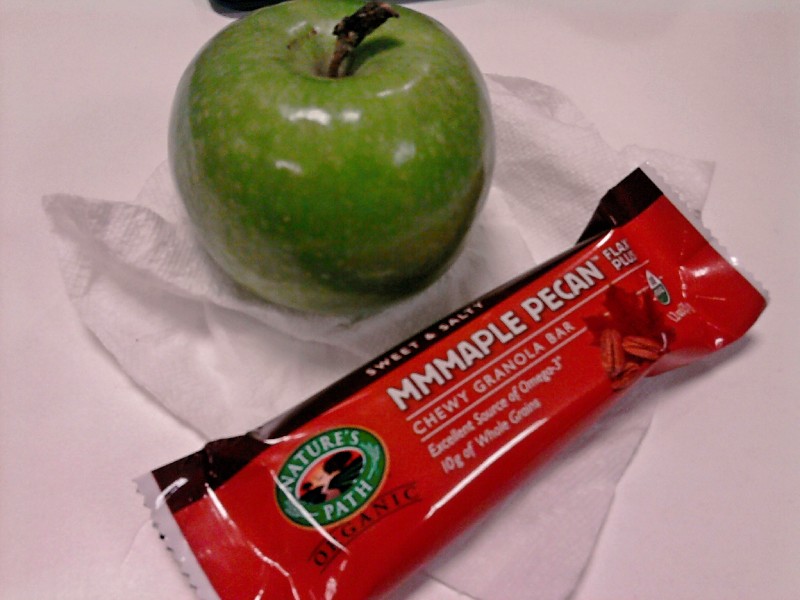 Err…there may have been an un-photographed cappuccino this afternoon as well. My name is Megan and I love coffee.
After I busted loose from the office, I skedaddled home. I quickly changed into my running gear and set out for the park. After a ~3 mile warm-up, I met up with the rest of the team. Tonight's workout was a toughie: 10K tempo run @ 1/2 marathon race pace (including not one but TWO loops of the Harlem Hils, yikes).
I finished in 44:40 (~7:12 pace) and I ran fairly consistently. Mile 1 was ~7:12, Mile 2 was around 7:13, First 5K was 22:27, last mile was around 6:44 pace. Except for the last mile (downhill) the run was very hilly – we headed up the West side, completed 2 sets of the Harlem Hills, and then ran back down the West side. The first half of the run was "comfortably hard", but I'd say that the second half was just plain hard. Luckily, my actual 1/2 marathon pace will be about 10 seconds per mile slower. Still a little VERY nervous…running sub 1:37 for the half is not going to be easy. 2 miles cooldown. 11.5 miles total, holy mileage!
As uaual, I got home late. And hungry. Dinner was fast – romaine lettuce, gardein "chicken" tenders, tortilla chips, shredded cheese, and salsa all thrown into a bowl and devoured in 5 minutes flat.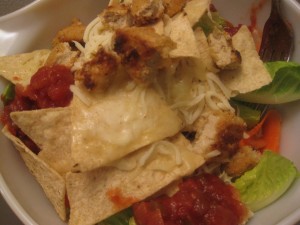 And dessert? Of course! I finally got my hands on some Edy's limited edition thin mint cookie ice cream so I had a bowl of that garnished with a girl scout cookie! So good, I went back for seconds 🙂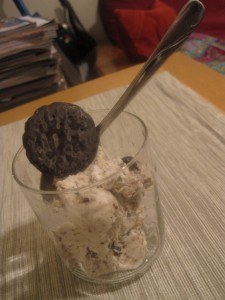 Have you been salivating over Gena's banana soft-serve? Want to try your hand at my raw tabbouleh recipe? Well, you're going to need a food processor to make those recipes! To enter to win the Cuisinart food processor, leave a comment telling me the first recipe you'd make with the new gadget. I'll pick a winner on Sunday night (March 14th). Good luck!