TGIF! So excited that it's the weekend. My latest article on True/Slant reveals how one simple change can cut minutes off your half or full marathon time. And who doesn't want to run faster? 😉
Thursday was a marathon of a day – good thing I started off with an extra large mug of coffee. I was feeling very caffeinated after this.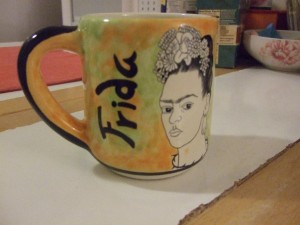 Plus an orange for some vitamin C!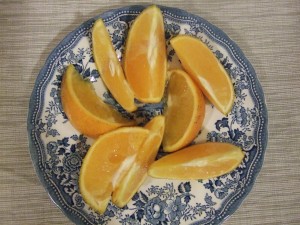 The main part of my breakfast was a plain chobani yogurt with 2 Tbs of whipped peanut butter stirred in and a crumbled vitabrownie on top. It tasted like dessert! But it also packed a good amount of protein (27 grams) and fiber (8 grams).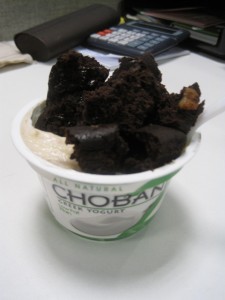 Lunch was one of the BEST salads I've created in awhile. It included all of the usual suspects: romaine, carrots, mushrooms, feta cheese, sriracha sauce, etc. BUT I also topped it off with leftover Vietnamese noodle and grilled pork salad and a few pita chips with hummus. Mmm, so many great flavor and texture combinations.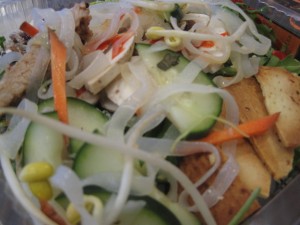 My afternoon snack was not one, but two Nature's Path granola bars. These organic treats are a tad high in sugar (11 grams), but they taste delicious and come in a new eco-conscious box that uses 36% less cardboard than the original. Reduce-Reuse-Recycle. Yay.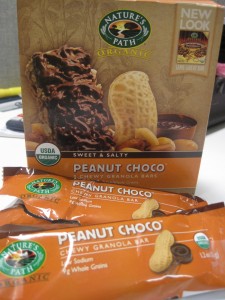 Anddd a decaf cappuccino because I wanted to sip on something warm.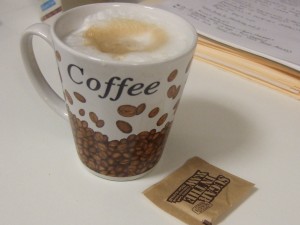 After work I was feelin' a little tired and not exactly excited about a road workout. Buttt I know I almost always feel better after a run, so I chugged some water and nibbled on some dried cherries + dark chocolate chips. Glycogen, get in my muscles!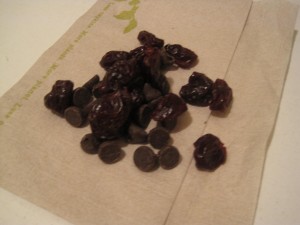 After my snack, I was feeling a bit more energized, so I ran from my apartment to CPTC practice (2.75 miles). Those of us racing the Coogan's 5K on Sunday did a special shortened workout – 800m, 600, and 400m @ 3K pace with 400m jog recovery. I have no idea what kind of pace we were running because we did the repeats on the road (estimated the distance), but it basically felt all-out. Lots of cool-down with the group and then another 2.75 miles back home. By the time I returned to my apartment, my Nike + pedometer reported that I had run 11 miles total.
My quads are strangely sore – perhaps from Tuesday's treadmill workout? It feels like I did lunges although I most definitely did not. Hopefully a few days of easy running will help me rest up for this weekend's 5k! So.Excited.
After a quick shower, I was ready to eat more asian noodle leftovers. I chopped up some romaine lettuce, grated carrot, and topped that off with leftover pad thai, hummus, and sriracha sauce. Sort of a strange combo, but it tasted yummy!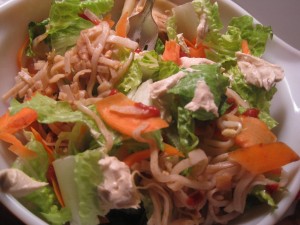 Of course I was still hungry, so I toasted up 2 slices of Ezekiel bread and topped them with generous spoonfuls of coconut butter and raspberry jam. Unfortunately I was too busy eating to take a photo, oops. If you want to see a visual of this lovely treat, you can check out my post from last Sunday.
I'm lovin' my new jar of coconut butter! And if you're worried that the fat in coconut butter is unhealthy, say goodbye to the 1990's, and dig in! Unlike animal products which have long-chain triglycerides, coconut butter's fat is made up of medium-chain triglycerides. Research has shown that this rare type of saturated fat can actually prevent heart disease and reduce cholesterol. Coconut has also been show to protect against cancer, boost immunity, increase calcium absorption, and kill bacteria/viruses (due in part to its high lauric acid content). You can read more about the benefits of coconut butter/oil here, here, and here. Yum!
Do you like coconut? What's your favorite way to eat it?