I don't discuss it much on the blog, but the last 6 months have been rough for me. Some days all I want to do is come home, have a good cry, and watch a Hannah Montana movie. Sometimes that makes me feel better, but other times I know that running is the answer. I was in quite the funk yesterday afternoon, but I still followed through with my plan to do a speed workout on the treadmill.  And I'm so glad I did. For 60 minutes, I wasn't sad or upset – I was completely focused on the numbers: the length of my intervals, the pace I needed to run, and the miles piling it up. For the past 10 years, running has helped me feel accomplished when nothing else seemed to be going right. It's given me an outlet for stress and time to think and reflect. Sometimes I really do believe that sweat and tears are the cure for everything.
And speaking of sweat, yesterday's workout was quite the doozy:
1 mile warm-up
1200m @ 5K pace (~6:44 mile)
400m jog
1000m @ 5K pace (~6:44 mile)
400m jog
800m @ 5K pace (~6:44 mile)
400m jog
600m @ 3K pace (~6:15 mile)
400m jog
400m @ 3K pace (~6:15 mile)
400m jog
300m @ mile pace (~6:00 mile)
300m jog
200m @ mile pace (~6:00 mile)
200m jog
1.75 mile cooldown
Pheww. 7 miles total.
I had some stomach distress on the cool-down. Note to self: an iron pill and granola bar 45 minutes before a workout are a BAD idea. What an amateur mistake.
Other than the tum trouble, I felt mostly good during this workout.  However, I don't think my muscles were 100% recovered from Sunday's race. My right hamstring is a bit unhappy about all the speed workout I've been doing. Must do a better job with stretching!
After my run, I came home and tried my hand at a raw dinner creation. I'm not vegetarian, vegan, or raw, but I enjoy experimenting with different types of recipes. My raw take on tabbouleh ended up being really yummy AND it only took about 15 minutes from start-to-finish. The cauliflower makes an awesome rice substitute – the consistency was amazingly similar!
Raw Tabbouleh (Makes 1 big serving)
Ingredients:
1/2 head of cauliflower, chopped into 1″ pieces (fyi – 10 g fiber and 8 g protein in 1/2 head cauliflower!)
big handful of fresh parsley
small handful of fresh mint
1/4 cup walnut pieces
1/4 cup dried apricots, chopped
Lemon juice and olive oil, to taste
salt, pepper, nutmeg, to taste
Directions:
Place the cauliflower, parsley, and mint in a food processor and pulse until the cauliflower reaches the consistency of rice
Transfer veggie mixture to a medium bowl and stir in nuts, dried fruit, olive oil, lemon juice, and spices
Serve with romaine lettuce cups – enjoy!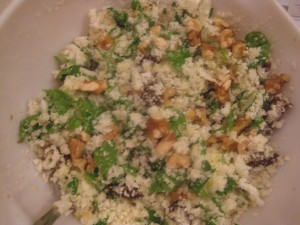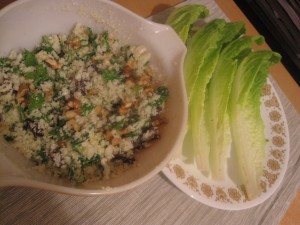 And for dessert, I had a decidedly non-raw dessert: a cornflake-marshmallow-chocolate chip cookie from Momofuku milk bar. So good.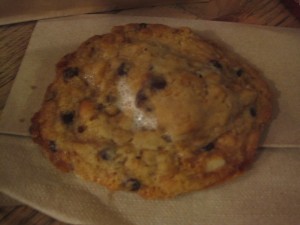 Cauliflower – love it or hate it?
When you're in a funk, what helps you feel better?
Attention NYC-area foodies: The March 22nd Village Voice Choice Eats 2010 event is fast approaching. New restaurants were just added to the line-up, check out some of the yummy bites that will be featured. Bonus: The proceeds of this event benefit Slow Food International!
Luke's Lobster:  Bite-Sized Shrimp Rolls: fresh, sustainable Maine shrimp in a buttered and toasted bun with a squirt of mayo, a bit of lemon butter, and a dash of secret spices.

Dirt Candy:  Pumpkin Crostini with Maple Smoked Butternut Squash and Roasted Pepitas (Vegetarian).

Congee Village Restaurant & Bar:  House Special Fried Pork Ribs, Shrimp with Walnut & Broccoli in Mayonnaise. 

Del Posto:  Chocolate and Olive Oil Bastoncino, Olive Oil Gelato Lollipops Coated in Chocolate with Salted Breadcrumbs.

Zuzu Ramen: Fricasse of skate, squid, and kimchi with iceberg lettuce, nori tapenade, citrus aioli, and pork cracklin.

Motorino: Insalata di Polpo (octopus, potatoes, celery, capers, extra virgin olive oil, lemon).

Café Steinhof: Austrian beef Gulash with Spaetzle.

Mooncake Foods: Spicy thai salad, grilled chicken and buckwheat noodles with cilantro mint pesto.