Some days I feel like I need 30 hours instead of 24 just to get everything done. Since extra hours aren't likely to appear, I'm just learning to prioritize the important stuff. I love being busy – working, freelancing, blogging, running, etc. but that also means I have to make choices about where I'm spending my time and money. Laundry? It can wait.  8 hours of sleep? Non-negotionable this week. And when it comes to shopping, lots of healthy foods are a necessity, but cute ballet flats…not so much.
To make my fruit & veggie purchases go the extra mile, I recently made the decision to join the West Harlem CSA (Community Supported Agriculture). Members pay a fee in the early spring to help farmers with their planting costs and then receive boxes of vegetables throughout the summer and fall. I've opted for a half-share, so every other week I'll pick-up a box of veggies. I won't know what I'm getting (it depends on the harvest), but I'm looking forward to trying new foods and experimenting in the kitchen! Want to find a CSA near you? It's a win-win situation – you're supporting local farmers AND stocking up on healthy food.
Speaking of priorities, I was up late figuring out my tax return and forgot to charge my camera battery. Please excuse the iphone pics!
My breakfast cookie was much better sans Amazing Grass. The night before I mixed together 1/3 cup oats, 1 Tbs raw cacao, 1/2 packet splenda, Tbs dried cherries, 1 big scoop of Dark Chocolate Dreams peanut butter, a splash of almond milk, and 1/2 mashed banana. I let it hang out in the fridge overnight and then in the morning topped it with the remaining banana and Fage 2% yogurt. I didn't think I would like the breakfast cookie – but I swear they've changed my morning routine. Love them!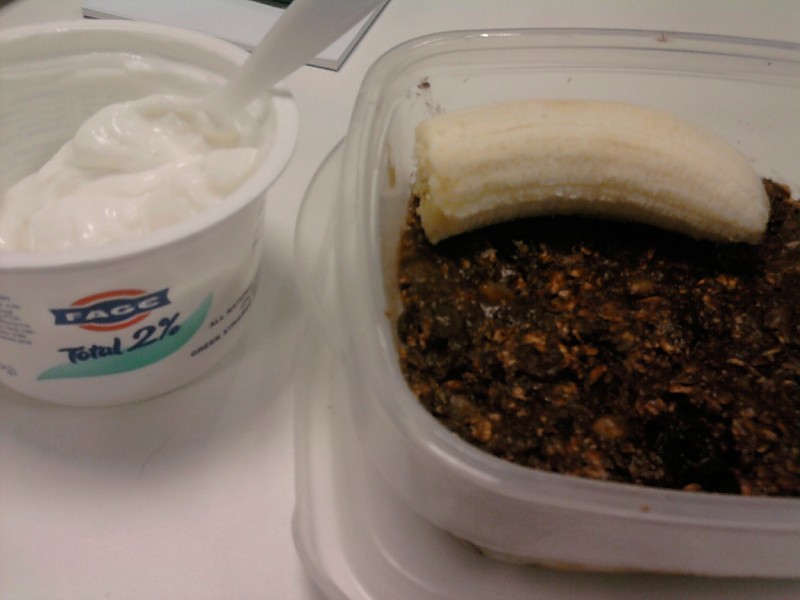 Lunch was a special treat – office cafeteria salad! Hehe, doesn't take much to make this girl happy. On top of a base of arugula, I added shredded carrots, mushrooms, parmesan roasted broccoli, quinoa salad, waldorf salad, cilantro chickpeas, feta cheese, croutons, and sriracha. Mmm, spicy!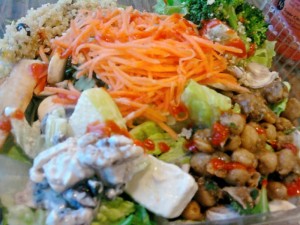 And a bag of crack sun chips.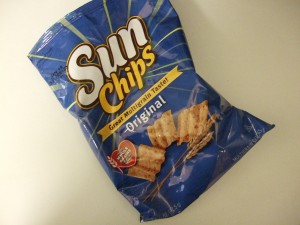 Mid-afternoon snacks were a cup of green tea, a mini kit kat, and a kashi granola bar. And an adora calcium supplement!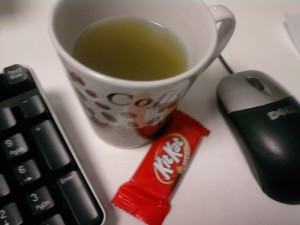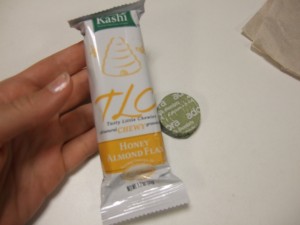 It was a beautiful night for running in Central Park (60 degrees!) and the time flew by as Jacqui, Megan, and I explored the bridle path. My legs were feeling a little creaky at first, but better by the end. I ran for about 1 hour, 10 minutes – maybe 8 miles? I don't have a Garmin, so I don't really know.  Making time to run and spend time with friends? A priority for sure.
Once I got back to my gym, I treated myself to a fresh juice. The "skin tonic" juice contained apple, celery, spinach, kale, and ginger. Gah!! I want my own juicer SO bad.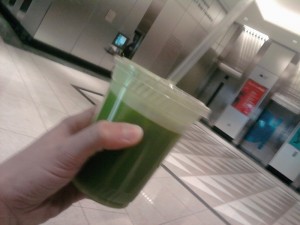 As soon as I got home I immediately dug into a box of Kashi TLC crackers – I was hungry! Making a time intensive dinner was not a priority tonight, but consuming something quick and tasty was.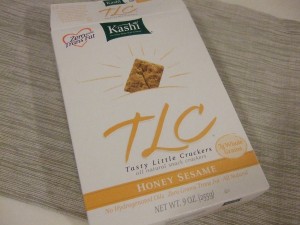 I snagged a HUGE 1lb+ sweet potato  from Whole Foods, cubed it up, lightly coated it in canola oil, and roasted for 20 minutes at 400 degrees. Once done, I drizzled coconut butter on top. Oh goodness, this was amazing. The sweet coconut flavor paired wonderfully with the 'tater.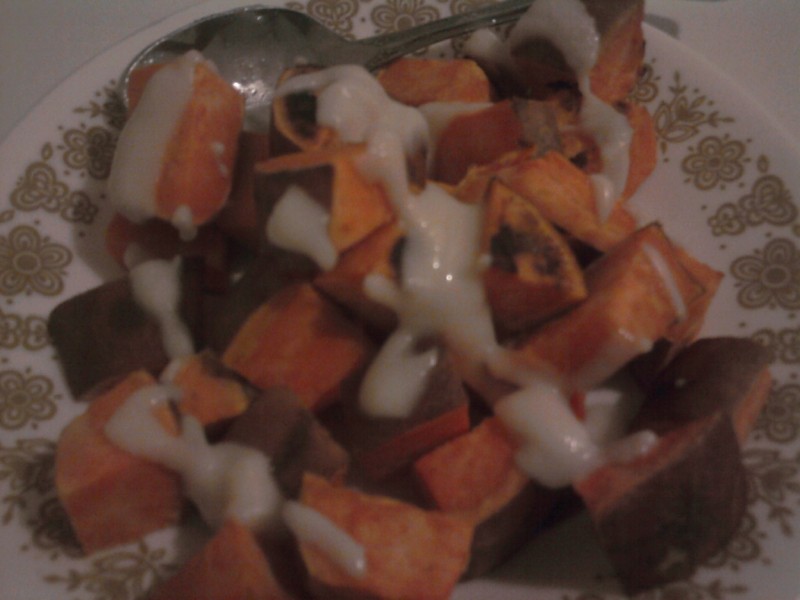 I was going to bake something for dessert, but decided that going to bed early was more of a priority. Instead of homemade cookies, I had a few Tablespoons of Dark Chocolate Dreams peanut butter straight outta the jar. Protein? Check. Fiber? Check? Delicious? Absolutely! Tastes like Reese's 😉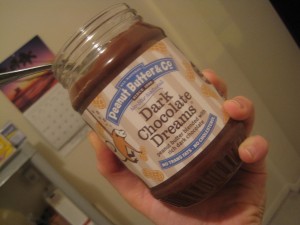 Thanks to brightroom, you can have a gander at my race day pics. These two are definitely my fav – I got lost in the crowd in the other photos!
Bringing it home – mile 12.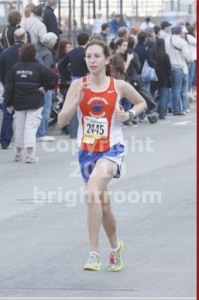 The finish line (my official chip time was 1:35:10).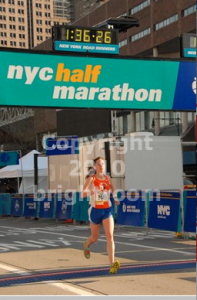 Hooray it's Spring! Check out the best fruits and veggie picks for runners.
Question: What are your priorities? Sleep, exercise, healthy eating, housework, time with friends? What's the first to go when you're busy and stressed?