I'm backkkkk! And I have a new 1/2 marathon PR- 1:35:10! I feel so lucky to be back in racing shape.
Sunday started early with a 5:30am wake-up call. I had my usual pre-race breakfast: coffee, toast, peanut butter, and sliced banana.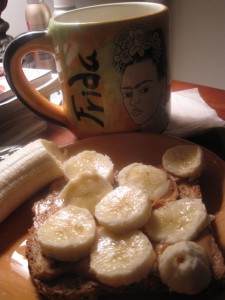 And then I pinned on my race number, attached my timing chip, and got ready to run! MarathonGuide.com has a great pace-bracelet making tool. It's a smart option for longer races when your brain has to focus on more important things than math. I printed a pace band with my 1:37 time goal.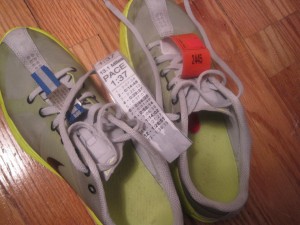 After a 1.5 mile warm-up and a bathroom break, I made my way to the start corral. I don't remember the last time I was so excited and nervous for a race! I saw some familiar faces and teammates in my corral and that calmed my nerves a bit. At 7:30am, the race began. I stuck to my plan and remained conservative for the first few miles. After mile 5 I started to pick up the pace. Once we exited Central Park at mile 8, I started to gain more confidence and I sped up even more. By the time we hit West Side Highway I was really movin'. Sometime around mile 11 I realized how much FUN I was having. I feel so lucky to have found an activity that makes me so happy and gives me such a feeling of accomplishment. The last mile was tough, but I felt strong throughout the whole race and was able to post negative splits. Anddd my last few miles were around 6:45 pace (that was my 5K race pace!).
I was also happy with the level of focus that I maintained. For serious races, I don't run with an ipod. It's a personal decision, but I've found that I can pay better attention to my pace and form without distraction. However, I did pump myself up with some Jay-Z during breakfast….
I finished in 1 hour, 35 minutes, and 10 seconds (~7:16 pace). That's 1 minute and 18 seconds faster than my previous 1/2 marathon PR (Brooklyn 2008). Whee!
| | |
| --- | --- |
| Race Name | NYC 1/2 Marathon |
| Warm Up | 1.5 miles |
| Distance | 13.1 Miles |
| Time | 1:35:10.00 |
| Splits | 5K- 23:00 (7:23 pace), 10K- 45:47 (7:22 pace), 15K- 1:08:26 (7:20 pace), 20k- 1:31:08 (7:19 pace) |
| Cool Down | 1 mile |
| Pace Per  Mile | 7:15.88 |
| Overall Place | 1094 |
| Age Place | 72 |
|   |   |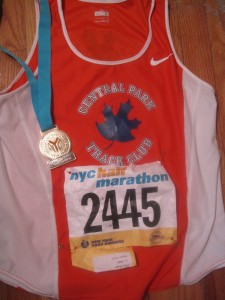 Although my calves are a bit sore today, the lunaracers served me well during the half-marathon. I love these shoes! They make me feel fast.  I'm still not sure if I'd wear them for a full-marathon though – they have very minimal support/cushioning and 26.2 miles is a long way. Luckily I have 7 months to decide!
Post-race I cooled-down for a mile and then refueled with an apple, clif bar, and un-photographed cup of hot chocolate.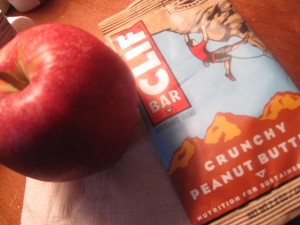 And then the best race spectators ever (Alma and Saturday) made a big batch of pumpkin-chocolate chip pancakes.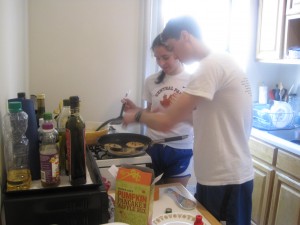 I had four pumpkin-chocolate chip pancakes topped with syrup and peanut butter. Yum!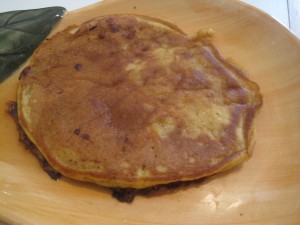 I sometimes get headaches after long runs and races and I think it has to do with dehydration/electrolyte imbalance. To remedy my headache, I downed a bunch of water and then had some Stonyfield yogurt (potassium!) and organic cheerios.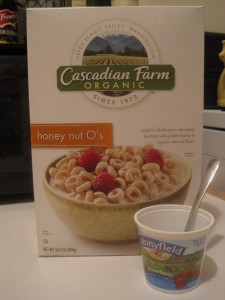 And then I met up with some friends to explore Chelsea Market. I stopped by One Lucky Duck for a bunny juice (carrots, apple, and fresh ginger – spicy!) And a bag of raw rosemary quackers. Holy moly, these were $$$.  I hope they're good!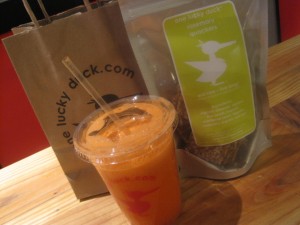 I watched some of Amy's bread be pulled straight out of the oven.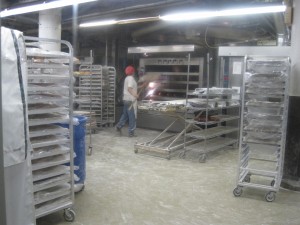 ]
And saw the cutest baby vegetables at the produce market.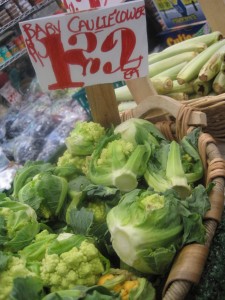 After my market explorations, I headed home. My legs were feeling t-i-r-e-d. Luckily, I had cous cous salad leftover from Saturday evening. It was a simple meal, but yummy. I cooked some cous cous and then tossed it with diced cucumber, onion, a can of chickpeas, feta cheese, olive oil, salt, and pepper.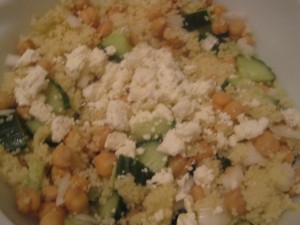 I had two bowls topped with hummus.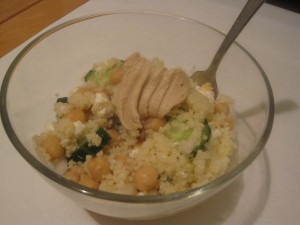 And for dessert? Teff Peanut Butter Chocolate Chip Cookies from Terry Walter's amazinggg cookbook Clean Food. These cookies are gluten-free, vegan, and have a simple ingredient list. The texture of teff can take some getting used to, but I really like it! Teff, an Ethiopian staple, is high in iron, protein, and fiber. Perfect for healthy runners!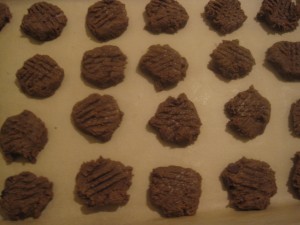 I had many of these cookies throughout the day.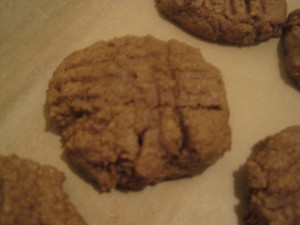 Thanks for all of the supportive race day comments, tweets, and facebook messages. xoxo
And big congrats to Katie, Sofia, Dori, and Ashley who also ran the race yesterday!!
What was your favorite moment of the weekend?