Yesterday morning I headed out to Central Park for a 4.5 mile recovery run. My hamstrings were a little tight from Sunday's race, but otherwise I felt great! The sun was shining and my legs were thankful for the squishy softness of the dirt bridle path.
The rest of my day wasn't nearly as carefree as my a.m. run, but I had fun evening plans to look forward to. After reading a review in the NY Times a few weeks ago, I was intrigued by The Meatball Shop. This new restaurant specializes in….you guessed it – meatballs!
The Meatball Shop is tucked away on Stanton Street on the Lower East Side. In fact, I walked right by it at first! The menu is blissfully simple and the quality of food, cozy atmosphere, and attentive service are top-notch. Bonus: Ingredients are locally sourced and humanely raised.
Once we were seated, I perused the menu. Diners are given the choice of meatballs (beef, spicy pork, chicken, salmon, lamb, or vegetable), sauce (tomato, mushroom, meat, or creamy parmesan), cheese (mozzarella or provolone), as well as an array of breads, pastas, and vegetables. I chose the "meatball smash" which featured 2 chicken meatballs, tomato sauce, and mozzarella cheese stuffed and grilled inside a brioche roll. The arugula and apple salad on the side was a nice addition. I can't say enough good things about this meal – it was warm and hearty, without being too heavy. And all of the ingredients were super fresh – loved the arugula!
(Grr…dim lighting…blurry photos)
My dining companion ordered a classic beef meatball hero with melted cheese on a whole grain roll. The meat was described as being "fall off the bone tender". Never mind that meatballs don't actually contain bones….you get the point! And of course more of that yummy arugula salad on the side.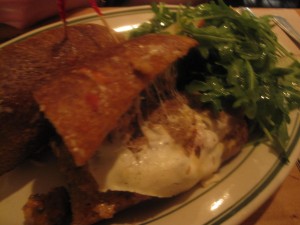 How do you top off a delicious dinner like that?
I know…
Cookies from Momofuku Milk Bar!!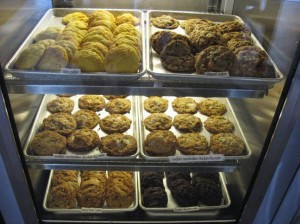 Remember when I made a vegan version of Momofuku's compost cookie? That was good, but there's nothin' like the original…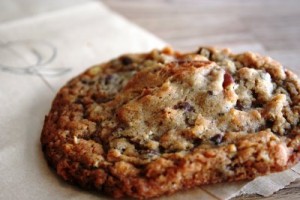 Last night I also snagged one of the cornflake-marshmallow-chocolate chip cookies and I think I like this one even better. It tasted like a chocolate chip cookie-rice krispies treat hybrid. Oh my heavens.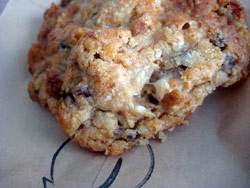 Wondering what the heck a fartlek is? Confused by interval workouts? Running Shorts comes to the rescue with explanations for the sport's most common terms.
IT band pain? Watch this Runner's World video to find out which yoga poses will help.
Love diet coke? I'll admit…I can't resist popping open a can of icy cold DC every so often. Fortunately, there's a healthier stevia-sweetened alternative to all those chemicals. Yum!
What's your favorite type of cookie?