Beautiful 70 degree day? Check.
Car service to and from the swank Butter Restaurant? Check.
A 5-course healthy, yet indulgent lunch cooked by Chef Alexandra Guarneschelli? Check.
I was invited to attend a special event showcasing Lipton's new stevia-sweetened iced teas on Saturday – so much fun!
I started off with a mint julep "mocktail":  stevia-sweetened lemon iced tea, muddled mint syrup, and mint leaves.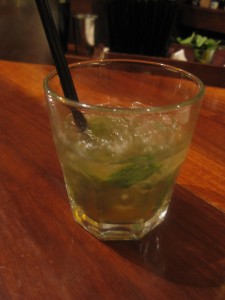 The chef created a menu that showcased fresh, local ingredients and also incorporated tea into nearly every dish!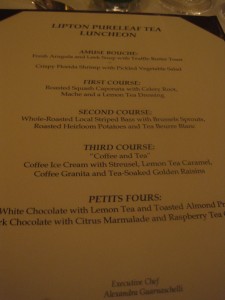 Before we began eating, Lipton's expert tea-buyer spoke about the company's commitment to sustainability and how good tea is selected.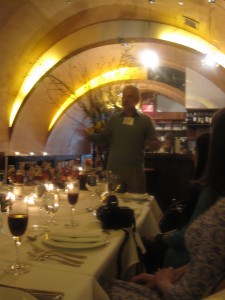 And then we began to eat! Since I'm running a half-marathon tomorrow, I was more than happy to dig into to a biscuit with homemade whipped butter (yay, carbohydrates!).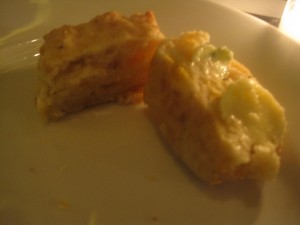 Our amuse-bouche was an arugula-leek soup served with toast and whipped truffle butter. I love butter. So much.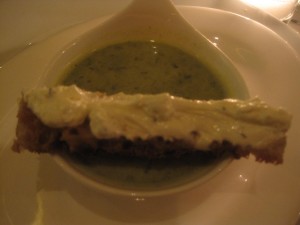 After I slurped up my soup, I was presented with a crispy shrimp served atop pickled vegetables. I was trying to pace myself, so at this point I started eating about half of whatever I was served. Gotta save room for dessert!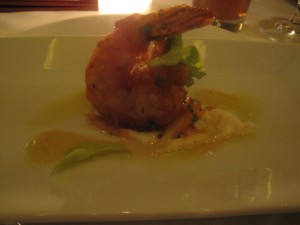 Our first official course was squash caponata with mache, celeriac, and lemon tea dressing.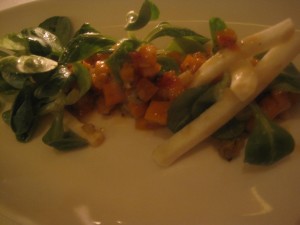 And then we were presented with the main course – a whole striped sea bass roasted with heirloom potatoes and brussels sprouts. This fish was HUGE – close to 20lbs I bet.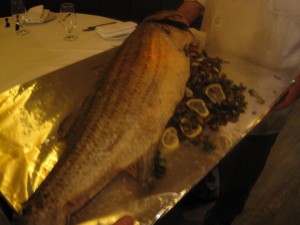 After us bloggers snapped some photos, the fishy returned to the kitchen to be plated up. I'm not a big seafood eater, so my experience is limited, but this was easily the flakiest, moistest fish I've ever had. Props to Chef Alex for her amazing buerre blanc and lemon tea sauce. It was amazinggggg. Why can't I eat like this every day?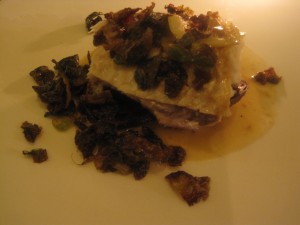 I saw some familiar faces at the event – Diana and Melissa.
And I finally met Tanya from IAteAPie.Net – I've been reading her blog for years!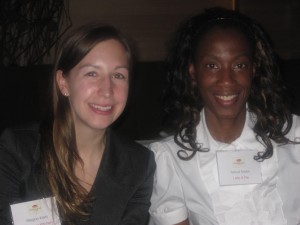 And the best part of the event? Two desserts!
Dessert #1 was coffee ice cream topped with coffee granita and garnished with tea-infused golden raisins. So creative! I think I'm going to start soaking my dried fruit in tea. Wouldn't that be a yummy addition to oatmeal-raisin cookies??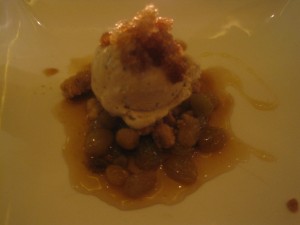 And finally we finished up with petit fours – dark chocolate with orange marmalade and raspberry tea infusion and white chocolate with a lemon tea infusion and praline crunch. Omg. So good. There were a few extras on the table. You better believe they made it into my purse, hehe.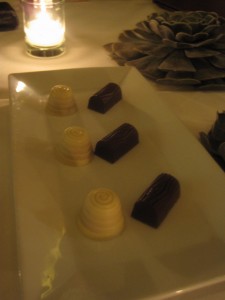 The new stevia-sweetened Lipton iced teas (raspberry and lemon) should be on shelves soon. My honest verdict? Really delicious! Unlike diet teas, there was no weird aftertaste and I'd prefer stevia over aspartame any day!
Question: What's your favorite type of tea? I love mint iced tea!
p.s. the Half-Marathon is tomorrow morning. Weee!! I'll be back Sunday evening with a recap.