TGIF!! Is it just me or has this week seemed so long? I went to CPTC practice last night, but in lieu of doing the scheduled tempo run (my legs are still tired from the 1/2 marathon), I ran easy with some teammates. I ended up running for about 1 hour and 19 minutes – maybe 9 miles or so? I've been running easy (i.e. no speed workouts), trying to eat well, and getting lots of sleep this week because I'm actually racing again on Sunday. Eeek! The NYRR Colon Cancer 15K is being held in Central Park and this will be my 3rd year participating. It's a fun race and an interesting distance – I'm excited 🙂
And now for a special Friday treat! My friend Jesse cooked up a delicious Moroccan lentil stew recipe (and fancy salad) and agreed to share the recipe. Enjoy!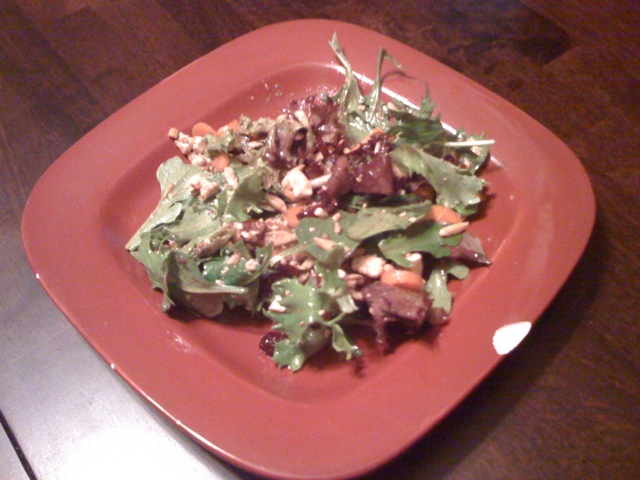 Gourmet Salad
Ingredients:
Mixed Greens
Carrots
Dried cranberries
slivered almonds toasted w/ sesame oil
feta cheese
a home-made balsamic dressing (2/3 olive oil, 1/3 balsamic vinegar, crushed garlic, salt, pepper, and some dry mustard whisked together)
I usually make the dressing in the bottom of the bowl then marinate the feta and other non-greens ingredients for a little while before tossing in the greens.
Moroccan Lentil Stew
Growing up my mom would make lentil soup often as it's a cheap, quick, easy, and healthy meal. Being my mother's son, I continue to make lentil soup once in a while (I remember one incident with way too much ground pepper…no need to go into that now though).  Recently I came across a recipe in Wegman's "Menu" magazine for a Moroccan Lentil Stew and had to try it out for myself.  As I always do with written down recipes, I went a head and changed around the ingredients to fit my tastes.  So here's my take on the Moroccan Lentil Stew:
Ingredients for a lot of stew.  This fed Jen, my mom, and I plus plenty to freeze for later!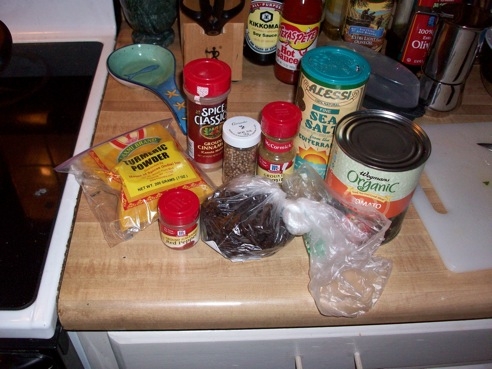 Olive Oil
4 cloves garlic, minced
1 medium onion, diced
2 carrots, chopped
2 stalks celery, chopped
1 cup dry lentils (soaked for a few hours then simmered until mostly cooked)
1 can chick peas (drained and rinsed – this time I actually bought some dry garbanzo beans and soaked/cooked them. They had good flavor, but were more time consuming than using a can.)
1 28 oz. can crushed tomatoes
1 qt. veggie stock (I used my own, but use low sodium if you buy store bought)
My big addition: 1/2 cup raisins
The spices (I took the amounts in the recipe and put in a whole lot more, these amounts are mine.)
1 Tbsp Coriander Seed (ground)
2 Tbsp Cumin
1 Tbsp Turmeric
2 Tbsp Cinnamon (gives the stew a great sweet flavor)
1/2 tsp Cayenne Powder
Salt/Pepper to taste
The process:
Add the oil to a big soup pot on medium and saute the onion and garlic until tender.  Stir in the other veggies and saute until they're tender.  Once the veggies are mostly tender, toss the spices into the mix then stir in the stock, lentils, and crushed tomatoes.
 Simmer the stew for 20 minutes or so, add the chickpeas and raisins, and simmer for another 15-20 minutes or until it's the consistency you're looking for.
We enjoyed the lentil stew with some half white, half wheat peasant bread from a cafe near one of the stores where I teach (and a few glasses of a great Australian red wine).  It was a super filling and delicious stew: sweet and a little bit spicy!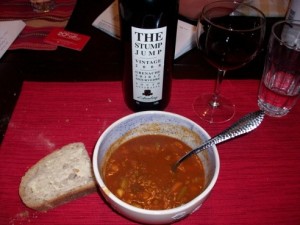 Hope you enjoy it!  Jesse
Question: What's your favorite kind of stew/soup?