After my recent 1/2 marathon and 15K races, I was feeling a little burned out. I took Monday and Tuesday off from running – I needed the break for both physical and mental reasons. I joined Alma for an easy 5 miles this morning, but the rest of the week will be light on running. I think that scheduling a "down week" of training every so often is very important.
When it comes to packing my breakfast and lunch I seem to go through phases. Maybe it's residual guilt from my Banana Republic addiction, but lately I've been very good about brown-bagging it.
My latest obsession is the breakfast cookie. I always figured I would prefer regular hot oatmeal, but this creation has changed my breakfast routine! I make the "cookie" more filling by adding sliced banana and greek yogurt on top. Amazing.
In my breakfast cookie creation: 1/3 cup oats, 1 Tbs almond butter, 1/2 smashed banana, Tbs ground flax, Tbs raw cacao, sprinkle of truvia, chocolate chips, and 2 Tbs almond milk.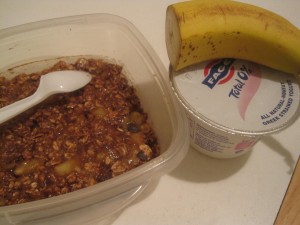 My dark chocolate cravings have been kind of out of control lately. I had about 1/3 of this hazelnut and currant dark chocolate bar for a mid-morning snack.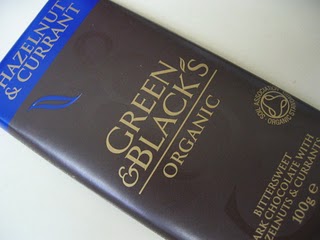 Lunch was an interesting creation. Although it's technically spring, citrus fruits and root vegetables are still the most "in-season" produce options for much of the east coast. As I was rummaging through the fridge last night I came up with a fresh and seasonal salad. I peeled a HUGE grapefruit and combined it with 1 cup sliced fennel. I drizzled  the mixture with olive oil, agave, and fresh black pepper. Sounds odd, but the combo works! Too bad I didn't have an avocado – I think that would have made a nice addition!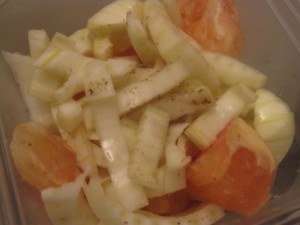 Along with my grapefruit-fennel salad, I also packed an open-faced almond butter and pumpkin butter sandwich.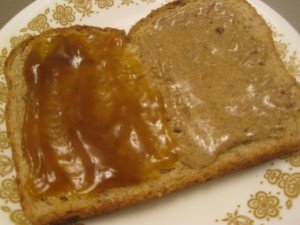 I'm not sure what the afternoon will bring, but more snacks will be involved for sure!
The other day I was offered a $50 shopping spree to iherb.com A few months ago I purchased sprouting supplies from this company and was impressed with the reasonable prices and speedy delivery. Of course I was excited to pick out some more goodies! The site interface is kind of low-tech, but don't let that fool you – this company stocks the most cutting edge supplements, super foods, and baking supplies.
I selected dried tart cherries (a natural anti-inflammatory for runners!), ground flax, white chia seeds, Maca powder (this South American superfood is supposed to be crazy good for the endocrine system), and walnuts.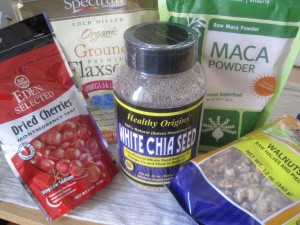 Of course I wanted to try out my new goodies right away! The other night I whipped up a batch of cookies. Thank goodness they were so full of nutrition – I gobbled up a dozen of them within 24 hours!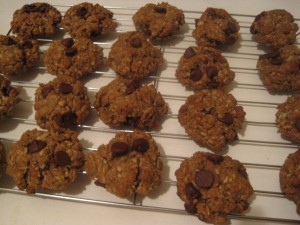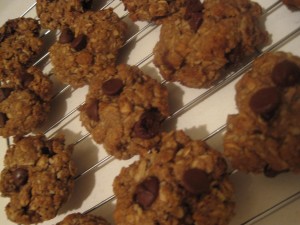 Superfood Cookies
Ingredients:
(note: if you don't have some of these ingredients –  the recipe will probably work fine with substitutions!)
1 cup rolled oats

1/4 whole wheat flour

2 Tbs ground flax

2 Tbs maca powder

1/2 tsp baking powder

1/4 tsp baking soda

1/4 tsp salt

1/2 cup brown sugar

2 Tbs white sugar

1/4 cup smart balance (or butter)

1 egg (or to make vegan – whisk 1 Tbs flax with 3 Tbs water)

1 tsp vanilla

1/2 cup unsweetened coconut

1/2 cup semi sweet chocolate chips
Directions:
Whisk together all the dry ingredients (oats through salt)
Using a hand mixer or stand mixer, cream together the earth balance and sugar
Add the egg and vanilla to the butter-sugar mixture
Gently combine the wet and dry ingredients
Stir in the coconut and chocolate chips
Drop rounded spoonfuls of dough onto a parchment lined baking sheet
Bake cookies for about 10 minutes at 350 degrees
Guess what?? iherb has offered to give away a $50 shopping spree to one lucky reader (U.S. residents only). To enter, have a look at the iherb website and then leave a comment telling me what you'd pick out. I'll choose a winner Friday morning (April 2nd). Good luck!