Running update: I am so excited for Sunday's half-marathon!! The weather forecast is lookin' perfect (partly cloudy and mid-50's for the 7:30am start). I've been reducing my mileage to rest my legs for the race. I ran 6 1/2 miles on Wednesday, 3 miles on Thursday, and I'm taking today (Friday) OFF. I'll run a few miles on Saturday morning and finish up with a few race pace few strides. Check out my latest True/Slant article for the top 5 race day strategies!
Last night I was lucky enough to enjoy a fabulous potluck dinner with some fellow New York foodies. Delicious eats + wine + good conversation = Perfect Thursday evening!
Jenny baked some crispy spinach balls that were savory and delicious. I think these will be my new meatball substitute.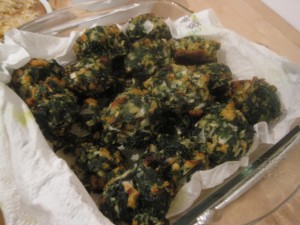 Leslie whipped up a white bean-basil pesto and served it atop roasted red peppers and asparagus.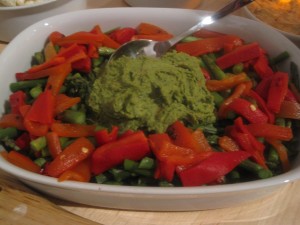 And a coconut-sweet potato dip that I could not get enough of!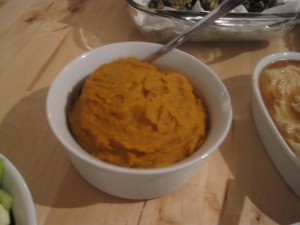 Danielle got creative and made Veganomicon-inspired quinoa and broccoli croquettes.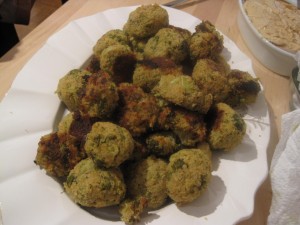 Sofia's toasted baguette slices with lentils and oven roasted tomatoes were lovely to look at and delicious to eat.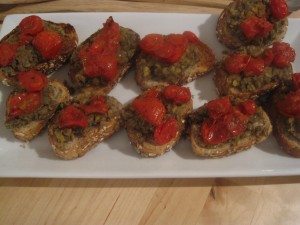 And Katie's peanut-sesame hummus was amazing!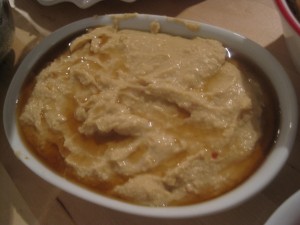 Along with a glass of wine, I had a little bit of everything…plus seconds! And maybe even thirds….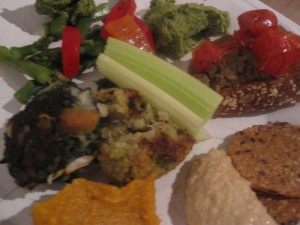 And for dessert? Homemade dark chocolate peanut butter cups.
 Dark Chocolate Peanut Butter Cups
Ingredients:
12 oz bag of dark chocolate chips
6 oz (1/2 bag) of milk chocolate chips
1 cup of natural peanut butter, divided
1/2 cup powdered sugar
1/2 tsp salt
4 teaspoons of butter or earth balance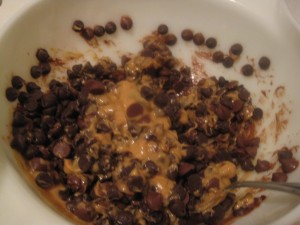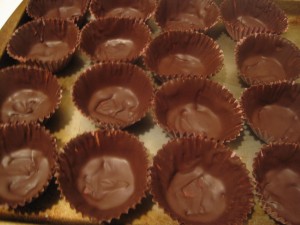 Directions:
In a medium bowl, combine the chocolate chips and 1/2 cup peanut butter and microwave on medium until melted (I stirred the chocolate at 30 second intervals to prevent burning).
Line a pan with cupcake wrappers and put a big spoonful of chocolate into each wrapper. I spread the chocolate up and around the sides – not sure if I would do that next time. It was kind of messy!
Once all of the cupcake wrappers are filled, pop the tray in the fridge for a few minutes so the shells harden up.
Meanwhile, combine the remaining 1/2 cup peanut butter, powdered sugar, salt, and butter in a bowl until combined.
Put a heaping teaspoon of peanut butter mixture into each chocolate shell and then cover with more melted chocolate.
Refrigerate peanut butter cups until the chocolate hardens and then devour!
Note: It's best to store the peanut butter cups in the fridge  – especially if the weather is warm!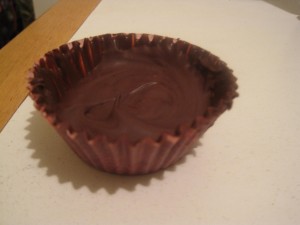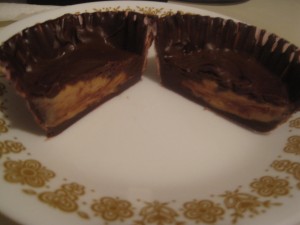 Important Announcement! Saturday, March 20th is Macaroon Day in NYC. What does this mean? Free macarons (a type of French cookie)! A bunch of fancy-pants bakeries throughout the city are giving out one free macaroon per customer. All you have to do is say "I'm here for Macaroon Day NYC". Hungry for more? You can buy additional macaroons and the proceeds will benefit City Harvest.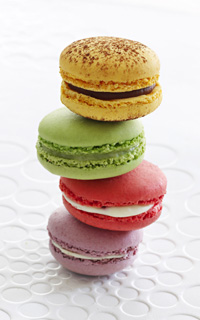 SELF Magazine is hosting a "Workout in the Park", taking place Saturday, May 8th at Rumsey Playfield in Central Park from 11:00 a.m. – 3:00 P.M. Tickets are available at www.SELFworkoutinthepark.com, they are $20 in advance, and include a year subscription to SELF (a $10 value).  Proceeds benefit Cancer and Careers, Susan G. Komen for the Cure. This event will feature fitness classes, free (healthy) samples, and lots of other fun stuff!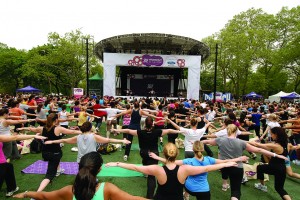 What's the best thing you've ever gotten for free?