After giving my shin 48 hours of rest – it feels absolutely fine. Yay!
As usual, I did the weekly CPTC interval workout on the treadmill. A day pass for the Armory indoor track = $30. No thanks.
2 mile warm-up

3 x 1200m @ 5K pace with 400m jog recovery
The 1200's were done at approximately ~6:40 pace and felt surprisingly good! Let's hope I feel similar on Sunday's hilly 5K course…

3 x 300m @ 3K pace with 100m jog recovery. I don't think running sub-6:00 minute pace on the treadmill is the wisest plan. Once again, I feared I would fly off the back of the belt, but thankfully not this week.

I finished up the workout with a final easy mile of running and some walking to cool-down.

Total: 7 miles
After a bit of stretching and a shower, I headed to the subway for the ride home. To appease my grumbling stomach, I tried something new: a Just Fruit bar sent to me by Gorge Delights. My fruit leather was made of 100% fruit (apple and cherry puree and concentrate – that's it!) and contained 90 calories, 17 grams of sugar, and 2 grams of fiber. It was the perfect post-run fuel – glycogen for my muscles! I'm going to keep a couple of these in my purse for emergency snacks.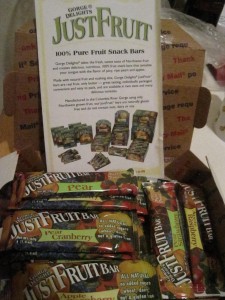 My dinner included another product sample: gardein (garden + protein) crispy tenders. Besides the occasional veggie burger, I'm not a big faux-meat fan. However, these crispy tenders blew me away. They tasted so much like chicken that I almost couldn't believe I was eating a grain/soy product and not meat. Matt recently wrote a review of the gardein product line – check it out for more info!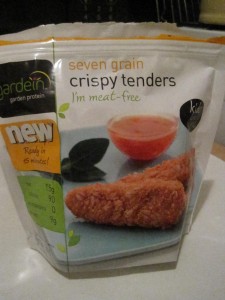 After baking the crispy tenders, I chopped them up into bite-size pieces. If it looks like chicken and tastes like chicken, it must be…gardein?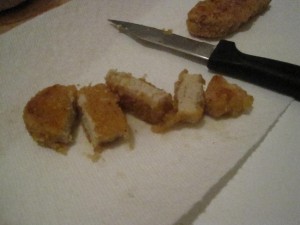 I hesitate to call my dinner a "salad". It was more like a big bowl of random ingredients. I was hungry. It was late. I needed dinner fast. I promise to cook an actual meal soon (I'm taking an Asian cooking class tonight!). Anyway, into the bowl went: chopped romaine lettuce, dried cherries, gardein crispy tenders, Kashi TLC crackers, cheddar cheese, hummus, and sriracha sauce. Veggies? Check! Protein? Check! Carbs? Check! Healthy fats? Check! Looks like I covered all the bases….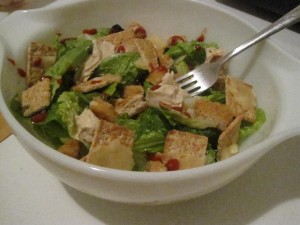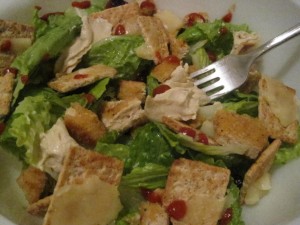 Taking the advice of my girl, Holly -I lived life to the fullest and ended the night with some chocolate. Mmm.
About 12 hours after my treadmill speed session, it was time to hit the road again. After some coffee + a luna bar (maybe eaten in bed…), I headed out the door for a (very) early a.m. run.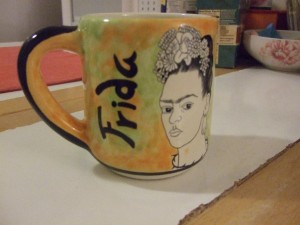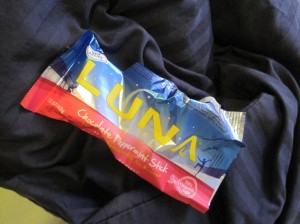 I'm not going to sugar coat it, certain parts of this 9-mile run were absolutely miserable. It was 34 degrees, windy, and sleeting/raining. My baseball hat blew off multiple times and I couldn't feel my hands by mile 7. I am SO ready for spring to be here.
Good things about today's run:
1) I made a friend in the park. His name is Dave, he's 72 years old, and we run the same pace. Bwahahaha.
2) I ran with Ani and Chris for the middle miles. Company made the rain + wind more bearable.
3) It felt good to get up early and get my run out of the way.
Also, NO shin pain. A few aches and pains in my feet, but they were fleeting -probably from wearing the lunaracers yesterday.
Before I get back to the grindstone, I wanted to share some things that I've been lovin' lately.
1) Advanced Marathoning by Pete Pfitzinger and Scott Douglas – So far nothing I've read in this book is completely groundbreaking (especially if you have a solid running background) BUT the authors do a great job of explaining the how's and why's of marathon training. If nothing else, the chapter on nutrition/hydration has convinced me to pay more attention to my fluid intake. I recommend this book if you're an experienced marathoner looking for direction in your training.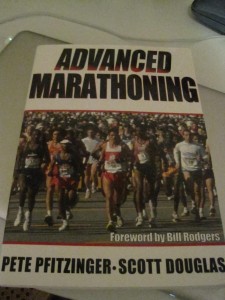 2) After much procrastination, I finally bought a RoadID. If you're a runner, you should have some form of ID on you at all times. It's better to be safe than sorry. Mom – are you proud? 🙂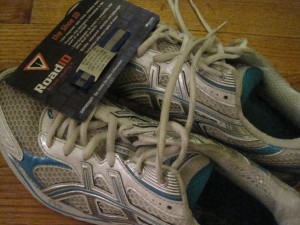 Are you a fan of faux meat products i.e. veggie burgers, soy crumbles, gardein?
If you're a runner, what do you carry with you? ID, cash, cell phone?