Last week I attended another class at the Whole Foods Culinary Center: Gluten-free baking for beginners!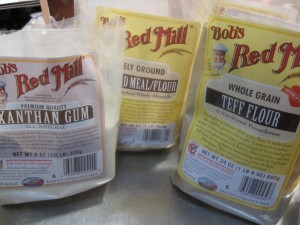 I don't have any gluten allergies, but I love to bake and I'm always interested in learning new recipes and techniques. The goodies that we baked in class were not only gluten-free, they were also vegan and packed with nutrition. Instead of focusing on what had to be left out (wheat flour), we focused on adding nutrition in. I learned so much about the health benefits of superfoods like raw cacao, chia seeds, teff flour, coconut oil, etc. The class also caused me to re-evaluate some aspects of my diet. The instructor made a very good point: since white sugar doesn't contain any nutrients, your body has to use up its energy reserves just to process and digest it. While I'll still eat sugar occasionally (everything in moderation!), I'm going to try and transition to maple syrup and agave as my sweeteners of choice.
Our first recipe of the evening was Jam Thumbprint Cookies. Applesauce replaced the egg, almond milk served as a milk substitute, and we used a nutritious mix of millet and coconut flours. Millet is an "ancient grain" that is rich in B-vitamins and magnesium. Chia seeds gave these cookies crunch and packed in omega-3's – yum!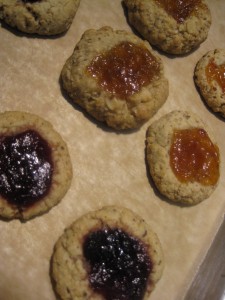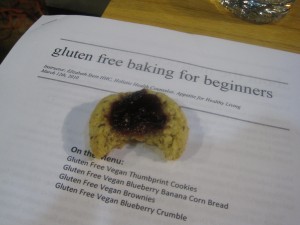 Next up: Gluten-Free Brownies! These moist, fudge-y brownies contained teff flour (super high in iron!), coconut flour (rich in protein and fiber), and raw cacao which has the highest antioxidant content of any food on the planet.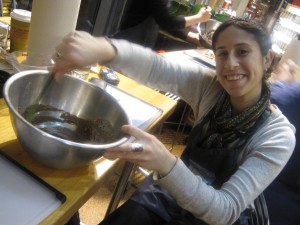 Purely Elizabeth has given me permission to post the brownie recipe on the blog – try it, it's divine!
Gluten-free brownies with raw cacao
Ingredients:
1/4 cup raw cacao powder

1/4 cup coconut flour

1/4 cup teff flour

1/4 cup almond flour

1 Tbs instant coffee

1/2 tsp xanthum gum

1/2 tsp salt

1/2 tsp baking powder

1/2 tsp baking soda

1/2 cup unsweetened applesauce

1/4 cup almond milk

1/2 cup palm sugar

1/4 cup maple syrup

1/2 cup earth balance vegan butter

1 Tbs vanilla
Directions:
Preheat oven to 375 degrees.

Combine all ingredients in a bowl, mix to combine.

Pour into a 8″ x 8″ pan.

Place in the oven for 25 minutes or unril a toothpick comes out clean!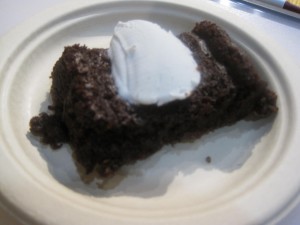 Our third recipe was a Blueberry-Banana Bread. The bread had a nice banana flavor, but I found the texture to be a little too gritty.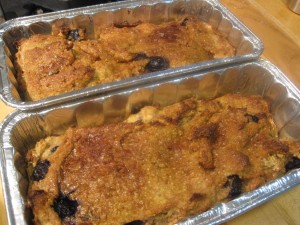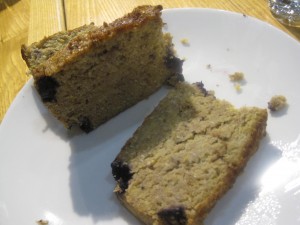 Next on the list: Blueberry Crumble. I knew this recipe was going to be good even before we added the crumble topping. We started off by macerating frozen blueberries in agave syrup, lemon juice, and cinnamon – this would make a refreshing dessert all on its own!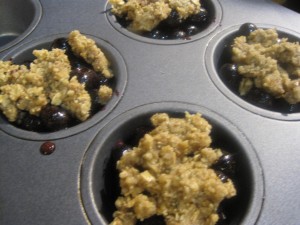 Mmm, topped with a little coconut bliss ice cream. Perfecto.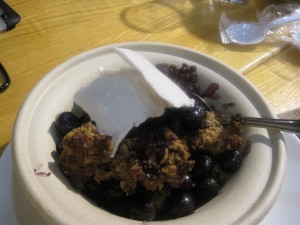 We had a little extra time at the end of class, so we made some "bonus recipes".
Frozen Bananas with Vegan "Magic Shell"
Ingredients:
Bananas
Wooden Skewers
1/3 cup agave nectar
3 Tbs raw cacao (or unsweetened cocoa powder)
1/3 cup coconut oil (melted)
Directions:
Place skewers in the bananas
In a large bowl mix together the agave nectar, raw cacao, and coconut oil
Dip the bananas in the chocolate mixture and then place on a parchment lined plate
Freeze bananas until chocolate "shell" hardens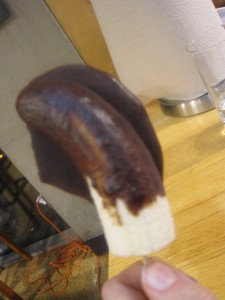 Our final fun recipe was a Coconut-Lime Pudding. It tasted like a margarita!
Ingredients:
1 avocado
1/2 cup lime juice
1/2 cup coconut oil
1/2 cup agave nectar
2 pinches of salt
Directions:
Blend all ingredients in a food processor until combined
Portion out pudding into 4 small bowls or ramekins
Refrigerate pudding for at least 1 hour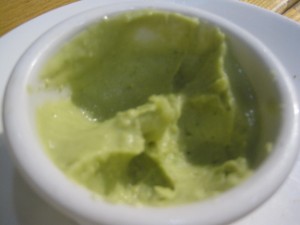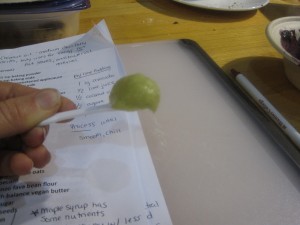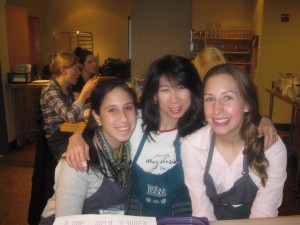 An evening full of friends and baking? Just my kind of night! I can't wait to re-create the brownie recipe….
What's your favorite type of baked goodie?