Yesterday was a great day for so many reasons. The weather was g-o-r-g-e-o-u-s and I had a lot of fun at the Coogan's Salsa, Blues, and Shamrocks 5K in Washington Heights. I lived in this 'hood during my first 2 years in NYC, so running through the hilly streets brought back memories. By the end of the morning, I almost missed the days of pastelitos and bachata music. Almost.
I was a bundle of nerves, so I was up well before my 6am alarm went off. I started off with a cup of coffee (yup, even before races!) and a slice of toast with banana and a few spoonfuls of nutzo nut butter.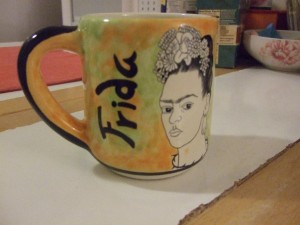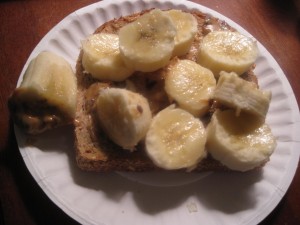 This was the first race that I was EXCITED about running in a long time. I have a few solid weeks of workouts/long runs behind me and no nagging injuries. 
2 mile warm-up and strides
First mile was a conservative 7:00 and then I picked up the pace.
Mile 2 was ~6:40 (MAJOR hill at the turn-around point)
Mile 3 was ~6:30
Final time was 20:50 (6:43 pace average)
586th place out of 5,629 runners, 64th out of 2,612 women, and 7th finisher for the Central Park Track Club's women's team.
7 mile cool-down (30-ish minutes with Jacqui and Sarah and then another 30-ish minutes back to my apartment…7 miles is a generous estimate, hah)
12 miles total for the day
Despite being in the first second corral, the start was ridiculously crowded, I felt like I wasted a lot of energy weaving in and out of the crowd. Luckily things thinned out a bit after 800 meters and I was able to speed up. The hills on this course were pretty brutal, but at least the last 1/2 mile was mostly downhill! Last year at this race I ran 21:43, so I think it's a good sign that this year's time was nearly a minute faster. Also my time was a PR for a non-track 5K. My previous PR was 20:51 at Open New England's Senior year (cross-country). Wahoo!
However, there's always room for improvement. Next time I'd like to make my way up to the first corrall (less crowding, better start position) and pay more attention to running the tangents. I felt like I wasted a lot of unnecessary energy today fighting the crowd. Also, my first mile was too conservative, I need to focus on feeling comfortable with a faster start.
Onwards and upwards, NYC Half Marathon…here I come!
Once I returned home, I immediately devoured a plain chobani greek yogurt, chopped apple, with a spoonful of lingonberry jam.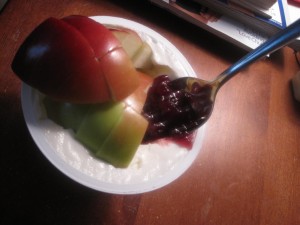 After my shower, I re-hydrated with an Odwalla Superfood green juice (looked like sludge, tasted delicious!) and a chocolate chip peanut crunch clif bar.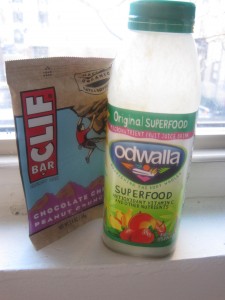 And then…it was time to frolic in the amazing sunny weather! Nothin' says spring like big sunglasses and a $5 Starbucks mocha frappuccino. I took advantage of the spring temperatures and went for a lil' walk to stretch my legs. I really think that some light activity after a race or long run goes a long way in preventing soreness.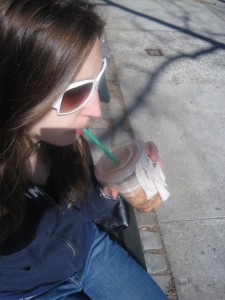 Around 4pm, I was hungry and ready to EAT (again). I made myself a plate of homemade nachos while I contemplated what to have for dinner. TJ's reduced-guilt tortilla chips + shredded cheese + salsa + 20 seconds in the microwave = nachos!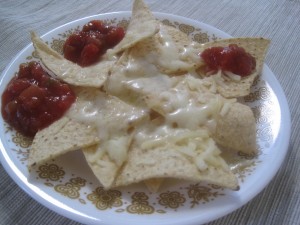 Dinner ended up being leftovers from a creation I made the other night. Inspired by Tina's breakfast pizza, I rounded up a slew of pantry ingredients and made my own version. My favorite thing about this dish is that you can easily make substitutions based on what you have in your fridge/pantry.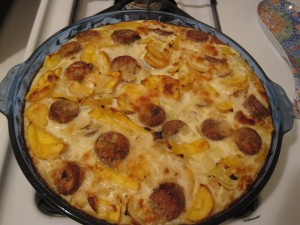 Polenta Breakfast Casserole
Ingredients:
1 cup cornmeal

2 1/4 cup water

1 Tbs earthbalance (or olive oil or butter)

1 large onion, diced

1 large yellow carrot, chopped (feel free to substitute other veggies!)

1/4 cup shredded mozzarella cheese

2 chicken sausage links, sliced (these had been in my freezer for months, so I used them up, but you could also use vegetarian sausage links!)

1/2 cup milk

1 cup egg whites

Salt and Pepper, to taste
Directions:
Pre-heat oven to 400 degrees, coat a 9″ pie pan with cooking spray

Heat water in a medium sauce pan, once boiling whisk in the cormeal, and reduce heat to low.

Allow cornmeal to cook for about 4-5 minutes, stirring frequently.

Once sides of polenta begin to pull away from the sauce pan, turn off the heat, and stir in shredded cheese and a dash of salt and pepper.

Pour polenta into prepared pie plate and smooth down with a spoon.

In a large pan, heat earth balance and cook the onions and carrot until softened (about 3-5 minutes)

In a medium bowl combine cooked veggies, sliced sausage, egg whites, milk, and more salt and pepper to taste.

Pour veggie-egg mixture over polenta and bake for about 40 minutes or until top is goldent brown.
Yum! This was a very tasty dish that not only used up random leftovers in my fridge (that bag of cornmeal has been hangin' out in my freezer since 2007), but it also provided a good mix of post-run carbs and protein.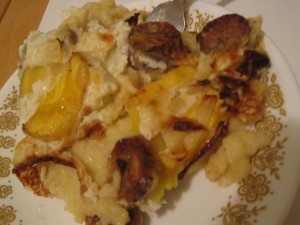 I ended the night with a cup of tea and some thin mint cookies.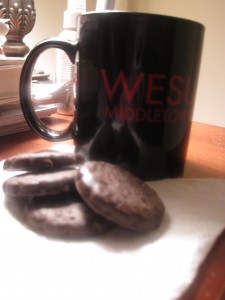 Note: I probably only took photos of about 75% of what I ate today. On days that I run fast (and long) I find that my appetite goes into overdrive. There were definitely some handfuls of Kashi crackers, spoonfuls of nut butter, and extra tortilla chips that went un-documented. After racing a 5k and running 12 miles, my body needed the fuel 🙂
Question: If you're a runner, what's your favorite race distance?
Is your ipod mix getting a little old? Score some new workout music from Cadence Revolution's free weekly podcast.
Wondering what to do with leftover bread? Check out this yummy whole wheat panzanella salad recipe.