Interval workouts and long runs are essential to a solid training plan, but so are rest days. After my right shin started barking at me on Sunday, I knew that Monday was going to be a day off. After some quality time with the ice pack and arnica cream, I'm happy to report that there's no pain! I plan on going for a run later today (Tuesday), so that will be the real test. Fingers crossed! Lesson learned: Take a rest day now, avoid injury later!
Since I wasn't hitting up the gym or running around Central Park yesterday, I had some free time on my hands. What to do?? How about a yummy vegetarian dinner with fellow NYC-area foodies!
Caravan of Dreams, a vegan restaurant in the East Village, has been on my "must eat here" list for awhile. The staff was very accommodating and happily reserved a table for our big group last night.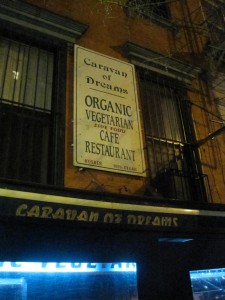 I'm still trying to figure out the settings on my camera, so some of the photos are bit blurry/dark. Believe me when I say that my pictures don't do the yummy food justice!
It was lovely meeting and re-connecting with NYC area bloggers and food lovers. Thanks for coming out last night ladies!
Jess, Irina, and Liz: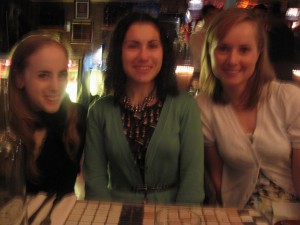 Katherine, me, and Jacqui: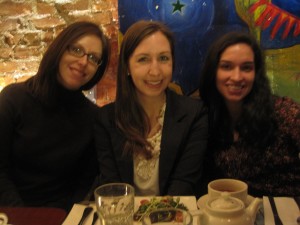 My meal started off with a simple salad dressed in ginger vinaigrette.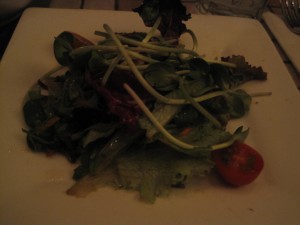 And a pot of vanilla hazelnut dessert tea. Who says you can't have dessert tea before dinner?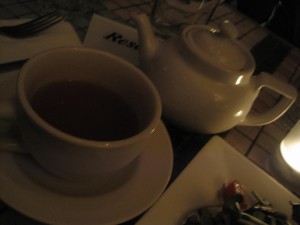 For my main entree I ordered the Green Garden platter. I wasn't sure what to expect, but when I read that grilled carrot polenta was involved I knew I had to try it!
My dish was comprised of a bed of sauteed seasonal veggies (kale, cauliflower, carrots, cabbage), seitan, grilled carrot polenta, and a dollop of vegan sour cream. It was flavorful and hearty without being too heavy. I cleaned my plate! I love how satisfying a good vegan meal can be.
Lindsey digs in!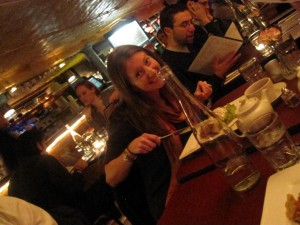 I think everyone enjoyed their meals – everything looked so good! I have plans to go back and sample some of Caravan's  "Live" (a.k.a. Raw) offerings.
Question: What are your thoughts on raw food? I'm not a strict vegetarian, but I'm still interested in exploring vegan and raw cuisine. The creations on Gena's website, Choosing Raw, always look so yummy! 
Training for a half or full marathon? Matt and I spill the details on what to eat while running.
Short on cash? Check out these awesome and FREE ways to get healthy and fit in March!