And the winner of the Cuisinart food processor is….
Heather from Running Leaner and Greener: "I would make some hummus – but I would also make that tabbouleh recipe! I also just picked up that Thin Mint Ice cream – it is amazing."
Heather – email me your shipping info. Congrats!
Despite the less than stellar weather, my Sunday featured some really fun things. Below are the "bests" of the day 🙂
Best exercise of the day: I woke up early on Sunday (hello Daylight Saving Time…) in order to do a rainy, but fun run with Alma and Ada of NYCollegeEats. Despite the rain, we were able to run on the bridle path for most of our miles and my legs appreciated the soft, squishiness. I ran about 7.5 miles (64 minutes) and the legs felt GOOD!
Afterward, our living room was filled with lots of wet running clothes and shoes. You can always tell when an apartment has runners living in it!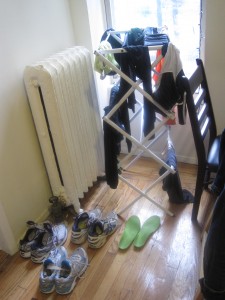 Best recipe of the day: Caramelized Banana French Toast based on Caitlin's grilled banana sandwich recipe. This sandwich was full of filling fiber (whole grain bread), protein (egg), and sweet fruit (banana). Loved it!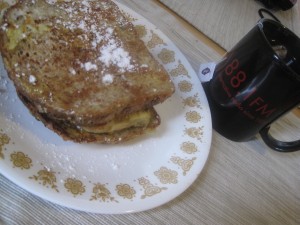 Ingredients:
Directions:
Combine egg, milk, and vanilla in shallow bowl and soak the bread
Coat frying pan in non-stick spray and heat over medium-high
Add bread and banana to pan, sprinkle tops of bread with brown sugar
After about 2 minutes, turn the bananas over
Flip over the french toast and sprinkle cinnamon on the side now facing up
When french toast is cooked to your liking, remove from heat, and place bananas between the 2 slices of french toast
Sprinkle with powdered sugar and devour!
Best accomplishment of the day: A Yoga to the People podcast  (60 minute Power Flow #8) in my bedroom. I had planned on going to the actual studio at St. Mark's Place, but the thought of battling the Sunday afternoon crowd just didn't seem appealing. It had been 2 weeks since my last yoga practice (can you tell I like running more?) and this session had me working HARD. I think I audibly sweared at the instructor during the power lunge sequence. I always *think* about doing yoga at home, but those thoughts are usually replaced with google reader, Netflix, and a bowl of ice cream. I was very proud of myself for getting my yoga on. Yay, stretching and strengthening.
Best ice cream EVER: Peanut Butter Fudge ice cream (vegan) from Lula's Sweet Apothacary. We all know I love ice cream, so you've got to believe me when I say that Lula's vegan ice cream is the BEST ice cream (including dairy varieties) that I've ever had. Unlike some other vegan ice creams (ahem..Stogo…) there is no soy aftertaste. Most of Lula's ice creams have either a cashew or coconut milk base and they are unbelievably rich and scrumptious. My go-to flavor is peanut butter and jelly (last week I bought a pint…gone in 2 days), but all of the flavors are good. Yesterday I ordered the peanut butter fudge and was in heaven. The ice cream had a rich peanut butter flavor with notes of chocolate fudge in the background. If you live in NYC, check.it.out. Lula's is located on E. 6th Street near Avenue A. And FYI: Cafe Blossom (82nd St and Columbus Avenue) just started featuring Lula's ice cream on its dessert menu. As long as this ice cream was a part of my life, I think I could easily become vegan.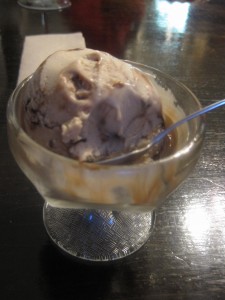 Do you do most of your runs on the road? This article explains why that could be a mistake.
Where do you run the majority of the time? I'm in Central Park (roads & bridle path) for about 75% of my runs and on the treadmill for the other 25%.