Ahh, Spring. I ran in a tank top and shorts last night and it was AMAZING. I was workin' pretty hard, so the cool breeze on my bare arms and legs felt so refreshing. There's nothing like good weather to get me excited about running! Unfortunately….this gal's gotta pay the bills, so my day involves more work than frolicking in Central Park.
I've been spending a lot of moolah on race entries (2010 NYC Marathon entry costs $160!), so in an effort to assuage my guilt, I've been packing my breakfast and lunch every day this week. Eating healthy can be economical 🙂
On Tuesday I started off with coffee and a Fitnessista inspired breakfast cookie: 1/3 cup oats, 1 Tbs nut butter, 1/2 scoop vanilla protein powder, sprinkle of raw cacao, sprinkle of chocolate chips, 2 Tbs milk, and 1/2 mashed banana all mixed together and flattened into the bottom of a tupperware. After sitting in the fridge overnight…it was a breakfast cookie! And of course I ate that other 1/2 banana.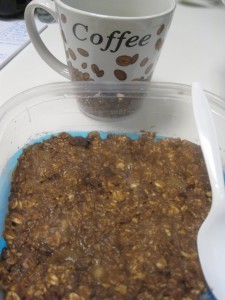 Mid-morning snack was a protein-filled oikos honey yogurt.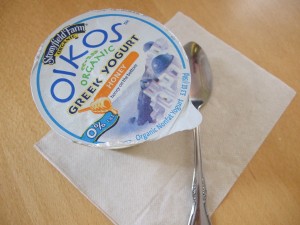 My salad was really yummy and not too $$: romaine lettuce, home-grown sprouts, dried cherries (from the bulk bin), Wildwood baked tofu (purchased with a coupon!), and a homemade flax oil & balsamic vinaigrette.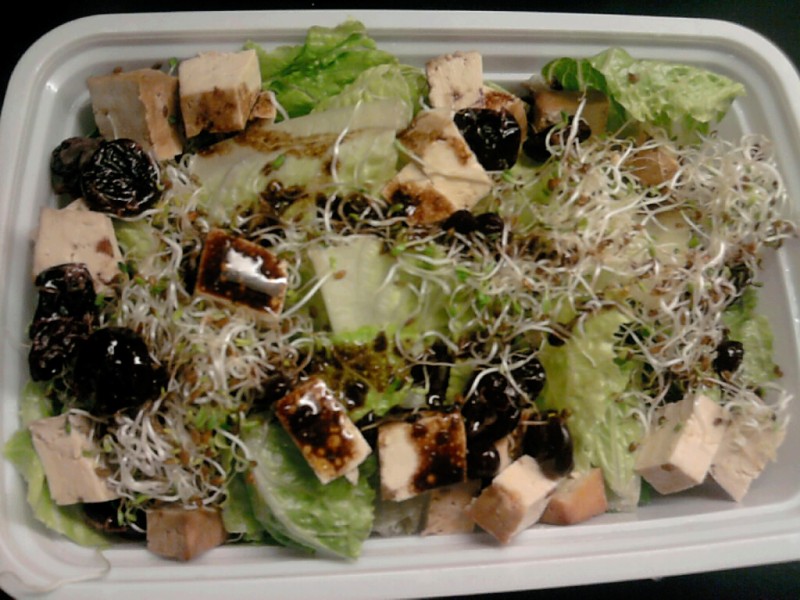 I'm probably the most proud of my afternoon snack. I put 1/3 cup popcorn kernels in a brown paper bag, folded over the top a few times, and microwaved for 3 minutes. Voila! Instant microwave popcorn – no scary chemicals or oils needed. After the popcorn was popped, I added some Ranch Seasoning and packed it in a large ziploc baggie. Yay, cheapie snacks.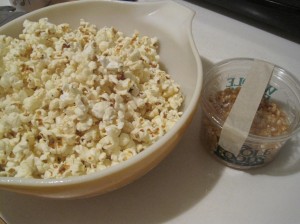 What's an afternoon without a few squares of chocolate? Especially sea salt dark chocolate. I blame Chelsea for my obsession. Heh.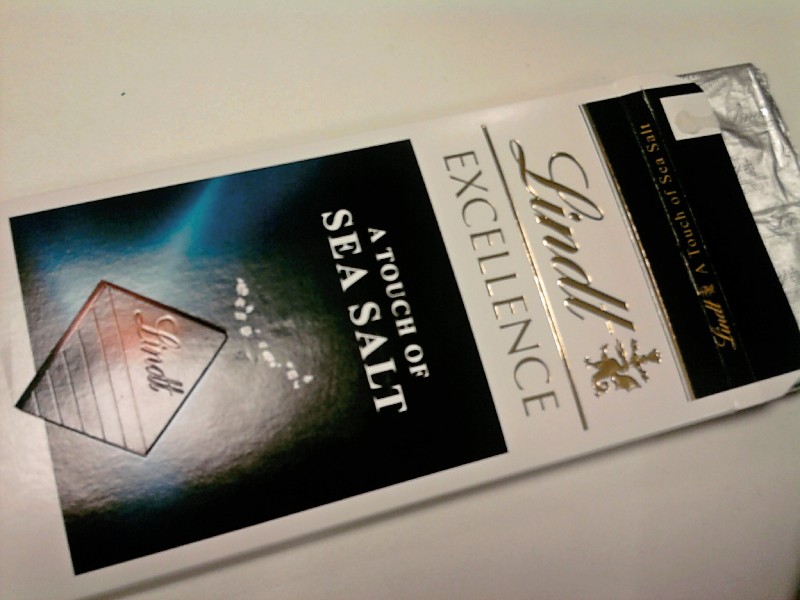 I had plans to run late, so around 5pm I sipped some tea and fueled up with a clif bar.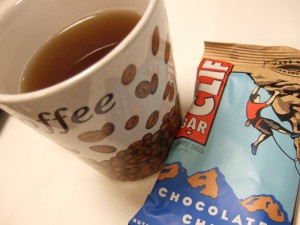 Whenever I do workouts late in the evening, I get nervous about fueling. I want to make sure I have enough energy, but I don't want to eat the wrong things (uhh, the bathrooms in Central Park are not exactly plentiful or all that clean). I usually end up having a few nibbles of something as I try not to stress about get really excited for the workout. Last night I had 1/2 nature's path granola bar and a spoonful of nut butter (unpictured) about 30 minutes before I headed out the door – worked out pretty well!
I had just enough time to speed home from work and get changed before starting my run. I ran 2.75 miles to the Daniel Webster statue and then another 1.75 miles of warm-up with Sari. Since neither of us have an Armory indoor track membership, we decided to do the CPTC Tuesday workout in the park. I knew that the 102nd street transverse was close to a quarter mile, so that's where we did our repeats. Sari wore her Garmin and the transverse ended up being exactly 400 meters. Perfect! The assigned workout was 12 x 400m @ 5K pace with 200m recovery. I'm having some trouble remembering our splits, but I think they were as follows:
1:35, 1:36, 1:33, 1:35, 1:37, 1:31, 1:38, 1:35, 1:35, 1:36, 1:31, 1:33

I was definitely working hard especially since 1/2 of the repeats were slightly uphill… Thank goodness for Sari's company! I probably would have run slower/stopped early if I was by myself. I finished up with a 1 mile cool-down bringing me to 10 miles for the day.
My right IT band/knee was quite tight, so I did some serious foam rolling and icing afterward. Gotta stay on top of that!
I had a special baking project on tap, so dinner was quick. Just a morningstar black bean burger, shredded mozzarella, hummus, and sriracha on bed of romaine and sprouts. Eh, a little boring, but it sure was tasty. On days when I do workouts in the evening, I try to get most of my calories in the early part of the day. I've found that a big dinner at 9:30/10pm is just too hard on my stomach.  Sometimes this means that I'm hungrier the next day – if that's the case I make sure to have a bigger breakfast! I try to listen to my body and eat more when I'm hungry, less when I'm not.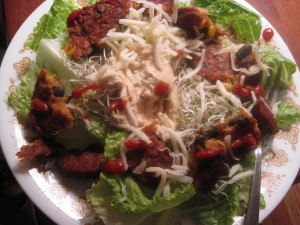 What was my special kitchen project? Homemade dark chocolate peanut butter cups! I did my fair share of sampling and I think this recipe is a winner 🙂
Recipe to come soon….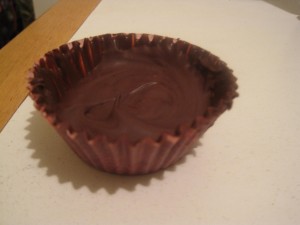 Check out these tips on how-to build the perfect salad.
I'm running the NYC 1/2 marathon on Sunday (incredibly excited AND nervous) and I just posted my race week training plan. I plan on taking it easy for the next few days and resting on Friday.
Do you take a day off before races?