Last night I attended a cooking class at the Whole Foods Bowery Culinary Center. You can read all about my previous cooking class adventures here:
Yesterday's course was all about….asian noodles! I think I've mentioned it before, but I actually don't like pasta. For a runner who lived in Italy for 4 months, I realize that this is bizarre. However, my distaste for pasta does not seem to carry over to asian noodles. I wouldn't say that they're my favorite food, but I certainly won't turn down a good plate of pad thai 🙂
Our first dish of the night was Classic Pad Thai adapted from David Thompson's Thai Street Food.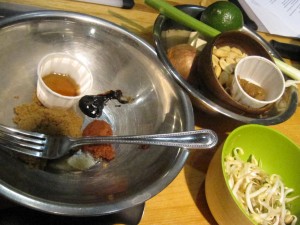 We were grouped into teams of 4 and cooked our pad thai in a wok over high heat. Fun!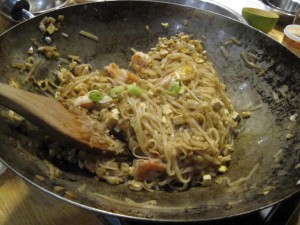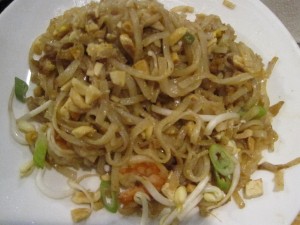 Yum! I loved the combination of chewy noodles, crispy bean sprouts, crunchy peanuts, savory fish sauce, and spicy Thai chile paste. And since all of the ingredients were from Whole Foods I felt confident that it was a quality dish. While we were cooking, someone mentioned that restaurants often use ketchup (instead of chile powder/tamarind paste) in their pad thai to save money and time. No thanks!
Next on the agenda was Pork and Shrimp Wonton Noodle Soup. The filling was a mixture of ground pork and chopped shrimp. As you know, I don't eat meat all that often, but I make an exception for special occasions – like cooking classes!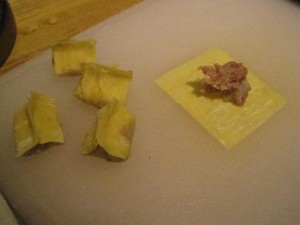 Ani and I had a blast making wontons. Note: Ani is sitting and I'm standing. I'm not a giant – I swear!!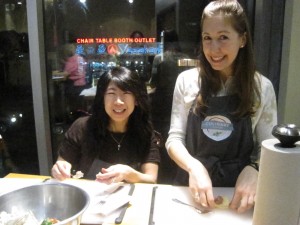 After the class filled up a tray of wontons, we boiled them in broth and garnished with some spinach.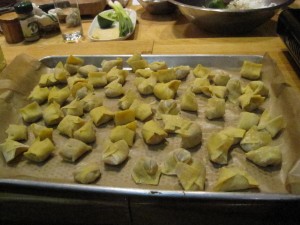 Mmm, wonton soup is perfect for the chilly, wintery weather NYC has been dealing with.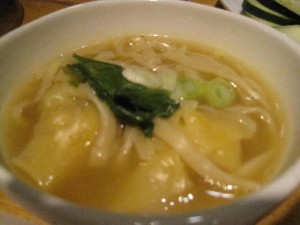 Ready for more noodles? We're not done yet! Our third dish was Singapore Curry Rice Noodles. This dish contained a good balance of carbohydrate (noodles!), protein (shrimp and pork), and vegetables (onions, scallions, and snow peas). Plus lots of antioxidant-packed curry powder!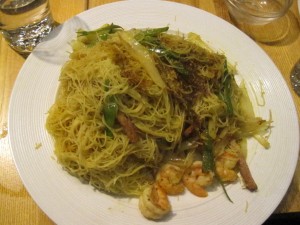 Dish number four was a Vietnamese Noodle Salad with Lemongrass Grilled Pork. We arranged glass noodles, pickled vegetables, mung bean sprouts, romaine lettuce, grilled pork chops, and topped with a spicy chile dressing and chopped mint & cilantro. This was a very light and fresh dish – perhaps my favorite!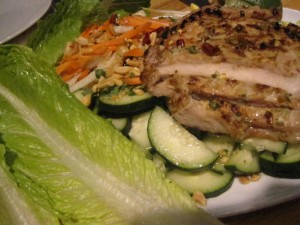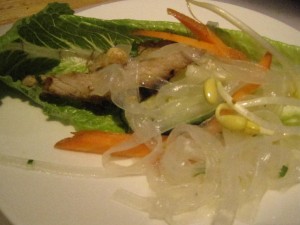 Our final noodle dish (dessert!) was perhaps the most interesting. We've all had rice pudding, but what about noodle pudding? This was different AND delicious, plus the recipe was super easy!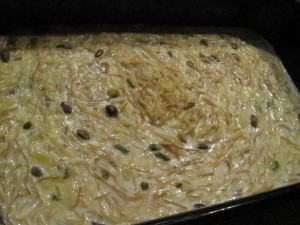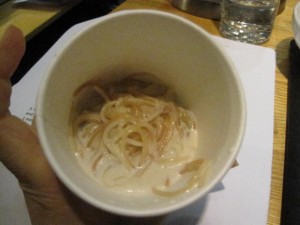 Toasted Vermicelli Milk Pudding adapted from The Art of Indian Vegetarian Cuisine by Yamuna Devi
Ingredients:
3 Tablespoons of ghee or unsalted butter

1 cup fine vermicelli (or angel hair pasta), broken into 1 1/2-inch pieces

5 cups of milk

1/2 cup sugar

1/3 cup sliced almonds

1/4 cup unsalted pistachios, slivered

1/2 Tablespoon rose water (optional, but recommended!)
Directions:
Melt the ghee or butter in a heavy-bottomed, 5-quart nonstick pan over moderate heat. When it is hot, add the vermicelli and fry, stirring to ensure even browning, until the noodles turn a golden brown.
Pour in the milk, sugar, almonds, and pistachios and stirring constantly, bring to a boil. Cook for about 20 minutes or until the pudding is slightly thickened and creamy. Cool to room temperature, add the rose water, and chill thoroughly. Stir well, then serve in individual bowls.
Note: raisins or another dried fruit must be a nice addition to this dish!
After sampling my way through the noodles of Asia, I left class with a full belly and a tupperware full of leftovers. Can't wait to eat them for lunch today!
What's your favorite type of noodle dish?