The weather was absolutely horrendous in NYC yesterday (heavy rain and blowing wind), so I did the assigned Central Park Track Club fartlek workout on the treadmill. Did you know the running term "fartlek" means "speed play" in Swedish? It basically means you switch between running fast and easy. If you do a fartlek on the road, your fast segments don't need to be timed. Instead you can run fast to the next mailbox or lampost and then recover (jog) before doing it all over again. Pretend it's a game!
2 mile warm-up
5 x 4 minute pick-ups (roughly 1/2 marathon pace, ~7:10 per mile) with 90 seconds of recovery (~9 minute per mile pace)
1.5 mile cool-down
7 miles total
This workout was tough, but manageable. I was majorly sweaty (unusual for me), so I was especially thankful for the chilled, eucalyptis-soaked towels that my gym offers. My monthly membership to Equinox is definitely my most pricey expenditure (besides rent), so I try to make it worth it! Bring on the locker room goodies. I finished up with a little stretching, foam rolling, and core work afterward.
Workout complete? Check! Now it's time for a fun recipe.
The other day I was intrigued by a wonderful creation I saw on the blog Caroline Dines. Peanut and sweet potato stew? Sign me up!  I altered the recipe quite a bit due to my own taste preferences and what I had in the pantry. This comforting winter stew is packed with quality carbs, protein, fiber, and healthy fats (peanut butter!). It would make an excellent post-run recovery meal. And it's so easy to make! If you can chop veggies and stir, you can make this recipe 🙂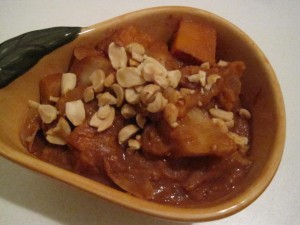 Peanutty Root Veggie Stew (Makes 4 servings)

Ingredients:
1 very large sweet potato, cubed
1 large celeriac (a.k.a. celery root), peeled and cubed
2 medium onions, diced
1 can of white beans, drained and rinsed
8 oz. canned tomato sauce (no salt added variety)
2 cups of water
1 generous Tbs cinnamon, 1 generous Tbs cumin
1 tsp salt
1/4 cup peanut butter (or more! be generous)
1 Tbs sriracha sauce
sprinkling of peanuts to garnish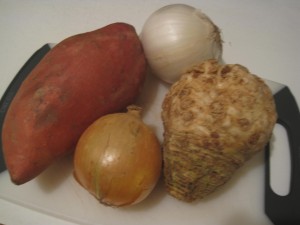 Directions:
Place all ingredients (except for peanut butter, sriracha, and peanuts) in a large pot and cook on medium-high for about 40 minutes or until the potatoes are fork tender.
I recommend covering the pot for the first 20 minutes of cooking and then allowing the stew to finish up uncovered. This will help it to thicken up.
Turn off the heat, add the peanut butter and sriracha, stir until combined.
Garnish with chopped peanuts and devour!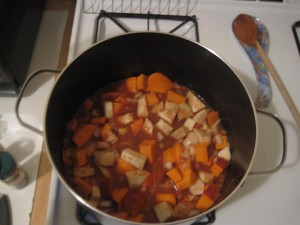 Nutritional information (per serving): 350 calories, 12 grams of fat, 48 grams of carbohydrates, 15 grams of protein, 10 grams of fiber. This recipe also provides a good amount of Vitamin A, C, and iron. Hooray!
If you could only eat 3 foods for the rest of your life, what would they be? I'd pick peanut butter, greek yogurt, and crinkle cut french fries.