Holy comments! You guys must really like popchips 🙂
And the winner is:
Comment #39:  Erin says: February 17, 2010 at 1:04 pm  I love that speed workout – I need to try it sometime. My favorite chip flavor is definitely sour cream and onion. Yum!
Erin – email me your shipping info and I'll have popchips send the goods 🙂
So last night, I attended my 4th consecutive CPTC Thursday road workout. After what seemed like an entire year of frustration and injury, I'm finally starting to feel in "racing shape" again. I'm still a little nervous about doing twice weekly workouts and a long run, but so far so good. I haven't been so vigilent about my PT exercises, but I'm trying to give myself some extra TLC in other ways (sleep, lots of fruits & veggies, stretching). And the foam roller and I have been seeing a lot of each other lately! Last night was a pretty brutal workout, but I felt GOOD. As I was grinding out the last tough mile, I thought to myself: "This is FUN! I love running hard and pushing myself to the limit".
CPTC Thursday Night Road Workout
About 1.5 miles to warm-up
8.1 mile tempo run in 59:28 (average pace = 7:20)
Ran the first 4.05 mile loop at roughly marathon pace – 31:00 minutes total, averaged about 7:39 per mile
Ran the second 4.05 loop at half-marathon pace – 28:28 total, averaged about 7:02 pace
About 2 miles to cool-down
11.5 miles total – yikes, that's a lot of miles for a mid-week run!
Wore the lunaracers – no blister problems. I think they're a go for the NYC 1/2 marathon next month. I love these lightweight racing shoes – they make me feels so fast!
By the time I returned home, it was almost 9pm and I was ready for food in a major way. I wasn't up for cooking anything elaborate, so I just threw a bunch of leftovers into a bowl and called it a junk salad. It was actually pretty yummy!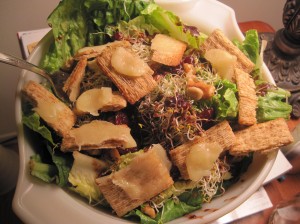 In the bowl:
romaine lettuce and homegrown sprouts
dried tart cherries and walnuts
triscuits topped with melted cheddar cheese
homemade dressing made with 1 Tbs olive oil, 1 Tbs balsamic vinegar, spoonful of dijon mustard, and a spoonful of lingonberry jam whisked together until combined
I gobbled that down and they had a bunch of yummy (vegan!) cookies. They just might be the *best* vegan cookies ever. Are you ready for the recipe?? A few weeks ago I mentioned how enamored I'd become with Momofuku's compost cookie. I made it my mission to create an animal product-free version for a vegan friend and while the results are not exactly the same, these cookies are pretty dayum good 🙂
Ingredients:
1/2 cup packed earth balance (not the same as smart balance, FYI)
3/4 cup brown sugar
1/4 cup granulated sugar
1 tsp instant coffee powder
1 Tbs ground flax
3 Tbs water
1 tsp vanilla extract
1 cup oats
1 cup flour
1 tsp baking soda
1 BIG handful of chips, roughly crushed
2 oz. pretzels, roughly crushed
1/2 cup hazelnuts, chopped
1/2 cup dark chocolate chips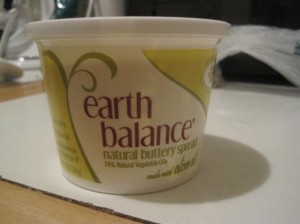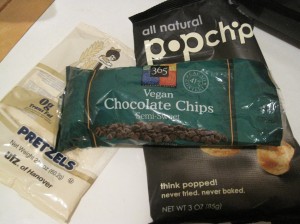 Directions:
Preheat the oven to 350 F and line a cookie sheet with parchment paper or a silicone baking mat

With a mixer, cream together the earthbalance, sugar, and instant coffee powder

In a small bowl, whisk together the ground flax and the water until smooth, add the vanilla extract

Fold the flax mixture into the earth balance & sugar 

In a large bowl, combine all of the dry ingredients (oats through chocolate chips)

Slowly add the wet mixture to the dry ingredients and stir until incorporated

If the batter isn't holding together well, try chilling the batter for about 20 minutes

Scoop rounded Tablespoons of batter on to the cookie sheet and bake for about 10-13 minutes or until golden brown

Cool on the baking sheet for a minute or so and then transfer to a wire cooling rack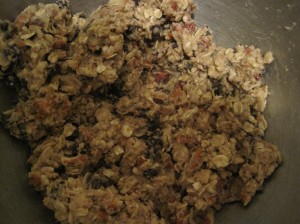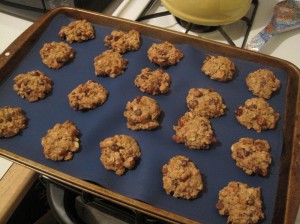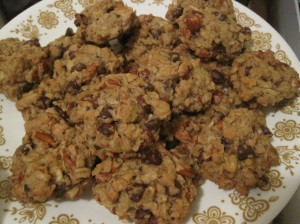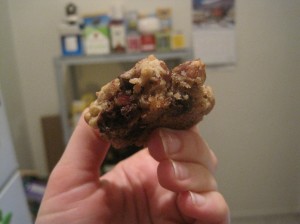 Nutritional stats (per cookie – approximate): 95 calories, 4g fat, 13g carbs, 1.5g protein, .5g fiber.
More of your "Ask Me Anything" question answered:
In your opinion, what bakery serves the best cupcakes in NYC? I'm a sucker for frosting, so I'd have to say Magnolia Bakery. Although the Reese's PB Cup cupcake from Crumbs is also really delicious….
How many calories do you eat a day when you're running vs. a rest day and what is the break down of foods throughout the day? I don't usually count calories, but I'd have to estimate that on a rest day I consume about 2,000 calories and on a hard workout or long run day it's closer to 3,000. On my FAQ page I discuss what I usually eat in a typical day.
What events did you run as a member of your college track team? Which college PR are you most proud of? During my first few years of college I mainly focused on the 1500m  for indoor and outdoor track, but by senior year I made the switch over to the 5K. The college PR I am most proud of is my outdoor track 5K (18:52.73) It's the closest thing I've ever experienced to a runner's high. It was one of the best days of my life 🙂
As an experienced runner, what do you think about barefoot running? After reading Born to Run, I'm much more skeptical of all the fancy cushioning and stability features that modern running shoes offer. The human foot is a pretty amazing thing,  so it seems like we might actually be designed for barefoot running. HOWEVER, few of us have been running barefoot since childhood (like our ancestors did), so I think it's important to ease into barefoot running very slowly. I've started wearing lightweight training shoes (Nike lunaracers) for workouts and some easy runs and I plan on incorporating some barefoot strides in the grass come springtime.
How do you get motivated or stay motivated to run in such cold weather? Good question! I am not a big fan of winter, so cold weather running is tough for me too. I've found that good gear helps (tights, running jacket, hat, mittens, etc.) and having a  buddy to run with in the morning motivates me on days when I'd rather by hibernating 🙂 It's already mid-February, let the countdown to spring begin!
Last, but not least:
Want to experience less pain during and after running? Tart cherries might be the answer!
Live in NYC? Check out this awesome runner's map.
Happy Weekend! Anything fun planned??