Some runs (like last weekend's 14-miler) are awesome and others….not so much. Last night I headed out the door for a post-work run and felt crappy for most of the 4.5 miles.  Maybe it was my frustrating day at work, maybe I was just tired.  I guess I can't really be sure,  but at least the bad runs help you appreciate the good ones even more. I got 8+ hours of sleep last night, so here's hoping today is a better day!
When I returned from my run, I crafted a giant salad. There's nothing like fresh veggies and whole foods to chase away the winter blahs.
I chopped up some organic hearts of romaine, added leftover roasted beets, great northern beans, dried cherries, chopped walnuts, a big scoop of cottage cheese, and lots of hot sauce. Sounds weird, I know. But it was delicious! I love the combo of cottage cheese and hot sauce – the creamy and fiery flavors compliment each other perfectly.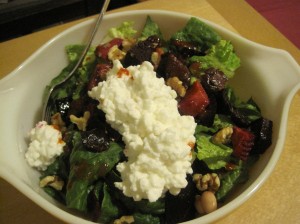 And then I put on my baking apron! I've been itching to try the black bean brownie recipe created by Christine (NoMeatAthlete's resident baker), but I used what I had on hand and made some modifications.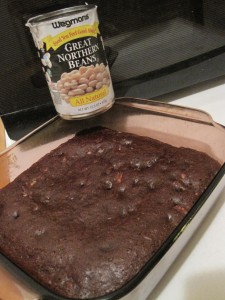 Ingredients:
3/4 cup whole wheat flour

1/2 tsp salt

1/2 tsp baking soda

1 cup sugar

1/2 cup cocoa powder (use a good quality brand such as Ghiradelli)

2 tsp instant coffee powder

1/2 cup walnuts

2 Tbs chocolate chips

1/2 can white beans (or any kind that you have on hand), rinsed and filled with new water

1/2 tsp vanilla

1/2 cup water
Directions:
Preheat oven to 350 F and grease a 8″ x 8″ baking pan

Whisk together all of the dry ingredients

Puree the beans and the water they are canned in

Add pureed beans, vanilla, and additional water to dry mixture

Mix thoroughly and then pour into baking pan

Bake for 22-25 minutes, rotating pan half-way through cooking time

Keep an eye on the brownies – you don't want the edges to overcook!

Allow brownies to cool completely and then cut into 9 squares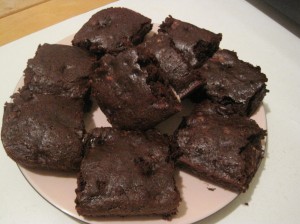 These brownies are incredibly moist and the serving size is BIG! I hate it when a "serving" of something is puny. These big, fudgy, moist brownies will satisfy your chocolate craving while providing a good dose of fiber and protein.
I know that using pureed beans instead of butter, eggs, or oil is a little unconventional, but I promise these are yummy. When Alma found out that the brownies were made with beans she was skeptical, but after taste-testing she was very impressed. Try this recipe, you'll like it!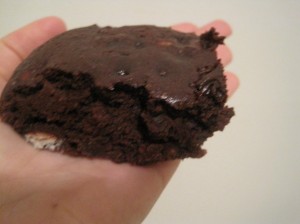 Nutritional stats per serving (based on 9 servings): 215 calories, 5.5 grams of fat, 5.5 grams of protein, 4 grams of fiber.
Do you ever bake with "unconventional" ingredients?
Before you go – check out my latest True/Slant article: Lose weight, gain speed?