I was snowed in yesterday evening, so I decided to get cozy in the kitchen and experiment with a new recipe. I received a cookbook for Christmas called The Craft of Baking and I love it! Lots of inventive recipes, beautiful photos, and easy-to-follow techniques. Today's spicy caramel popcorn is based on a recipe from this book, however I made a few changes so that I could post the instructions without copyright infringement 🙂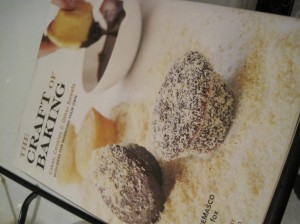 Ingredients:
2 Tbs canola oil

1/2 cup popcorn kernels

3 cups sugar

3 Tbs unsalted butter

1 1/2 Tbs salt

1/2 cup water

1 1/2 tsp baking soda

1 tsp chili powder
Directions:
Heat the oil over medium-high in a large pot, add the popcorn kernels and cover with a lid.
Allow kernels to pop (about 3-4 minutes) while occasionally shaking the pot and moving it around on the burner.
Once kernels are done popping, dump them into a bowl that is sprayed lightly with cooking spray, remove any un-popped kernels.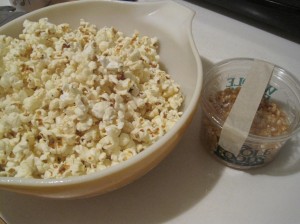 Combine sugar, butter, salt, and water in a medium saucepan, cook over medium-high heat for 10 minutes. DO NOT STIR! The caramel is done when it is a medium golden brown.
While caramel is cooking, combine baking soda and chili powder in a small bowl and coat 2 spatulas with cooking spray.
When caramel is finished cooking, remove from heat, and stir in baking soda/chili mixture. Pour the caramel sauce over the popcorn and use the spatulas to make sure every kernel is coated.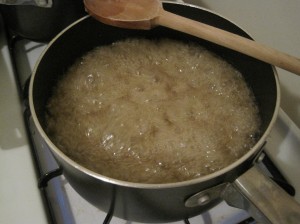 Spread caramel corn on a baking sheet and allow to cool for about 15 minutes – break it up into small pieces while it's cooling.
Caramel popcorn will stay fresh for 2 weeks in an air-tight container.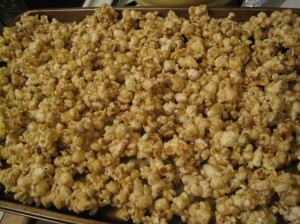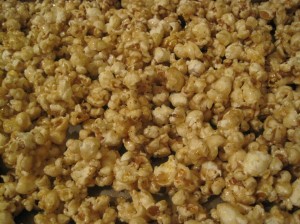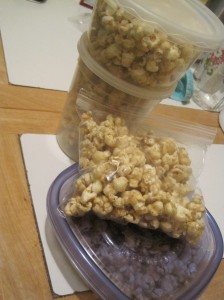 I love the various flavors and textures in this recipe – sweet, spicy, salty, crispy, crackly, yum! You can play around with the spice level, adjusting the heat to your taste preference. I also really like that this recipe isn't full of scary ingredients. No artificial preservatives, colors, or additives. Yay!