Happy Tuesday! Eventhough I didn't have to leave for work until 9am yesterday, I woke up before 7am. I try to stick to my sleep schedule even on days when I don't run in the morning – makes things easier! I had quite a few hours to bum around the house, so I decided to have breakfast in two parts:
Brekkie #1: coffee with milk and a scrambled eggs + salsa in a mug. The eggs were so easy to make! I coated the inside of the mug with a spritz of canola oil and then added 1/2 cup egg whites. I cmicrowaved on high for 60 seconds and then stirred with my fork. I popped the mug back in the microwave for another 30-40 seconds, added salsa, and ta-da! Easy breakfast! I wasn't crazy about the texture of the egg whites, but it tasted good.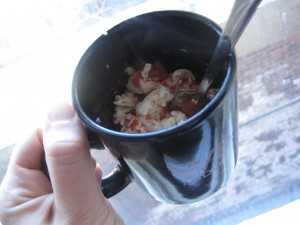 Brekkie #2 was eaten at work: orange slices and a whole wheat and nutella sandwich.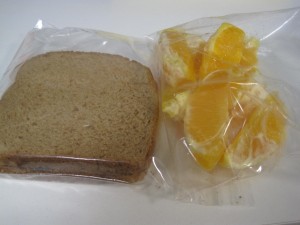 Mid-morning I was h-u-n-g-r-y (I'm a bottomless pit the day after long runs!), so I snacked on a Kashi granola bar and a cappuccino.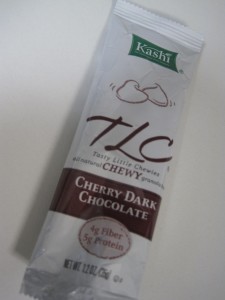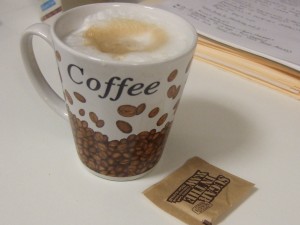 Lunch was, as usual, a salad from the cafeteria.
mixed greens, mushrooms, carrots, onions
pickled beets
scoop of tuna nicoise salad
kidney beans
cottage cheese
whole wheat croutons
hot sauce!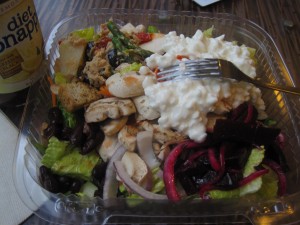 And then my sweet tooth called my name throughout the afternoon….
Yogurt covered pretzels (no HFCS or hydrogenated oils, phew!):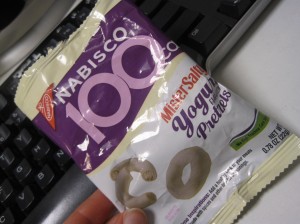 And vanilla yogurt with shredded coconut, granola, and oreo crumbles mixed in. Mmm.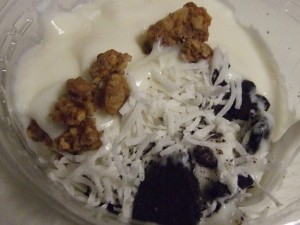 After work I headed over to my gym for a short run. I ran 2 miles easy (~8:45 pace), 1 mile at half-marathon pace (7:20), 1 mile easy (8:45 pace) for a total of 4 miles. My legs felt surprisingly good after yesterday's long run, but I am definitely still fatigued. The 7:20 mile felt harder than I expected!
I stopped at Whole Foods after work and picked up the ingredients for a new recipe, but by the time I got back to my place, I wasn't in the mood to cook. Instead, I made my go-to easy dinner: salad and healthy nachos. Occasionally people will comment on my dinner salads – are they really enough calories for an active runner? Do they fill me up? As with anything, it all depends on the ingredients. I promise you I'm not just eating iceburg lettuce and fat-free Italian dressing. That wouldn't be a healthy dinner! I don't usually count calories, but to illustrate that a salad can be a wholesome and calorically appropriate dinner, I've crunched the numbers.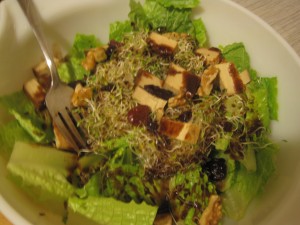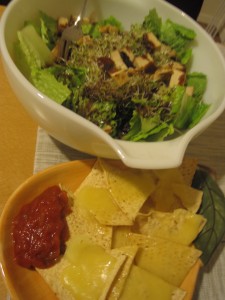 (Plus more chips & cheese that went un-photographed)
Romaine lettuce and sprouts (25 calories)
Wildwood baked tofu (150 calories)
Homemade olive oil based dressing (150 calories)
Handful each of dried cherries and walnuts (100 calories)
2 servings of baked tortilla chips (250 calories)
2 servings of part-skim mozzarella cheese (150 calories)
salsa (25 calories)
Total: 850 calories
As you can see, that's certainly enough calories for an active runner such as myself. On the other hand, if you're trying to lose weight, it might be too much. Every person and every runner is different. The specific meals and training I do work for me, so I post them as examples. However, in the end you have to figure out what is right for your body.
I *might* have ended the night with a little dark chocolate 🙂
Do you ever experience criticism for your food choices?
News you can use:
A white bean and escarole soup that's good for you – heart & soul.
Muscles sore after weight lifting or a tough workout? Under Armour's compression shirt might be your new best friend.
You know you should eat leafy greens, but how the heck do you cook bok choy? Check out this article for yummy greens recipes!