Is a blog about healthy eating and running really going to talk about DONUTS today?? Yes, yes I am. But before we start drooling over cream filling, sprinkles, and frosting, let's chat about running.
Doubles
If you're a frequent reader of my blog, you may notice that I occasionally do "doubles" a.k.a. I run twice in one day. Now to most people running even once a day might seem crazy, but let me explain. Running doubles certainly isn't for everyone. If you're a  newbie runner, prone to injury, or don't have a lot of extra time, you're better off being cautious with your mileage. If, however, you're seriously training for a race and are interested in increasing your VO2 max, decreasing body fat, and building endurance – tacking on a second run might be beneficial to your training.
The most important thing to remember when adding mileage is to start slowly. On days when you run twice, one of the runs should always be super easy. For example, on days when I have a hard workout scheduled for the evening, I will often go for a 20-30 jog in the morning. This "shakeout" run gets my blood flowing and for some reason, it prepares me better mentally for the evening's hard effort. Additionally, when I run in the morning, my legs are a bit fatigued for the workout. This teaches me to run hard when my legs aren't feeling 100% fresh and it simulates the latter miles of a race.
If you're ready to tackle doubles, remember to bump up your water and fuel intake. Immediately after your first run, hydrate and eat a 300-500 calorie meal to speed recovery. And give yourself at least 5-6 hours between workouts – your body needs some time to rest!
If you're not quite ready to run twice-a-day, you can add on some cross-training instead. Some time on the elliptical or the bike can be a great low-impact way to increase endurance. And even non-impact activities like yoga can be beneficial as "doubles" – I've found that a gentle yoga session a few hours after a long run drastically reduces muscle tightness and soreness the next day.
Yesterday I ran 9 easy miles in the morning (felt good except for when the wind and rain whipped off my baseball cap!) and then I added on an up-tempo (i.e. quicker than usual) 3-mile run after work. I ended up totaling 12 miles for the day, but breaking it up into 2 sessions and giving each run a specific purpose made the time fly by.
Donuts
Enough about running, now on to sugar! It's no secret that I have a sweet tooth. I love cookies, chocolate, & cake and while I try to limit my indulgences, I eat something sweet almost daily. And you know what? That's ok! I run a lot, eat plenty of fruits, veggies, & whole grains, and I think life is too short not to enjoy delicious things. Most of the time I bypass processed foods and try to make sure my sweets are homemade or at least contain some health benefit (dark chocolate!). It's been ages since I've had a donut, so I wasn't quite sure what to think when the company Holey Donuts sent me 3 boxes of their goodies to sample. Aren't donuts packed with trans fats? If not, would they taste good?
Well, I did my research and here's what I found out about Holey Donuts:
Trans-fat free (Holey Donuts are not deep fried in oil)

No artificial sugars

3-4 grams of fat per donuts (compared with 20 grams in other brands)
Note: These donuts are not health food, they're definitely still a treat/dessert, but since I'm going to eat sweets anyway, I might as well indulge in something a little better for me 🙂
Here's what I was sent to sample:
1/2 dozen Pink-frosted donuts (haven't tried these yet, but they look pretty!)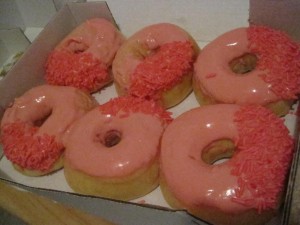 1/2 dozen donut sampler (Boston cream, caramel apple, lemon graham cracker, raspberry vanilla truffle, blueberry crumb cake, and vanilla crumb)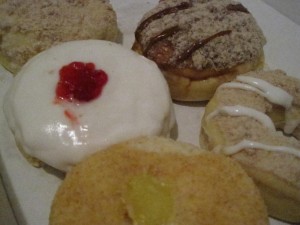 I enjoyed the Boston cream donut with a cup of coffee for a mid-afternoon treat the other day. The donuts need to be stored in the freezer (because they lack preservatives), so I put mine in a tupperware and let it defrost for a few hours. You could also microwave the donuts for a few seconds. There was a good amount of cream filling in the middle and the topping was very fudgy. This definitely didn't taste low-fat. If you like donuts, you'll love these 🙂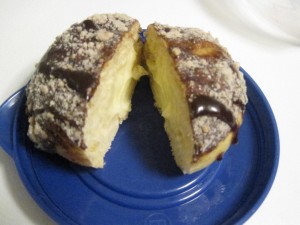 And last, but not least I was sent 4 jumbo cinnamon rolls. Mmm, I always drool over the smell of cinnabon at the mall, so knowing that I could have similar treat that didn't contain a 800+ calories and icky trans fat was great news. Check out the nutritional stats on these cinnamon rolls for yourself.  340 calories, 5 grams of fat, 68 grams of carbs, 8 grams of protein, 2 grams of fiber, and 17% RDA of iron. That's almost as good as a clif bar! I have big plans to try one of these babies soon!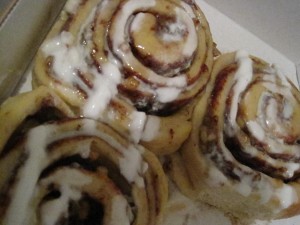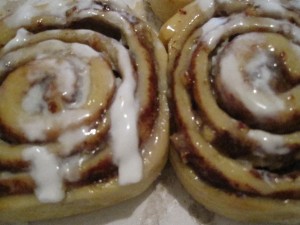 Full disclosure: Holey Donuts sent me these product samples for free, but I honestly think they taste delicious and are a good option if you're craving sweets.
Do you have any vices? Clearly, mine is dessert!