My plans for an early morning spin class were nixed when I woke up feeling less than stellar. More sleep and a coffee date with my girl, Frida were what I opted for instead.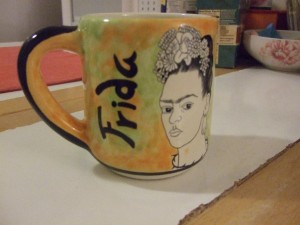 I had some leftover pumpkin from the muffins I baked this weekend, so I turned it in to overnight oatmeal. I combined rolled oats, canned pumpkin, greek yogurt, chopped walnuts, and dried cherries the night before and then added a splash of milk and some cinnamon this morning.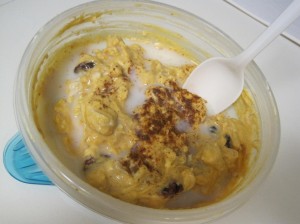 Followed up by a piece of flax bread topped with peanut butter and raspberry jam.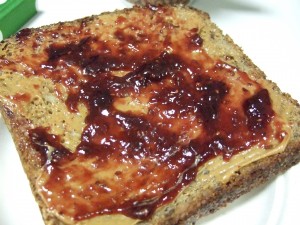 Last night whilst doing my laundry, I roasted some beets. I love beets – they're sweet like candy!
Roasted Beets
Preheat oven to 375 degrees

Wash, peel, and cube 4 beets

Toss the beets with 1 Tbs canola oil and 1 Tbs rice vinegar

Cover with foil and roast for 20 minutes on a baking sheet

After 20 minutes, remove foil, and roast for an additional 15 minutes (or until tender)

Season with salt and pepper and enjoy!
For lunch I tossed together chopped romaine, roasted beets, goat cheese, walnuts, dried cherries, and a homemade balsamic vinaigrette.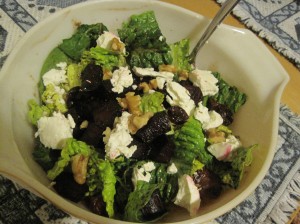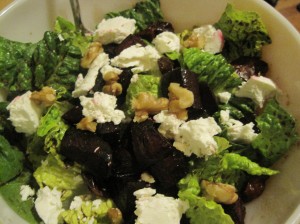 The folks at popchips sent me a box of samples the other day (loved the way it was packaged!) and my stash is nearly gone. These chips aren't fried or baked, but rather "popped" and I think they have a tremendous amount of flavor and crunch for a relatively healthy product. I saved one of my favorite flavors for last – salt & pepper!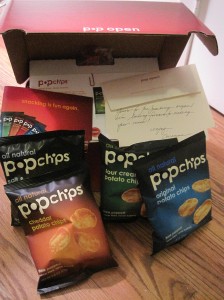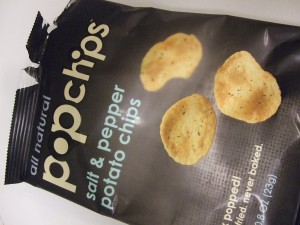 Psst…I'll tell you a secret – popchips didn't really need to send me free samples, I buy these all the time because they're SO good!
My afternoon snack was compliments of Chobani greek yogurt (yay, samples!). Last week I received a Chobani lunch bag packed with some of my favorite flavors. I added some toppings (coconut, granola, and crumbled oreo) to the plain variety.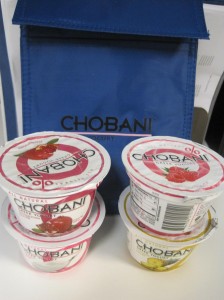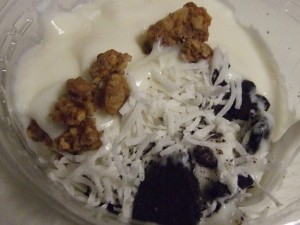 And thennnnnn the afternoon never seemed to end. As much as I love running, sometimes my motivation disappears. Around 4:30pm I started to feel very blah and the last thing I wanted to do was go to the gym. I thought maybe a little sugar would help, so I went downstairs and bought a Twix bar. Yes, even healthy food bloggers crave candy! 🙂 Energy bars and candy bars are essentially the same thing, so I wasn't too worried about having the twix bar before my run.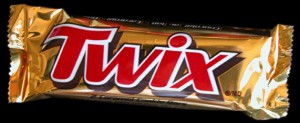 I wanted to run intervals this evening, but since I don't have access to an indoor track, I performed the workout on the treadmill. Not ideal, but it got the job done!
1.5 mile warm-up
2 x 400m @ 5k pace (400m recovery after each interval)
2 x 400m @ 3K pace (400m recovery after each interval)
2 x 400m @ mile pace (400m recovery after each interval)
1.5 mile cool-down
No problems with my hips or back (yay!), but dang those 400's at mile pace felt FAST. I finished up the last one in ~5:33/mile pace and I was just praying I didn't fly off the back of the treadmill. Can't wait till my running club starts working out on the outdoor track again….
Once I got home, I whipped up a super fast dinner salad: romaine lettuce, mushroom veggie burger, cheddar cheese, dried cherries, and homemade balsamic vinaigrette.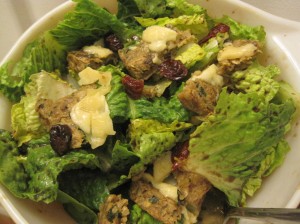 For dessert I melted some chocolate chips on a piece of whole wheat toast and topped it with mashed banana. Served alongside herbal tea to warm me up.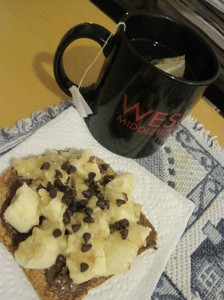 Have you heard about Michael Pollen's new book Food Rules: An Eater's Manual? What are your personal "rules" for healthy eating? Do you limit red meat? Avoid HFCS? Buy organic?