Happy February! Here's hoping that the worst of the winter weather is behind us…
I had houseful of boys (friends from college) staying with me this weekend, so I baked a batch of pumpkin muffins on Saturday morning. The muffins served as the perfect pre-run fuel!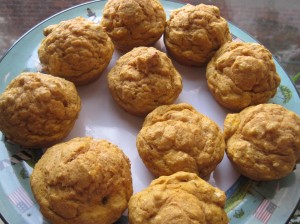 Ingredients:
1 cup whole wheat flour

3/4 cup all-purpose flour

1/3 cup sugar

2 tsp baking powder

dash of salt

tsp cinnamon

dash of ginger and nutmeg

1/4 cup chopped walnuts

1 egg, lightly beaten

1/2 cup canned pumpkin

3/4 cup whey that was leftover from my

strained yogurt

(you could use milk instead)
Directions:
Preheat oven to 400 F and lightly grease a muffin tin
Whisk together the dry ingredients in a large bowl
In a medium bowl, combine the wet ingredients
Using a spatula, add the wet ingredients to the dry until combined – but don't overmix!
Fill the muffin tins about 2/3 full and bake for about 15 minutes, or until tops are golden brown and toothpick inserted into center of muffin comes out clean.
Cool for about 5 minutes and then remove from the pan and enjoy warm with butter. Yum.
After a chilly, but pleasant 5-miler in Central Park, I was able to try someplace that's been on my to-go list for ages: Community Food & Juice (thanks for the great suggestion Ada! We need to meet up soon!) This hip uptown restaurant is affiliated with the reknowned Clinton Street Baking Company. While it's not a vegetarian restaurant, there are plenty of seasonal veggie options and the meats are organic, free-range, and grass-fed.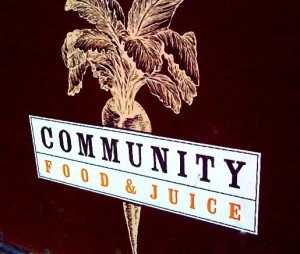 I was impressed by my homemade veggie bean burger that came atop a brioche bun and was accompanied by tomato jam, avocado spread, and mixed greens.
Saturday continued to be a day of good eats – for dinner I purchased a ball of organic whole wheat pizza dough for $1.69 and turned it into homemade pizza! After stretching the dough to fit an inverted baking sheet, I topped the pie with sauteed garlic and broccoli rabe, goat cheese, and sundried tomato chicken sausage. I baked the pizza for about 10-15 minutes at 450 degrees. The crust came out crispy on the outside, chewy on the inside. Buying the dough from Whole Foods saved me about 2 hours worth of work and it was quite economical. I've made my own pizza dough before and to be honest, I couldn't really notice a difference! The whole wheat dough, naturally low in fat goat cheese, antioxidant rich broccoli rabe, and high protein chicken sausage made this a power packed dinner. Perfect for runners!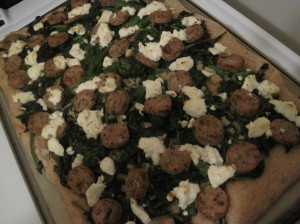 Sunday was designated long run day and since I knew it was probably going to be cold outside, I procrastinated for as long as possible. About an 1.5 hours before I planned on heading out the door I chowed down quite a few servings of Nature's Path peanut butter granola. I was a little bit worried about how this would sit in my stomach, but it ended up working out great. I felt awesome during my 14 mile long run! Maybe this granola is magic running fuel?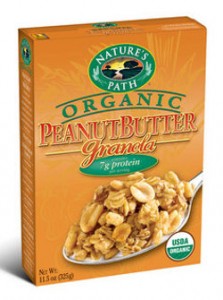 The sun was shining and eventhough it was only about 25 degrees, it didn't feel all that bad. I ran my first 6 or so miles with Alma, mostly on the bridle path, and finished up the remaining 8 miles solo. My legs felt good enough that I threw in a few quick "pick-ups" around mile 11. The only annoying thing was that I started to get really thirsty around mile 12 – can't wait till they turn the water fountains back on in Central Park! I ran for 2 hours and while I'm not positive about the distance, I'm going to call it 14 miles. Best part of the run (and weekend)?? No back or hip pain, woo! Maybe this physical therapy stuff is working….
What was the best part of your weekend?
Free Ways for New Yorkers to Get Healthy in February: