For whatever reason I woke up before my alarm clock this morning – must mean I'm getting enough sleep! I wish I could say I did something productive with that extra time, but besides drinking coffee and watching The Today Show, I was pretty much a bum.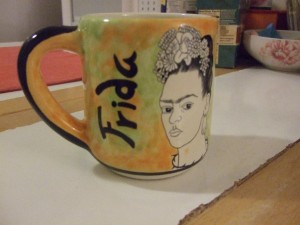 I did, however, leave my apartment early enough to make a stop at Jamba Juice for some steel cut oats. They're no longer "on sale" for $1, but they're so good, I don't care. My apple-cinnamon-brown sugar steel cut oats were extra thick and delicious today. Yum! I knew lunch was going to be on the later side, so I snacked on that apple mid-morning.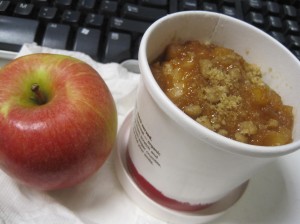 I had a 12:30pm PT appointment which was much needed because my back was bugging me a bit after Sunday's race.
By the time I got back to the office I was ready for lunch! Oh salad-bar salad, I missed you.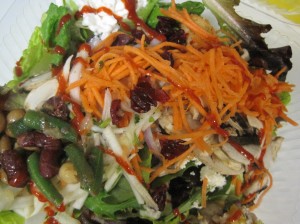 My salad selection included:
mixed greens, red onions, mushrooms, carrots

feta cheese, cottage cheese

tuna salad with capers

celery root slaw

marinated 3-bean salad

sriracha sauce
Plus a vitamuffin for carbohydrates!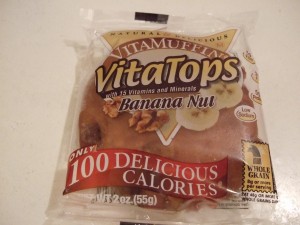 I had plans for an evening interval workout, so I fueled up with a peppermint stick luna bar.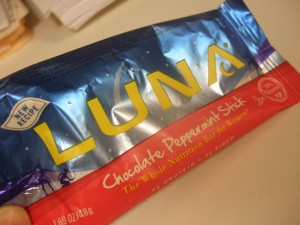 Anddddd then I had to stay 1 hour+ late at work to plan for tomorrow's "snowpocalypse". There may have been a large handful of peanut M&M's involved. Finally, finally around 7pm I made it to the gym.
Today's intervals were based on a Central Park track club workout:
1 mile warm-up

8 x 600m @ 5K pace (~6:55 pace) with 200m jog recovery

2 miles cool-down
Since I was running my intervals on the treadmill and not on a track, I had to be flexible. I estimated that 600m was equal to about .37 of a mile, so I ran fast for .37 miles and then recovered for .13 miles. I repeated this 8 times. It's not exactly the same as if I were completing the workout on the track, but it's close enough!
After my workout, I headed home and whipped up a quickie dinner. I've been having a variation of this salad for the last few days – reminds me a lot of nachos! Yum.
I chopped up a head of romaine lettuce and added refried beans, cottage cheese, salsa, hot sauce, and blue corn tortilla chips.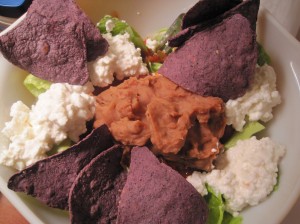 I'm about to make something delicious for dessert…stay tuned for the recipe!
FYI:  Nutrition rules you don't need to follow.
Need ideas for a healthy Valentine's Day dessert? Check out this chocolate-coconut-ricotta pudding. Mmm.
Looking for a way to increase your endurance and sidestep injuries? Check out Matt's latest article over at Running Shorts – Walk Breaks: Not Just for Grandma
Hey NYC area readers! Would you be interested in meeting up for dinner sometime next week? I was thinking about Angelica Kitchen, but would open to other suggestions. Email me: runnerskitchen@gmail.com if you're interested!