Brr, it's been a chilly weekend here in the big apple. I just finished running the NYRR Gridiron 4-miler and am feelin' good! This was the first time I raced hard since I was injured over a year ago and it was a big confidence booster. But more on that later…
Yesterday was a day full of good eats and rest. After 8.5 hours of sleep on Friday night, I woke up ready for a quickie breakfast and a yoga class. I didn't have any coffee beans on hand, so I tried the new Starbucks VIA instant coffee. I was a little skeptical, but it was actually decent! I don't think I'd have this every day, but it's a good option if you're traveling. Along with my coffee I had a banana and Brown Cow maple flavored yogurt. Mmm, whole milk yogurt is so delicious.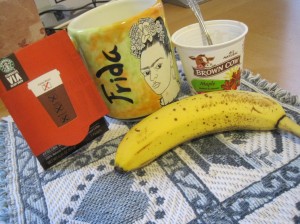 And then I met some of my lady friends for a 10am class at yoga to the people. Obviously, I did not take a photo in class, but the studio looks like this: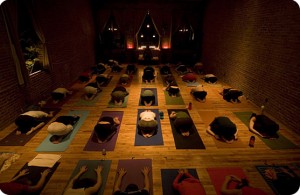 Even though my gym offers yoga classes, I still prefer the yttp studio. FYI – even if you don't live in Northern California or NYC, you can try out a yttp podcast!
After getting our yoga on, we headed to Atlas Cafe in the East Village. This little restaurant had an amazing array of menu options – I was a little overwhelmed! I ended up getting the smoked salmon and avocado sandwich on multi-grain bread. I don't usually eat fish, but I was feeling like I could use a little omega-3's in my life. The sandwich was delicious and fairly inexpensive by Manhattan standards.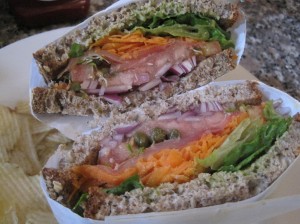 Afterwards, we headed over to Momofuku milk bar for some COOKIES! I was tempted by the crack pie (toasted oat crust with gooey butter filling), but decided to go with the compost cookie (pretzel, potato chips, coffee, oats, butterscotch, and chocolate chips).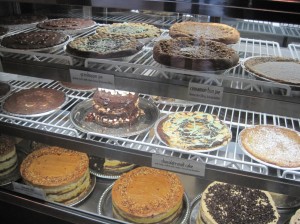 Oh lord. This was one of the BEST cookies I've ever had. Next time I'm buying two. Thanks to my friend Ani for the great recommendation 🙂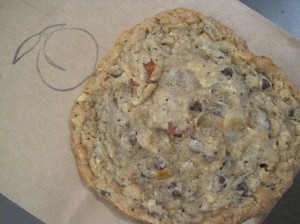 I had dinner plans with my friend Joe at a little restaurant in Hell's Kitchen. My pre-race dinner was a little unconventional, but it hit the spot. I ordered the warm spinach salad: fresh spinach leaves, sauteed onions and mushrooms, LOTS of croutons and a balsamic vinegar reduction. I also had a whole grain roll and butter with my salad – gotta get in those carbohydrates 🙂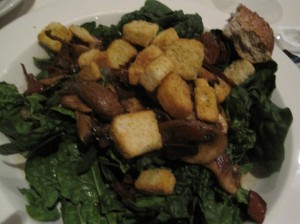 I had planned on being social after dinner, but the cold and wind convinced me to stay home and hibernate under the covers. Oh winter.
I finished up the night with half a pint some mint chocolate chip goat milk ice cream, netflix, and an early bedtime 🙂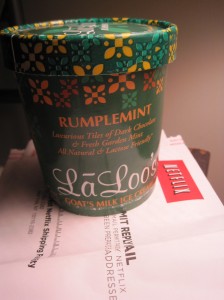 Waking up early to go running is never easy, but when it's 17 degrees it's particularly difficult…
Ah well, I just have to remind myself that I run and race for FUN! When I look at racing as something I get to do, rather than something I have to do, my mindset is a lot more positive 🙂
I had the usual pre-race breakfast around 7:30am – coffee, banana with peanut butter, and 1/2 clif bar. Andddd I finally broke out my hand warmers. These things are lifesavers if you have poor circulation (like moi) and they're only 99 cents!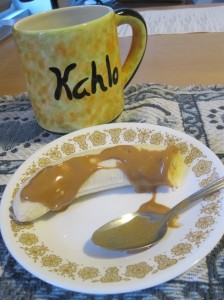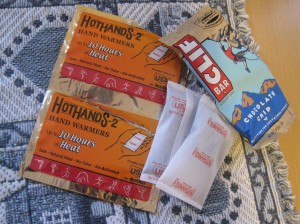 Alma and I warmed up for about 30 minutes (ran from our apartment to the starting line) and after a quick bathroom break, it was race time! I've run some races as "workouts", but today's 4-miler was the first time I raced hard in awhile. I was shooting for 7:00 pace and finished a little under, so I'm pretty happy. Miles 1 and 3 were slower than I would have liked (maybe because of the hills), but other than that things went as expected. Also, I was really excited to meet a blog reader at the finish line. Hi Jacqui!
Mile 1 – 7:11
Mile 2 – 6:57
Mile 3 – 7:10
Mile 4 – 6:40
Total: 4 miles in 27:57 (6:59 pace)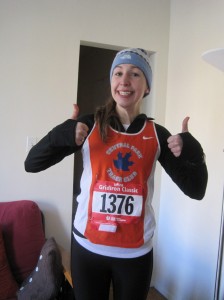 After the race I was feeling really good (probably a sign I should have gone faster!), so I added on some miles to make today a "long run day". My cool down was about 50 minutes long bringing me to about 13 miles for the day. Only 6 weeks till the NYC 1/2 marathon!
After a long hot shower I refueled with some pumpkin-apple-chocolate chip oatmeal. I'm already hungry again – off to go eat some more!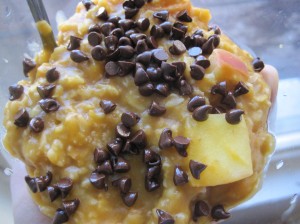 Even though it's February (and f-r-e-e-z-i-n-g in the Northeast!), it's never too cold for a smoothie! Matt and I posted our favorite recipes on True/Slant – check it out 🙂
What's your favorite smoothie combination?