I've said it many times before – I love running, but sometimes getting out the door or on the treadmill is a big struggle. No matter what time of day you run, there are potential roadblocks: the snooze button, long meetings, a hungry stomach, etc. Yesterday afternoon I was dreading an evening workout with my running club. Practice starts at 7pm, so it's dark and cold by that time. I'm starting to get hungry. I'm zonked out from a long day in the office. I can think of endless excuses not to go, but I KNOW that I always feel better when I run, so I've come up with a few tips and tricks.
1) Not going is NOT an option. Everytime that little voice inside my head starts complaining that it's too dark or too cold or I'm too tired, I envision a STOP sign. I don't allow myself to think about other options (i.e. going home and watching TV). It's kind of like tough love – "you're going running, so stop whining!"
2) The buddy system. One of the best things about running with other people is the accountability facotr. I make it a point of promising my running friends that I'll be at our weekly Thursday practice (or will meet them for an early a.m. run). I want to be seen as reliable, so keeping my word usually motivates me to get out the door.
3) Reward yourself. If I have to get up for an early morning race, I'll sometimes promise myself a trip to Starbucks afterward. Or if it's an evening workout I have to get through, I'll think about the sweatpants, hot tea, and Gossip Girl episodes I can indulge in afterwards.
4) Make compromises. Sometimes I'm not feeling 100% and it's hard to tell whether it's physical fatigue or just the mental blahs. In these instances, I'll plan on just doing half the workout (or a shorter run). However, more often than not, I end up feeling good enough to finish the whole thing!
After employing some of these tips, I motivated myself enough to go to practice last night. And like I expected, I'm so glad I went! Although the intensity of the pace wasn't super tough, the volume of miles left me feeling wiped out by the end.
The workout consisted of:
1.5 mile warm-up
5K at half-marathon pace in the Harlem Hills in 23:09 (~7:28 pace)
.8 mile recovery
Another 5K around the reservoir (actual distance 3.14) in 23:37 (~7:31 pace)
1 mile cool-down
Total: 9.5 miles

We were supposed to run the 1st 5K at half-marathon pace and the 2nd 5K a little faster. My second 5K actually ended up being a little slower, BUT I did negative split it – running 12:07 (7:43 pace) for the first loop of the reservoir and 11:30 (7:19 pace) for the second loop.
Pheww. By the time I got home it was 9pm and I needed some to re-fuel ASAP. I've been dealing with a bit of a queasy stomach this week, so I focused on bland, yet energy-dense foods.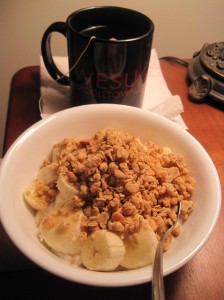 I brewed a cup of tea to warm me up and then mixed 2 Tbs peanut butter into 8oz. of plain greek yogurt and added sliced banana and a serving of Nature's Path peanut butter granola. This meal may not have been very voluminous, but it packed in nearly 700 calories and plenty of fiber, calcium, potassium, and B vitamins.
Super Bowl Sunday is almost upon us! What's your favorite (healthy?) game-day dish?