I feel like I've spent the last 6 months preparing to return to serious racing and training. Sure, I've been logging regular mileage and occasionally doing workouts, but I still had lingering worries about my old hamstring/IT band injury. I've been overly cautious when it comes to running fast, hesitant about my fitness level and capacity to race hard. Don't get me wrong – being cautious has been a good thing. I've gradually increased mileage and have been careful not to run hard more than a few times a week. I don't want to get injured again, but I also want to reach my running potential. Every time I head out for a double-digit long run or start a tough speed workout, it's a little scary. I'm testing my limits, hoping I don't fail. But after 6 months of solid base training, I'm ready to get serious. My next big race is the NYC 1/2 marathon on March 21st and I'm going to race it. It's not going to be a workout or a tempo run, it's going to be an all out race. MY 1/2 marathon PR is 1:36:28 and I'm not sure I can beat that, but I am going to shoot for sub-1:40. And here's how:
1) As long as my back and legs cooperate, I'm committing to twice weekly workouts: a shorter interval workout on Tuesdays (solo) and the weekly CPTC (Central Park Track Club) workout on Thursdays.
2) I'm going to plan out my long run schedule this weekend, but in the 5 weeks leading up to the half-marathon, I'd like to run at least 3 over-distance (13 + mile) long runs with fast finishes. This mileage will not only increase my aerobic capacity, but also my confidence.
3) Run sub-21:43 in the Coogan's 5K on March 7th.  I'd like to beat last year's time on this hilly course. I think a fast, short race will be a good tune-up for the 1/2 marathon.
4) Continue sleeping enough (7-8 hours) and eating well (lots of veggies!). Not rocket science, but essential components of a successful training plan.
Sub-1:40, here I come!!
Last night I went to my usual Thursday night workout with the Central Park Track Club. I always get a little nervous beforehand (it's going to be hard! It's cold! I'm tired…), but I ended up having a really good workout. I just need to keep reminding myself how good I feel when I go. The temperatures last night were actually pretty mild (low-30's and not too windy), but I thought I'd show you the gear I wore anyway.
My base layer was a pair of spandex tights and a short-sleeved dri-fit top. On the outside I wore my long-sleeved Nike running pullover and a hat.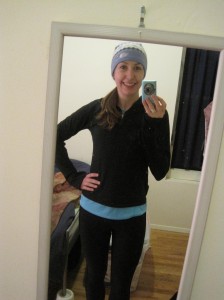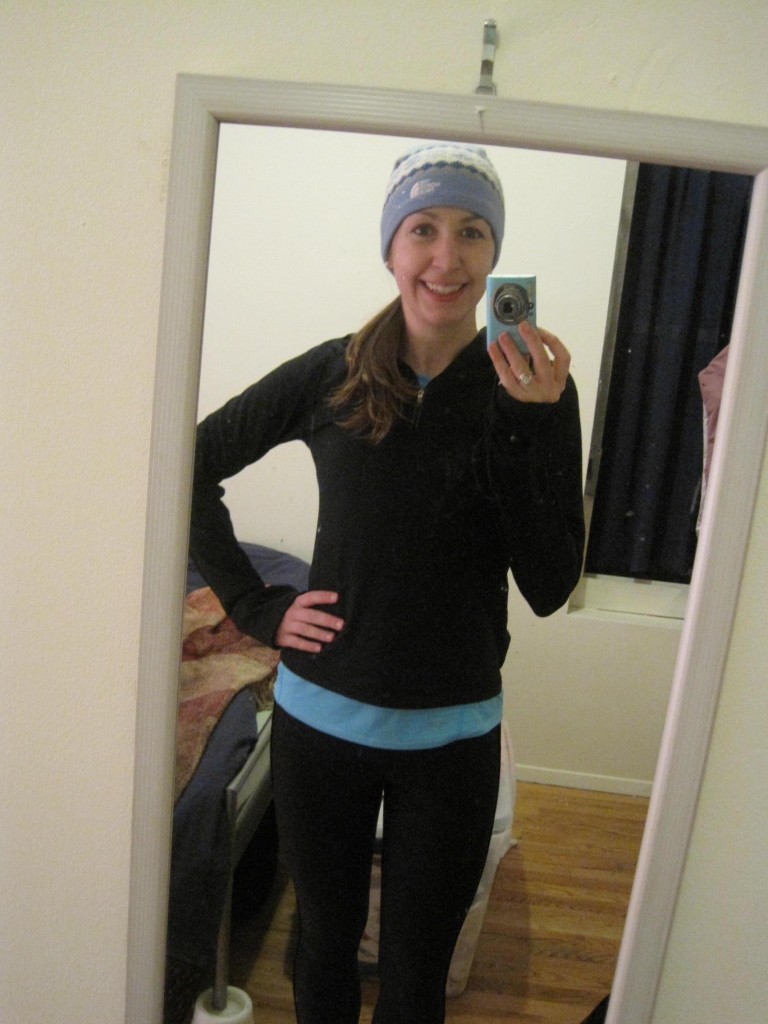 Plus thick thorlo socks. Love this brand – so cushy!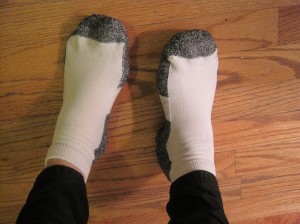 And then depending on the weather, I either wear my obnoxious green mittens (faux-fur lined!) or my less intense fleece mittens. Last night I chose the latter since it wasn't too cold or windy.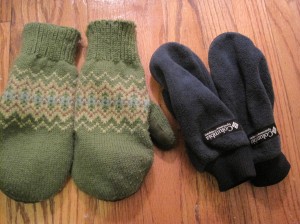 The workout: 6 mile Central Park loop – first 3 miles at marathon pace, last 3 miles at half-marathon pace (or about 20 seconds per mile faster)
About a mile warm-up

6 mile Central Park loop in 44:59 (~7:30 pace)

First 3 miles of splits were: 7:50, 7:30, 7:40 (23:00)

Wasn't sure about the mile markers for the second half of the tempo run, but I finished in 21:59, so I'm guessing I averaged about 7:20 pace which was right on goal pace

3.5 mile cool-down

Total: 10.5 miles
I felt really strong throughout, although I was definitely pushing it during the last couple of miles. Legs felt really good afterward!
No back or hip problems, yay! Right hamstring felt a tiny bit tight during the faster downhills, but not anything major.
My fridge is pretty bare at the moment (not buying any groceries since I'll be away for the weekend!), but I managed to put together something fairly nutritious for post-run fuel:
greek yogurt with a big spoonful of peanut butter and some lingonberry jam mixed in
chopped apple
Kashi Go Lean (fiber + protein!)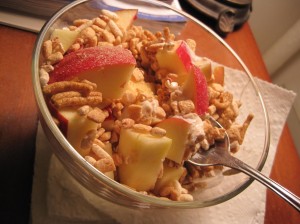 There may have been more spicy caramel popcorn for dessert…And then I snuggled into bed pretty early. Only to be woken up at 4am STARVING. Luckily, I keep boxes of Clif and Luna bars from Costco in my bedroom. A peppermint stick luna bar appeased my hungry tum. I did not snap a photo at 4am, but I recreated the scene this morning. You're welcome.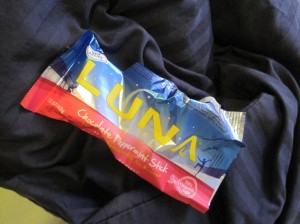 Do you ever wake up super hungry in the middle of the night? What's your go-to midnight (or 4am) snack?
In honor of Valentine's Day, the gals at Skinny in the City compiled a list of nutrient-rich red foods. Mmm, cherries and apples and beets!
Single in the city?
Meet your potential Mr. Right at Flex Appeal, Crunch gym's speed-dating yoga event. You'll be paired with different dudes throughout the FREE partner-yoga session. The event starts at 4PM on Friday, February 12 at Crunch's Lafayette locale. Enjoy post-yoga complimentary drinks nearby.
Are you a runner? Are you single? Lucky for you, Jack Rabbit Sports is the place to be this Valentine's Day. The running store is hosting singles running events on Feb 14th at its Union Sq, UES, and Park Slope locations. Bonus: discounts on shoes, fun ice breakers, and free refreshments!