After taking a day off of running on Saturday and a solid 8 hours of sleep that night, I was ready to knock out a long run bright and early. I fueled up the requisite coffee, banana, whole wheat toast, and nutella (a.k.a. the best thing in the world).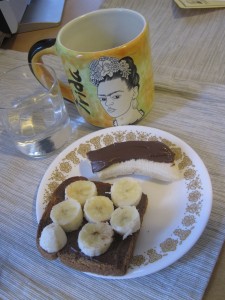 Before my run, I assembled all of the essentials: metrocard, cash, keys, ipod, and luna moons (on the run fuel!).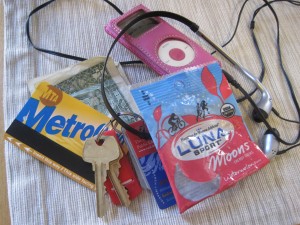 And then the run began! I ended up running for 2 hours and 15 minutes, approximately 16 miles. Didn't intend to go this long, but I was feelin' good, so I went with it. The first 6 miles were with Alma and then the rest were solo. I forgot the charge my battery on my Nike+, so this run could have been anywhere between 15 and 16 miles, but I'm going to call it 16 because I don't think I was going very slow. Midway through the run I timed the uphill mile in Central Park (W. 72nd – W. 88th) and it was 8:00, seems hard to believe I was running that fast of a pace, but maybe? At the 2 hour mark I ran what felt like "half-marathon" pace for about a mile. I have no idea what kind of pace it actually was (7:30 pace….maybe), but it felt HARD. I stashed some water in the park and had a few swigs of that around mile 11. I also ate some luna moons throughout the latter half of the run. The sugar really helped my energy levels. My right hip and IT band are a little tight now, but no problems during the run. Also, it was a beautiful sunny day. Huzzah for good long runs!
As soon as I walked in the door I started making a pot of oatmeal. I multi-tasked by stretching my IT band while I waited for the oats to cook 🙂
I made oats in a jar – rolled oats, 1% milk, chopped apple, chocolate chips, and brown sugar were cooked on the stove and then transferred to an almost empty jar of Crazy Richard's peanut butter. Perfecto!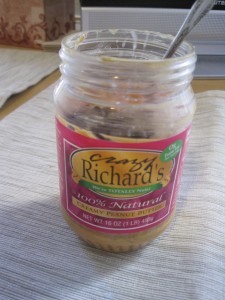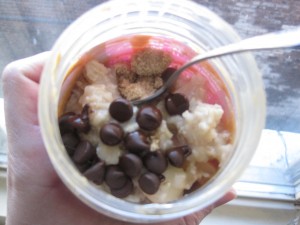 Awhile later I was in need of a snack. I was feelin' a little lazy, so I grabbed a box of Kashi Go Lean Crunch and went to town. I probably had about 2 servings (that's a lot of fiber, yo!) while I read a book in bed. Since I've increased my mileage and workout intensity, I've noticed a few changes in how I'm feeling. For example, I am definitely requiring more sleep than usual. Yesterday I took a 2 hour nap and today I snoozed between 2-3pm. Naps are one of my favorite ways to recover from a long run!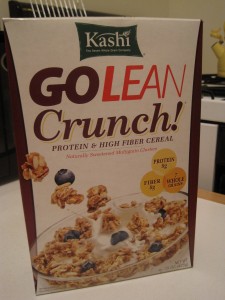 After I roused myself from my nap, I was a busy bee cleaning the kitchen floor, finishing up a writing assignment, and foam rolling my tight IT band. Before I knew it, it was time to meet Agnes for a 5pm yoga class. After all that pre-nap Kashi I wasn't feeling too hungry, so I didn't pack a snack. BIG MISTAKE. I often experience bouts of hypoglycemia and running high mileage seems to exacerbate it a bit. By the time I exited the subway and was en route to the yoga studio, my blood sugar was starting to drop. Luckily, I was able to buy a Snickers almond bar and I inhaled it in about 60 sec0nds. I started feeling better almost immediately (sugar!!). As much fun as it is to gobble down candy, the shaky, lightheaded feeling I get from low blood sugar is NOT fun. The weirdest thing is that the drop in blood sugar comes on very suddenly – in fact I never even feel hungry. I just go from being fine to "get out of my way and give me some food right.this.minute!" Bah, this is something I'm still trying to figure out – it makes marathon training tough!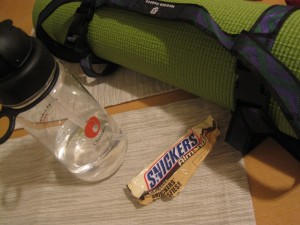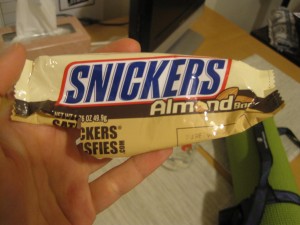 After the Snickers bar I was feeling much, much better and went on to have a great yoga practice. My stiff hip flexors really appreciated all of the stretching that we did. Along with higher mileage comes more tightness! The 5pm class at Yoga to the People is such a great way to end the weekend. Love it.
After a little Trader Joe's pit stop, I came home to make a mexican-themed salad. My fruit & veggie intake was a little sparse today, so I loaded up a bowl with romaine lettuce, alfafa sprouts, salsa, cottage cheese, and organic corn tortilla chips. And then more tortilla chips straight outta the bag because they were so good!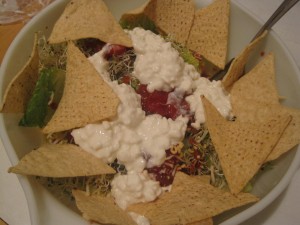 Check out the latest article on Running Shorts – why you should keep a running log.
If you had to gobble down a candy bar what kind would it be?? (Sometimes I think candy bars aren't much different from fancy energy bars and they're usually cheaper!)