I started off Monday morning in Pennsylvania witha very sunny 4-mile run. Thankfully it felt a lot better than the 3-mile run I did on Sunday evening. FYI – splitting a large popcorn with mom at the movies and then leaving for an icy, dark run an hour later does not make for a good time. Learn from my mistakes. Once I got back from my morning jaunt, I breakfasted on coffee (in my U.S. House of Representatives mug!), OJ, and whole wheat toast with banana and nutella. I forgot how much I love nutella. Luckily, there was a brand new jar in my mom's kitchen just waiting to be eaten.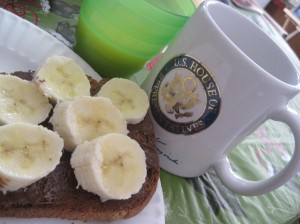 And then it was time to head back to the big apple. Highlights from the car ride:
Grandma: "You know, I think that guy Reggie Bush is really attractive."
Megan: "Who's that?"
Grandma: "Kim Kardashian's boyfriend!"
Yikes, G-ma is more on top of her pop culture than I am. Must buy newest issue of US Weekly ASAP.
And the mediterranean salmon salad I had from Panera Bread was pretty good too! Mixed greens were topped with red onion, olives, slivered almonds, feta cheese, salmon, and a mandarin orange dressing. Bravo Panera Bread!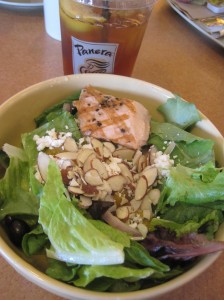 The rest of the afternoon included  my fav juice from Peacefood cafe – the hangover cure. Made with a lovely mix of apple, orange, celery, carrot, and ginger. Andddd lots of unpacking from the weekend.
I was feelin' a little lazy and instead of making kale chips like I'd planned, I just plated some carrots and peanut butter and tortilla chips, melted cheese, and salsa. I had seconds of both!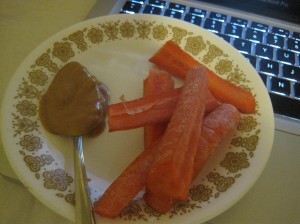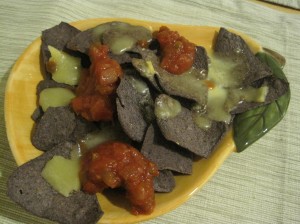 I finished off the night with  some girl scout cookies while watching netflix in bed. Delicious. Lazy. Perfect.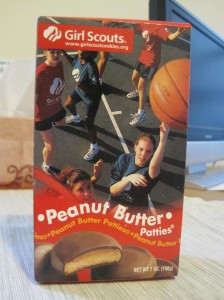 Your questions answered! Or at least some of them….
What's your favorite way to cross train? When I had to take a break from running last summer, I really learned to love spinning and yoga. They both offer different benefits – spinning helped me maintain my cardio endurance and I truly believe that yoga was beneficial in the rehab of my hamstring injury. Even now that I'm running 6 days a week, I'm still trying to keep these activities as part of my routine.
What do you do for a living? I work as the Operations Department Coordinator for a Manhattan law firm. My company has a great cafeteria – it's where all of my salads come from 🙂
What do you reccomend as the best way to prevent running injuries? As soon as something starts to bother you (shins, knees, whatever!), take a day or two off. Admittedly, I don't always follow my own advice (which is why it took me so long to get over my hamstring injury!!), but it's much better to nip something in the bud rather than having to take many months off from running.
What is your height and weight? I don't normally discuss this on the blog, but since I received a lot of requests: I'm 5 feet, 6.5 inches and weigh between 118-120 lbs.
How many miles a week do you run? What would be your number ONE tip for a first-time marathoner? Right now I'm running between 35-45 miles per week. My number one tip for a first-time marathoner would be: don't start out too fast on race day! The adrenaline and excitement of the first few miles might tempt you to speed up, but don't do it. You'll pay for it in the second half of the race.
Where did you learn to cook? Is your family into cooking as well or did you just pick it up as you went? I talk a little bit about it on my About Me page, but I actually didn't know how to cook at all until sophomore year of college. Over the past 5 years I've slowly taught myself how to cook and bake. My mom always made dinner while I was growing up, but it was pretty basic American fare – meatloaf, porkchops, spaghetti, etc. My love of vegetarian and ethnic food is definitely something I'm trying to share with my family, but it's taking time 🙂
Do you have a "special person" in your life? Why, yes. I do! He's not much of a talker and he's kind of hairy, but he loves cuddling and even helps out with the laundry on occasion.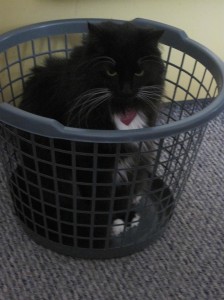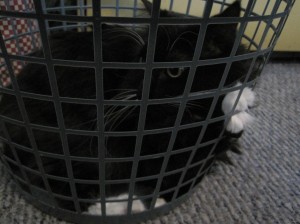 Hehe, love you Kiwi!
More questions to be answered tomorrow….
Question: What's your favorite lazy-day dinner?