Realization #1: I ran 64 miles in 7 days – I think this is a record for me!
Realization #2: High mileage = aches and pains. I ran long on Saturday and felt good.  But during Sunday's easy 6-miler, my legs started to get a little unhappy with me. My calves were super tight from my long run and I think this caused my right shin to start hurting a bit. I'm being very proactive with the RICE method (Rest, Ice, Compression, and Elevation) and I think it will be fine in a day or two, but running is always going to involve some injury prevention and management.
Anyway, despite my sore shin, it was a very productive weekend of training. I slept a ton on Friday night and woke up ready to get down to business (i.e. RUN!).
I love you, coffee.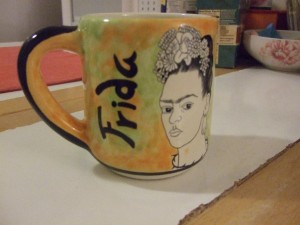 Confession: I also really love Peter Pan's whipped peanut butter. It tastes like frosting. Sometimes a girl needs some hydrogenated oils in her life. All things in moderation, right? Anyway, I slathered an apple in that creamy pb and followed it up with a clif bar. I had a pretty serious long run planned – had to fuel up well!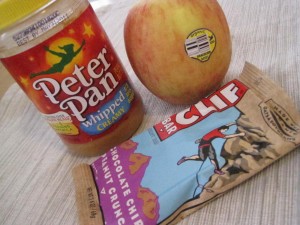 I had  intended on doing my long run on the treadmill, but thankfully the park roads were pretty clear and I ran mostly outside. I'm not going to lie – I was a little worried that a tree branch was going to fall on my head, but alas I remained unscathed. I ended up running 15 miles in 2:04:10 (11 miles in the park in 1:33:45 and 4 miles on the treadmill in 30:25)
I broke the run down like this:
Miles 1-3 easy
Miles 4-6 marathon pace (~8:20)
Miles 7-11 easy
Miles 12-15 1/2 marathon pace (started off at 8:00 and finished up the last .5 mile at 6:58 pace!!)
I mostly felt good for this entire run. Trying to run marathon pace for miles 4-6 was harder than I thought it would be, but the last (fast!) miles felt really good. Funny how that is… I really think that fast finish long runs are essential when training for 1/2 and full marathons. I didn't do any while preparing for NYC or Boston and I wish I had. Practicing running at race pace while you're fatigued will prepare you for the mental and physical fatigue of race day. Or at least I hope it will!
I immediately bought a gatorade to hydrate and followed that up with some greek yogurt (protein!) and dried cherries (carbohydrates!).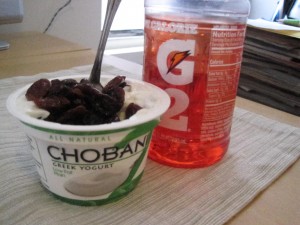 After my shower, I made sure to put on my recovery compression socks. Love.these.so.much.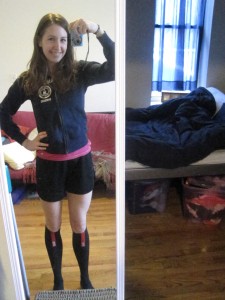 And then it was time for more foodddddd. Luckily I had some leftover peanutty root vegetable stew to fill my belly.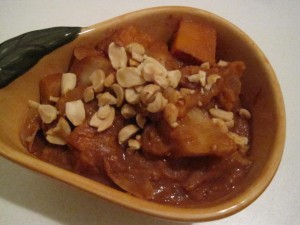 After watching 2+ hours of TV on the couch doing lots of important things, I was hungry AGAIN. I had 3 bowls of Kashi Go Lean Crunch with milk.  Runners need to eat!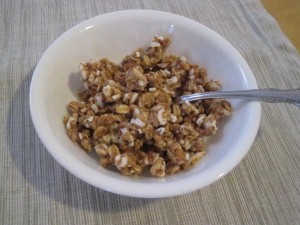 My legs were feelin' like they could use a good stretch at this point, so I walked the mile or so to Whole Foods. I didn't really need anything, but I wanted to drop off a big bag of #5 yogurt containers for recycling and so I just had to browse a bit…
I came home with a bag full of fun stuff: Kashi TLC crackers, romaine lettuce, frozen strawberries, pinto beans, coconut butter (!!), navel oranges, hummus, lara/clif bars, dried cherries, and floss.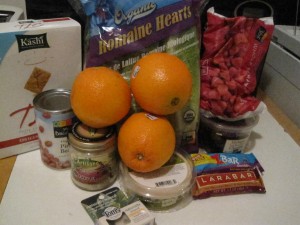 After my hearty afternoon eats (hello protein + fiber in Kashi Go Lean Crunch!), I wasn't that hungry, but I knew I probably needed to get in some more calories. So I assessed my options and put together a plate of nutrient dense yummy-ness: ezekiel bread toast topped with coconut butter and jam and a banana with lots of whipped peanut butter. Mmmm. After reading about the benefits of coconut oil/butter on Chelsea's blog, I knew I had to try it for myself. The combo of coconut butter and jam on toast is scrumptious! I highly recommend.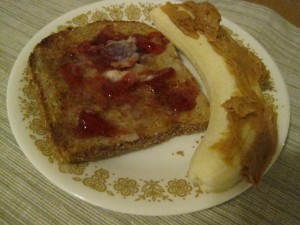 Plus some thin mints that were hiding out in the freezer.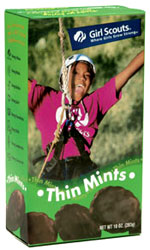 Yay, my article on the Top 5 Running Mistakes to Avoid was featured on Newser. I like this site a lot – it summarizes the day's top news stories. Perfect for busy peeps!
Fun NYC event coming up: The Village Voice is sponsoring its 3rd Annual "Choice Eats" event on Monday, March 22. The event will feature tastings from  50+ restaurants, including: Café Glechik, Peppa's Jerk Chicken, Bunny Chow, Sigmund Pretzel Shop, Xunta Tapas Bar, Salumeria Rosi, Jimmy's No. 43, Xi'an Famous Foods, Lucy's Whey, Counter, An Choi, and Café Steinhof. If you're a New York area foodie, this looks like such a fun event! Bonus: there will also be craft beer and wine pairings available with the food. You can purchase tickets here. Bon appetit!
Question: What NYC restaurant/bakery would you like to visit (assuming locale and $$ weren't an option)? Someday I will make it to Blue Hill….