These last few weeks days have been busy and I don't see an end in sight!
Tuesday morning called for an early gym visit and my favorite spinning class. But first I gulped down some coffee and a banana. Working out on an empty stomach? Not for this girl.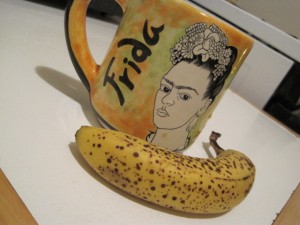 Spin class music was awesome this week and the 45 minutes of cycling flew by. Immediately after getting off the bike, I hopped on a treadmill (um…remember that triathlon I'm signed up for?). I ran 3 miles:
mile 1- 8:50 pace
mile 2- 7:30 pace
mile 3- 7:30 pace (this pace feels A LOT easier than it used to, but still not easy/comfortable)
After a quick stretch and a shower, I was off to work. I was positively starving on the 1 train, so I gobbled down my Nature's Path peanut butter granola bar (tastes like a rice crispy treat!) and then made myself a decaf cappuccino when I got to the office.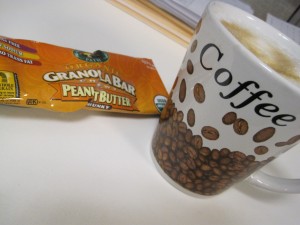 Breakfast, part #3 was a cup of Kashi Go Lean and a Stonyfield Farm non-fat strawberry yogurt. Gimme food.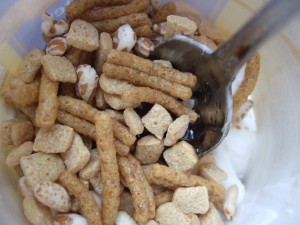 I actually managed to break loose from my desk during the lunch hour and walked to and fro the library (I heart free books!) and then filled up with a large and lovely salad.
romaine, shredded carrots, mushrooms, onions, roasted red pepper
tasting of white bean and artichoke salad
tasting of potato and tuna salad
croutons, dried cranberries, feta cheese, balsamic vinaigrette
And a banana nut vita top on the side. 6 grams of fiber, woo.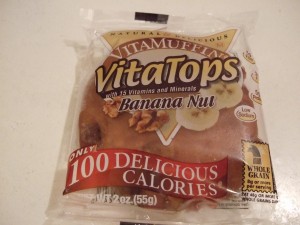 Mid-afternoon called for a cuppa tea and a biscotti.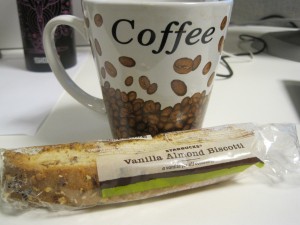 The best part of my day was when I got home from work and had the whole evening free to play around in the kitchen. I love nights like that!
Awhile back I received a new cookbook to review – Moosewood Restaurant: Cooking for Health
I really enjoy the cookbooks from the Moosewood Collective. Life goal: Eat at the actual restaurant in Ithaca, NY. This book is packed with tons of yummy vegetarian recipes with an emphasis on seasonal produce, whole grains, and beans.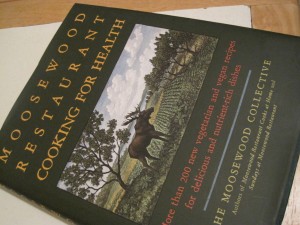 I'm working with the folks at Simon & Schuster on getting permission to post the actual recipe, so stay tuned! Until then, you can look at my photos of the process and use your imagination 🙂
The cold, windy weather called for something warm and comforting, so I decided to make the Savory Asparagus and Mushroom Bread Pudding. Look at all those veggies!!!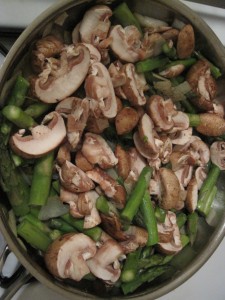 Add some whole wheat bread, eggs, milk, and cheese and the result is savory and comforting winter supper. This recipe is a nutritional powerhouse – 222 calories, 11 grams of fat, 14 grams of protein, 19 grams of carbohydrate, and 4 grams of fiber per serving.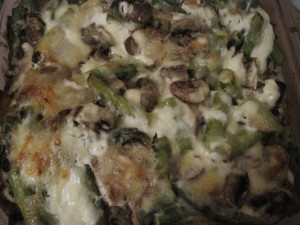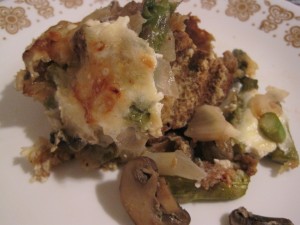 I made some kale chips on the side (I'm not lyin' about the veggie love…)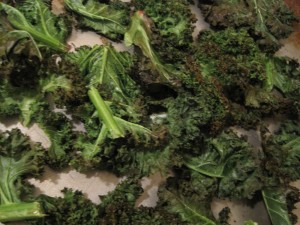 Ketchup, yum.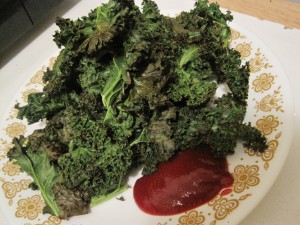 I decided to carry my "green theme" over to dessert – sliced granny smith apple with a big spoonful of peanut butter (and ok maybe some more from the jar…) and a bit of melted caramel.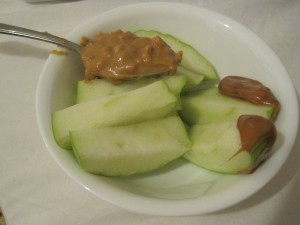 Live in NYC? Check out these FREE ways to get fit in January!
After weeks of holiday treats, clean up your diet with some yummy entree salads.
Careful ladies:  new research shows that women who are in a relationship may gain nearly twice as much weight as single women over a 10-year period.
Question: What's your favorite thing to cook/bake when you have the time?