Sometime yesterday afternoon I started to get wayyy cranky. My back hurt. The work day was dragging by. And the thought of fighting the hoards of people at my gym for some elliptical or treadmill time was the LAST thing I felt like doing. Usually a good kick in the pants is all I need to get myself motivated – I often feel better once I get going. However, yesterday my body was fighting me tooth and nail on a gym visit. Maybe it was my cranky mood, maybe it was residual tiredness from Monday's long run, but in any case I decided to go home instead. I ate s'mores for dinner and spent the evening lounging in bed whilst watching Hannah Montana: The Movie. It was perfect cure for whatever was grating on my nerves and I woke up feeling much better this morning.
Since I didn't run or cook/bake anything interesting yesterday, I have some product reviews for you!
A few weeks ago I received a stack of coupons for Voskos Greek yogurt. I ventured to my local Whole Foods and stocked up – I go through Greek yogurt faster than oxygen!
Pros – the free coupons were nice, but the price on this variety is actually very reasonable. They were on sale for 86 cents a piece. That's a steal in New York City!

The honey vanilla bean variety that I sampled had a nice flavor – not too sweet, not too tart. I could even see real specks of vanilla bean!

The nutritional stats were also pretty stellar – 130 calories, 0 grams of fat, and 12 grams of protein. Voskos also contains live, active cultures, is gluten-free, and sources milk without rBST, rBGH, or GMO.

Voskos comes in two varieties – natural and organic. Hooray for an organic option!

Cons – when I opened the yogurt there was quite a bit of watery whey on top, I poured it off.

The consistency was a tad thicker than regular yogurt, but it wasn't even close to how creamy and fluffy the Fage brand is.

At my local Whole Foods, the only plain option was full-fat. I enjoyed the honey vanilla bean flavor, but my favorite variety of yogurt is non-fat (or low-fat) plain.  I'll have to visit some other grocery stores to try and find the other flavors!
All in all, I really enjoyed this yogurt. It's nutritionally comparable to other varieties of Greek yogurt and it's a more economical option.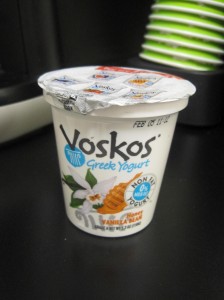 As I mentioned, I was craving s'mores like whoa yesterday and since I already had mini chocolate chips and mini marshmallows on hand, all I needed were some graham crackers. I picked up a box of Mi-Del 100% whole wheat honey grahams from Whole Foods and was quite impressed with the nutritional stats. Most crackers and cookies are made with lots of sugar and refined flour, these on the other hand were made with whole wheat flour and sweetened with unsulfered molasses. And one serving contained 3 grams of fiber! The only down-side? They tasted "healthier" (i.e. more bland) than the graham crackers of my youth. Ah well, that's the price you pay for better nutrition!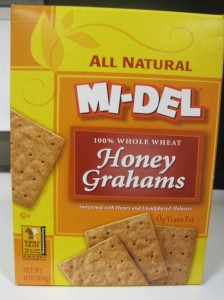 Oh! One more thing –  Check out my latest True/Slant article: Run like a Russian

There's a reason why Rocky trained in Siberia in Rocky IV….
Question: When you're in a bad mood, what do you do to get out of that funk? Exercise? Take a day off? Bake some cookies?