As part of Foodbuzz's Tastemaker Program, I received a coupon for a free dozen of eggs. Eggland's Best is my "go-to" brand because the eggs have four times more Vitamin D and over three times more Omega-3 compared to ordinary eggs. And the 6 grams of protein (per egg) and B-vitamins help me recover more quickly from tough runs. The other night I created a low fat, protein packed cheesecake and while the dessert was chilling, I even snuck in a nighttime run!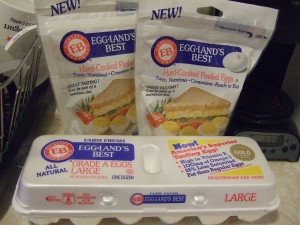 The main component in this dish is strained yogurt – the end result is very similar to greek yogurt!
I lined a colander with 6 flattened out coffee filters and then I placed the colander inside a large mixing bowl. Next I spooned the yogurt into the colander and let it drain overnight in the fridge.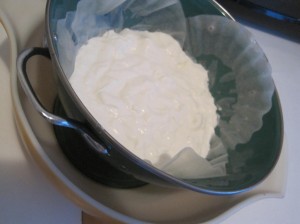 My 32 oz ($2.99) container of Whole Foods brand plain non-fat yogurt yielded about 2 cups of strained yogurt. Plus a cup of whey – I'm saving this to use in cooking/baking because it's packed with nutrients.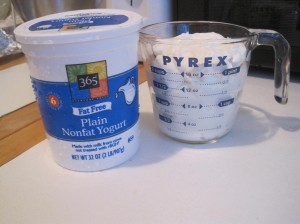 Protein Packed Cheesecake
Ingredients:
1/4 cup butter (4 Tbs), melted
1 cup whole-wheat graham cracker crumbs
2 cups of strained non-fat yogurt (from a 32 oz. tub)
2 8-oz containers of non-fat cream cheese
1 whole egg and 3 egg whites, lightly beaten (Eggland's Best brand)
1/2 cup brown sugar
1/2 cup granulated sugar
2 Tbs flour
2 tsp vanilla
Directions:
Preheat the oven to 300 degrees and place a pan of water on the bottom shelf of the oven (this will provide a humid baking environment for the cheesecake)
Mix together the butter and the graham cracker crumbs, press mixture firmly into the bottom of an 9-inch springform cake pan, refrigerate while you prepare the filling
Using a stand mixer or hand mixer, cream together the cream cheese and sugar
Gently fold in the eggs, yogurt, flour, and vanilla
Pour the filling into the springform cake pan and bake the cheesecake on the top shelf of the oven for about 50-60 minutes. Don't open the door until the 50 minutes are up!
Turn off the oven and allow the cheesecake to cool in the oven with the door ajar for about 30 minutes.
Refrigerate for at least 2 hours before serving. Add chocolate chips or raspberry jam as garnish!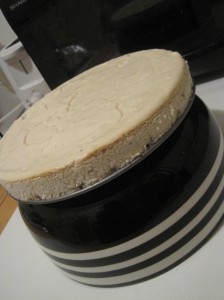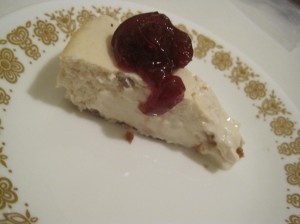 Nutritional stats per serving (cheesecake yields about 10 slices): 230 calories, 10.5 grams of protein, and 5.5  grams of fat.