One of my favorite recipes of all time is olive oil granola. I was inspired by a New York Times recipe over the summer and made my first batch in August. The combination of savory olive oil, sweet agave nectar, chewy dried fruit, crisp oats, and salt is amazing.  Seriously, you must try this recipe!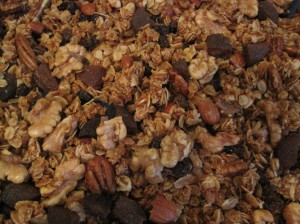 I can't believe it's taken me nearly 6 months to make this yummy combo again. My creation differs quite a bit from both the original NY Times recipe and the granola I made in August, but I think the 2010 version is the best yet!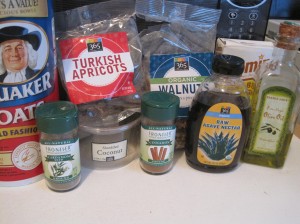 Ingredients:
3 cups rolled oats
2 cups walnut pieces (I also added in some leftover almonds and pecans)
1 cup unsweetened coconut flakes
1/2 cup olive oil
1/2 cup agave nectar
1/2 cup packed brown sugar
1 tsp salt
1 tsp cinnamon
1 tsp cardamom
3/4 cup raisins
1/2 cup chopped dried regular or Turkish apricots
Directions:
Mix all ingredients except apricots and raisins in a large bowl
Pour oat mixture onto a large greased baking sheet (I used a silicon baking mat)
Bake for 45 minutes at 300 degrees, stirring every 10 minutes (my oven is super hot, so the granola was done after only 30 minutes!)
After granola is done baking, pour into a large bowl and add apricots and raisins (don't add while baking – the fruit will get too dried out!)
Enjoy plain or with yogurt. Yum!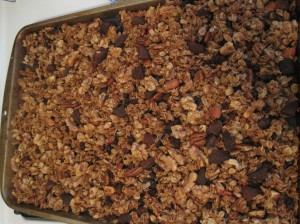 News you can use:
Tomorrow (Wednesday) Jamba Juice is selling it's steel cut oatmeal for only $1!
On Friday, February 5th you can snag a free KIND bar sample from any starbucks.
Do you care about childhood nutrition, the environment, and food affordability? Sign the NYC food charter and pledge to promote healthy and sustainable eating!
What's your favorite granola variety?