Dear Susan Herrmann Loomis,
I love your book On Rue Tatin, but your pear and honey clafoutis recipe made me want to tear my hair out!
If you're wondering "what the heck is a clafoutis?", you're not alone. I had never made or eaten one before this weekend! According to Wikipedia:
a Clafoutis, sometimes in Anglophone countries spelled clafouti, is a baked French dessert that is typically made by baking fresh fruit (traditionally cherries) and a batter, halfway between a Yorkshire pudding/pancake batter and a custard, in a baking dish.
By Sunday afternoon I had an edible version, but let's review what went wrong:
1) Don't bring your computer into the kitchen and g-chat while you're baking. You will probably do things like add 3 x the amount of sugar called for in the recipe. Once I realized my mistake I spent a good 5 minutes removing the extra sugar from the mixing bowl with a tiny teaspoon.
2) If the recipe calls for an 11-inch tart pan, a 10-inch spring form pan might give you problems. 5 minutes after popping clafoutis #1 into the oven I noticed a horrid burning smell. "Don't worry," I tell my roommate, "it's probably just some excess flour on the outside of the pan that's browning". No. My spring form pan leaked and a big blob of batter was burning on the oven floor. Hello, smoke alarm. I tucked some foil around the pan to stop up the leak and continued to let it bake.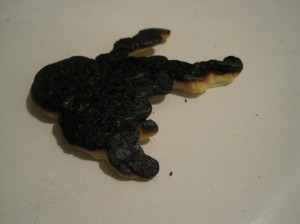 3) After I pulled clafoutis #1 out of the oven, I attempted to make the caramel sauce. I made it 3 times before I got it right. Note: The measurements on the website recipe are NOT correct. I hunted around for some other caramel sauce recipes and deduced that you need 1 Tbs sugar (not 2!) and 2 tsp water for the sauce to form. Also, don't taste-test hot caramel with a metal spoon. You've been warned.
4) When I woke up on Sunday morning and lifted the foil to admire my clafoutis I noticed a pool of liquid in the middle of the pan. I cut a small slice and discovered that the center was completely undercooked. $#@%!! Luckily I didn't have too much time to freak out, I had a half-marathon to run.
5) After my run, I went to the grocery story to buy more eggs and pears and started on attempt #2. Fortunately, the second round went more smoothly. My modifications:
9-inch pie plate as the baking vessel (vs. 11-inch tart pan/10-inch spring form pan)
agave nectar in place of honey
lowered the oven temperature to 375 F
covered the clafoutis with aluminum foil after 15 minutes to prevent the top from over-browning
added a dusting of powdered sugar in lieu of the caramel sauce
Before baking: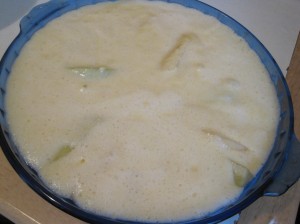 After baking: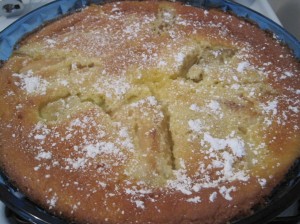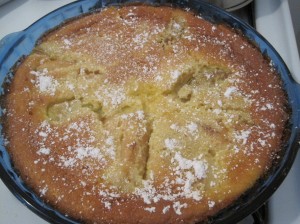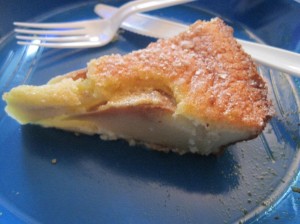 The verdict? This was actually a pretty delicious (and healthy!) dessert. I would certainly eat it again as long as someone else makes it for me.
Question: Have you ever had any baking/cooking mishaps?