After my holiday party and 1pm bedtime, I (not surprisingly) woke up feeling kind of yucky. My throat hurt and I felt like I was definitely coming down with a cold. I made a strong cup of coffee and started to feel a little bit better. I had paid the $50 registration fee for the indoor triathlon, so I was going to do it no matter what!
With my coffee I fueled up with a chopped apple mixed with 1/2 cup Fage greek yogurt and a Tbs of peanut butter. I also had a few un-photographed bites of a clif bar as I ran out the door. I needed energy!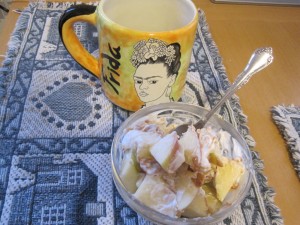 And then I was off to the McBurney YMCA for my indoor triathlon. Highlight of my subway ride there:
Homeless man: Can you spare some change? A dollar?

Megan: Sorry, I don't have any cash on me.

Homeless man: Ok, how about some weed?
Why, yes. Let me just get out my stash of marijuana and share some with you on public transit. I never leave home with out my running shoes, swimsuit, water bottle, and weed.
Hah, kidding.
Anyway, The event was actually a very good introduction to the sport for a newbie. The staff was organized and welcoming and I even had my own lane for the swim! My swim was SLOW, but I was happy just to have finished it without drowning.
 
Splits:
 
Swim: 10 lengths in 10 minutes
Cycle: 13.5 miles in 30 minutes
Run: 2.77 miles in 20 minutes  (~7:13 mile pace)
 
I had a tough time figuring out pacing for the bike – I definitely didn't go as hard as I could have, but I thought that maybe I should be saving something for the run. The run went pretty well – I was the second fastest female!
After the run my face was as bright red as a tomato and I actually felt a little nauseous. I walked around and stretched for a few minutes and then tried to eat a little something. This was my first time trying the new luna protein bars and the cookie dough flavor was GREAT! The nutritionals are similar to a regular luna bar (180 cals, 12 grams of protein, 3 grams of fiber), but the protein and saturated fat content is a tad higher. It basically tasted like a candy bar (which essentially, it is).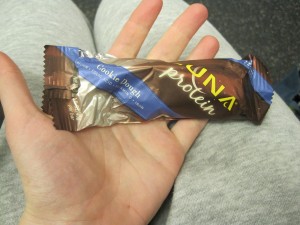 Hooray! I finished a triathlon! I wore my CPTC singlet, padded spandex bike shorts, and Asics 2150's for the bike/run portion and they worked out well. I did not use clip-in shoes (don't have any yet!), so I think that may have slowed me down on the bike.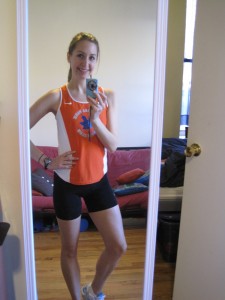 As soon as I got home, I had to fly into action. I needed to shower, prepare a dish, and take the subway to my cooking club meeting in less than 90 minutes!
The theme for this month's cooking club was "German Food". Inspired by a recipe in the January 2010 issue of Bon Appetit, I prepared a red cabbage salad with green apple, lingonberry preserves, and toasted pecans.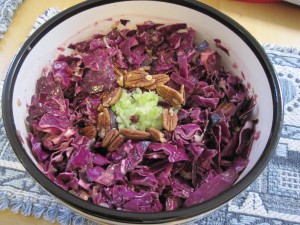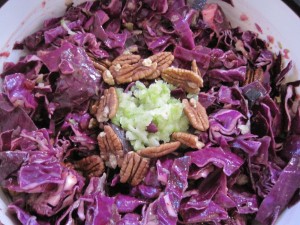 Ingredients:
3 Tbs lingonberry preserves

1 Tbs dijon mustard

1 Tbs apple cider vinegar

1/3 cup canola oil

4 cups of red cabbage, thinly sliced

1 large Granny Smith apple, coursely grated

1/2 cup pecans, toasted
Directions:
Whisk together 1 Tbs lingonberry preserves, dijon mustard, and cider vinegar.
Slowly whisk in the canola oil, add salt & pepper to taste.
Reserve 1/4 of grated apple and several pecans for garnish.
Toss cabbage, remaining 2 tablespoons preserves, apple, and pecans in large bowl.
Toss with enough dressing to coat. Season to taste with salt and pepper.
Garnish with reserved grated apple and pecans and serve.
Once I arrived at the cooking club meeting locale, I was very impressed with the spread of food.  Unfortunately, I started to feel sick and nauseous and close to passing out – oh low blood sugar and the crazy things you do to me! I ate that luna bar around 11:30am and we didn't start the German food meal until after 3pm. In retrospect this was WAY too long for me to wait (especially since I just finished a triathlon). I had a few crackers while waiting for everyone to arrive and started to feel better immediately. Once I ate some actual lunch, I felt back to normal. Lesson learned: I need to always, always carry some sort of quick sugar source with me. Any suggestions? I was thinking dried fruit or honey packets…
On to the meal!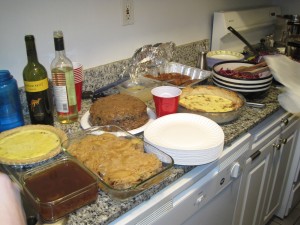 I started off with a bowl of split pea soup (made with Kristen's homemade chicken stock!) – it was the perfect dish for a cold, January day.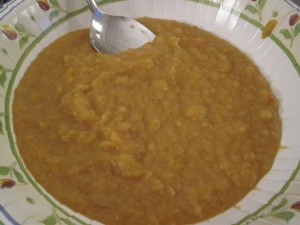 My plate included: zwiebelkuchen (a quiche-like dish made with cream, bacon, and onions), sweet & sour cabbage, red cabbage salad with green apple lingonberry jam and toasted pecans, potato pancake with applesauce, and beer braised sausage with apples and sauerkraut.
And german chocolate cakefor dessert. Oh.My.Goodness. If you've never had german chocolate cake, you NEED to! It's a delicious combination of dark chocolate cake and an ooey-gooey coconut frosting. Yum.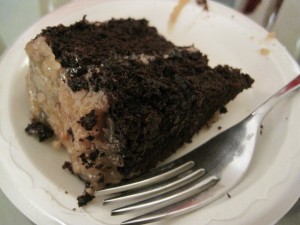 I spent the rest of the evening catching up on my to-do list and around 8pm, my stomach reminded me that it was time to re-fuel again. I sliced up a banana and added it to a cup of Fage 0% yogurt, a cup of Kashi Go Lean cereal, 2 Tbs peanut butter, and a few spoonfuls of lingonberry jam.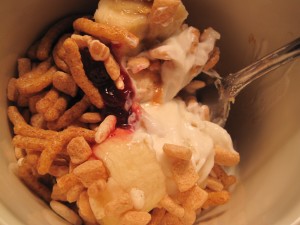 And since my throat was still hurting, I needed to medicate with a little Ben and Jerry's phish food ice cream🙂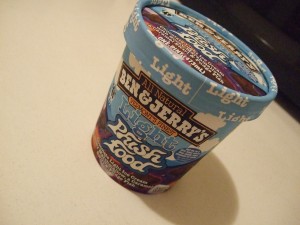 From the NY Times:  Yummy alternatives to beef burgers
Questions: Have you ever participated in a triathlon? Any advice for a newbie?
What's your favorite dish to bring to pot-lucks? I need ideas for next month's cooking club!