The day did not get off to a very auspicious start. The pear clafoutis I baked last night needed to be thrown out (more on that later…), my stomach was not feeling awesome, and Alma and I were running late for the 8am start time of the Manhattan half-marathon. Ugh. Despite my cranky mood, I managed to put together a decent pre-run breakfast: coffee, coconut water (electrolytes!), a banana, and peanut butter.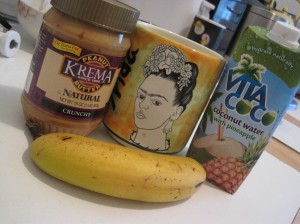 After waiting in veryyy long port-a-potty lines, Alma and I made our way to the starting line. Since I've been having some back pain, I decided to run today's 13.1 miles as a "marathon-pace long run" rather than an all out race. The first mile started off nice and easy ~9:05 per mile pace and then we picked it up until we were running between 8:10-8:20 pace. Around mile 10, I realized we could probably finish under 1:50 if we pushed a bit, so we dropped our pace to 7:55, 7:45, and 7:35 for the last 3 miles. Alma and I finished the 13.1 in 1:48:37 (~8:17 pace). Today's effort definitely wasn't "easy", but the pace allowed for conversation and I never felt too out of breath. My long-term goal is to PR (i.e. run under 3:38:41) in the NYC marathon in November, so it was nice to know that without much training I could run 1/2 that distance at goal pace! Here's hoping the next 10 months are injury free…
After factoring warm-up and cool-down, today's mileage was 15. Longest long run since November! And 12 hours later, I'm feelin' pretty good 🙂
Loved the shirts for today's race – a nice change from the usual white cotton: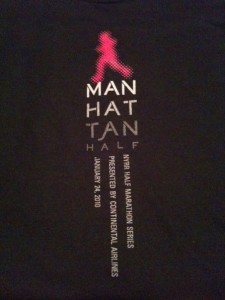 After our cool down (and chugging some gatorade), my fingers were freezing and I was in need of something hot. A latte from Starbucks never tasted so good!
Once I got home, I popped a french toast bagel in the toaster and enjoyed it with a little bit of butter. Real butter is definitely the way to go, margarine sketches me out.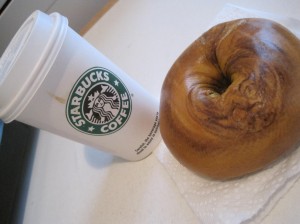 After showering and some other things on my to-do list, I snacked on a luna protein bar. The peanut butter chocolate flavor was alright, but not nearly as good as the cookie dough flavor that I tried after my indoor triathlon.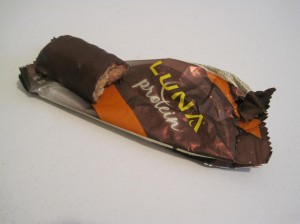 By mid-afternoon it was time to head to a potluck with some other NYC bloggers. Chelsea was such a gracious host and the spread of food was just what I needed post-run.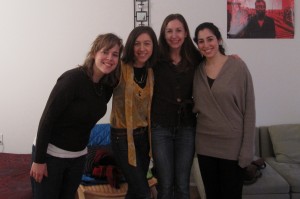 I started off with some delicious kombucha: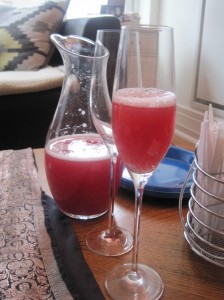 And then I snapped photos of all the delicious dishes before digging in! Leslie made a fennel and butternut squash dish.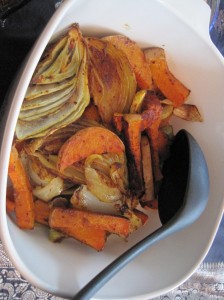 Jamie brought a yummy Mediterranean-themed cous cous dish. Hummus was the perfect addition!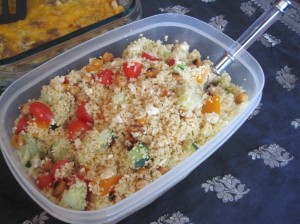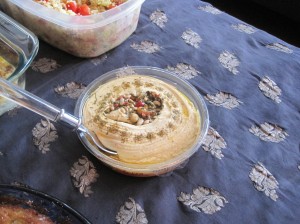 And Chelsea brought out a lovely egg white, turkey sausage, and cheddar cheese casserole from the Cooking Light website.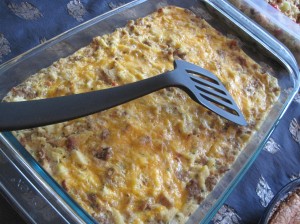 I filled up my plate and devoured every bite. REFUEL.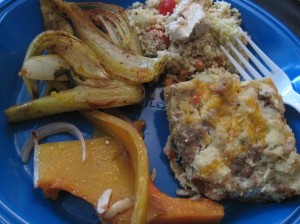 And then a slice of pear clafouti (luckily it turned out much better the second time around).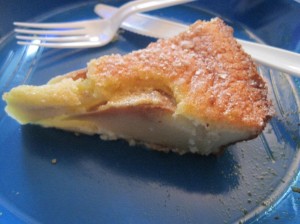 And finally a peanut butter cookie made with stevia and PB&Co's Bee's Knees peanut butter.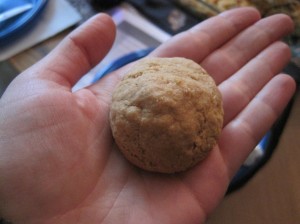 With lots of good food and conversation, the afternoon flew by – thanks for organizing Chelsea!
I spent the rest of the evening catching up on life and around 8pm I got hungry for meal #4. I did a lot of cooking and baking this weekend, so I wanted something simple. I combined chopped pear with greek yogurt, peanut butter, raspberry jam, life cereal, and some homemade olive oil granola (stay tuned for the recipe!).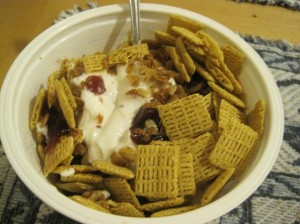 Matt and I were busy this weekend – we compiled a list of the 10 races to run before you die. Check it out and let us know if you agree/disagree!
Question: What's your favorite addition to yogurt? Obviously, mine is peanut butter!