Long weekends are the best – especially ones that you spend with your best friends eating delicious food! I traveled to Boston this past weekend for a friend's birthday party and it was full of yummy recipes, friends, running, and CAKE.
Upon arriving in beantown, we immediately set out to find some lunch. Someone recommended a little Italian shop in Davis Square called Dave's Fresh Pasta and it was really cool. The store was stocked with all sorts of unique foodie products – like jars of pickled veggies!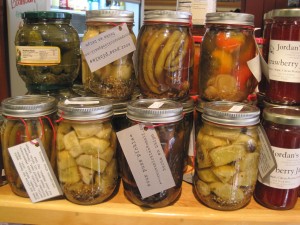 The muffaletta sandwich looked very interesting…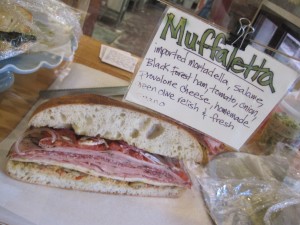 My sandwich of choice was homemade whole wheat bread with roasted eggplant, spinach, red pepper, and fresh Vermont goat cheese. I ate it all, yum.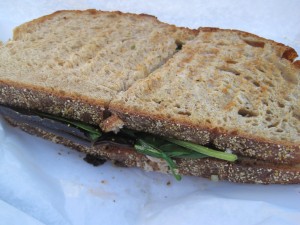 And an amaretti cookie for dessert. This was fine, but I've decided that I do NOT like almond-flavored baked goods (amaretti cookies, marzipan, etc).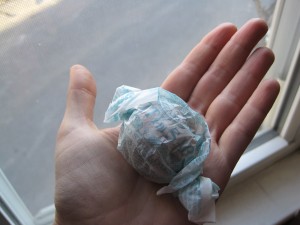 After an afternoon of party prep and a glorious 7 mile run with Hannah (finished in 57:30 with negative splits, woo-hoo!), the party began! There was a lot of good beer, wine, and food. And the company wasn't so bad either….
Agnes made garlic hummus and homemade tortilla chips.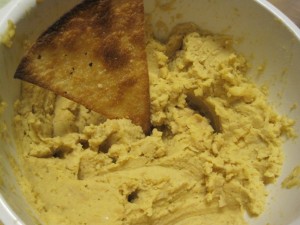 Anj outdid herself with a beautiful apple custard tarte. You MUST try this recipe – I didn't think I liked custard pies, but this was one of the best baked goods I've ever eaten!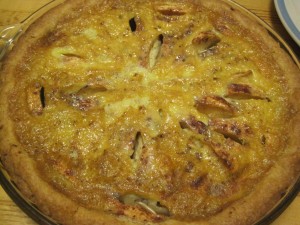 A box of Italian cookies was brought by friends – my favorite was the chocolate filled coconut macaroon!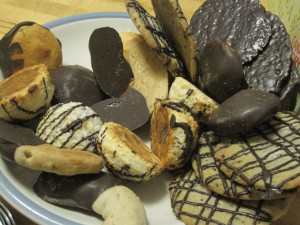 Anj used a Paula Deen recipe to make brie en croute with walnuts and raspberry jam – it was the perfect combo of savory and sweet!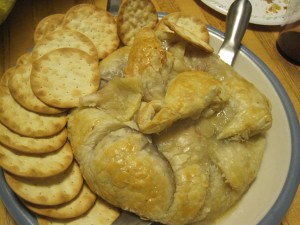 And the crowning achievement of the evening – Better than Sex Cake! Yes, that is the real name. Shout out to Holly for the inspiration! Warning: this cake is about as sugary and unhealthy as they come – but that's what 25th birthdays are for.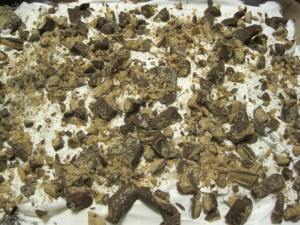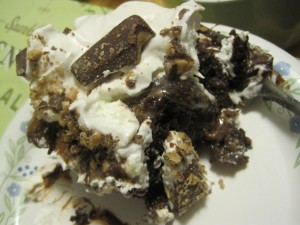 Better than Sex Cake
Ingredients:
1 box of Devil's Food cake mix (plus the oil, eggs, water, etc. specified in box baking instructions)
1 jar of caramel ice cream sauce
1 jar of hot fudge topping
14 oz. can sweetened condensed milk
1 tub of cool-whip
1/2 bag of mini heath bars, crushed
Directions:
Bake cake according to package instructions, while still warm use a chopstick to poke holes in the cake
Pour condensed milk and caramel sauce over the cake
Heat up the hot fudge in the microwave until liquid and than pour over the cake
Put cake in the fridge overnight (or for a few hours)
Once cool, frost the cake with cool whip and decorate with crushed heath bars
Eat cake, repeat, give yourself diabetes (heh, just kidding)
At some point during the night, I started eating the caramel and hot fudge sauce out of the cake pan by the spoonful. Yumm. It's a good thing I ran 7 miles that day!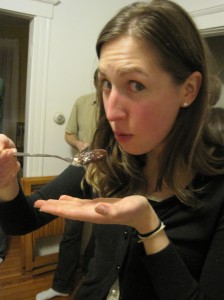 Running buddies 🙂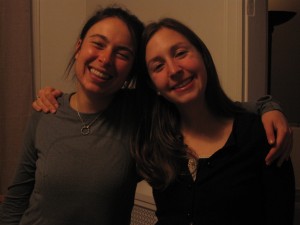 Hooray for friends! And cake! And funny (bad) photos!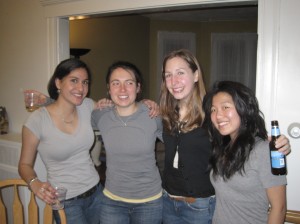 Question: What is your favorite type of cake? Although this weekend's recipe was amazingly decadent, I'm loyal to yellow cake with vanilla butter cream frosting!