Brrr. Is January always this cold? Last night I was very glad to be snug in my apartment as I heard the wind howl outside. After an awesome 8+ hours of sleep, I woke up refreshed this a.m. and ready for some coffee and a banana.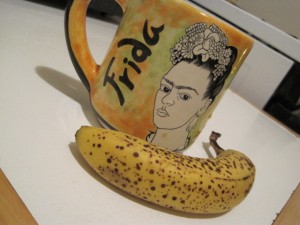 And then I was off to the gym! I ran an easy 4 miles while listening to my newest obsession ("She Wolf" by Shakira) and then finished up with 20 minutes on the elliptical and the latest issue of In Touch magazine. I love pop culture, don't judge. After a quick stretch and a shower, I headed down to the East Village for a vegetarian feast with friends!
Remember the last time I went to Quantum Leap? The veggie burgers are delish and the brunch is pretty good too! I ordered the Vegan's Choice – whole wheat toast, scrambled tofu, hash browns, and steamed veggies. With the exception of a slice of toast and a few broccoli spears, I ate it ALL. My tum was happy 🙂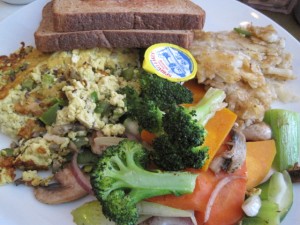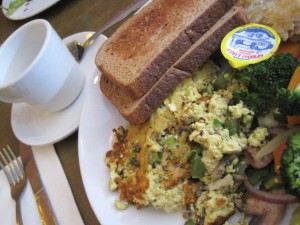 The food was good, but the service kind of sucked. The waitress never brought us water and the ticket for my order got "lost" so my meal ended up coming out a good 10-15 minutes after everyone else's. Come on Quantum Leap, get it together!
After a filling brunch, I was prepared for an afternoon of bowling. I am not the biggest fan of activities requiring coordination (that's why I run…), but my bowling adventure ended up being pretty fun. I even got a strike or two!
After a knocking down some pins, my friend and I were ready for a snack. City Bakery came to the rescue with some of their delicious cookies. I ordered the double chocolate cookie and it didn't disappoint. The middle was chewy and the outsides were crispy. The flavor reminded me of a brownie – chocolate-y but not too intense. The NY Times featured City Bakery when they ran an article on the BEST chocolate chip cookies a few years ago. Check it out and be prepared to salivate!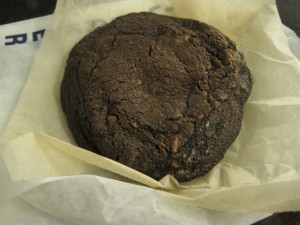 My afternoon flew by and after a few errands I made it home. What to make for dinner?? After my giant cookie, I was craving some veggies. How about some kale?
While prepping the kale (washing, tearing it into bite-size pieces, drying, etc.) I snacked on some triscuits.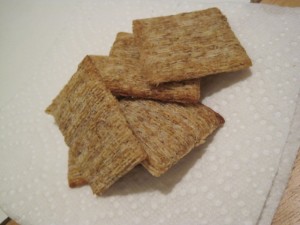 Once my bite-sized pieces of kale were washed and dried, I sprinkled them with a tsp or so of olive oil and some sea salt. I spread this on a sheet pan and baked at 375 degrees until my ghetto oven set off the fire alarm for about 10-12 minutes. The texture of the kale chips was incredibly crispy, but the taste was a tad bitter. However, ketchup made them taste pretty awesome. I love ketchup. And kale. But mostly ketchup.
Alongside my pile of green, I heated up a Morningstar farms veggie burger and topped it with Bubbie's sauerkraut and swiss cheese.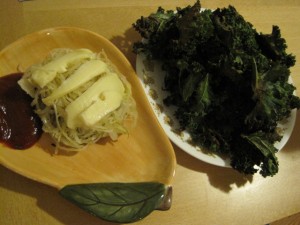 My afternoon errands worked up quite an appetite and I was still pretty hungry, so I whipped up another "healthy-ish" dessert: vanilla greek yogurt with a big spoonful of nutzo mixed in, dollop of raspberry jam, and a sprinkle of Kashi Go Lean. Yay, protein.
My eyes are starting to get pretty heavy, so I'm ending my night with a cup of sugar cookie sleigh ride tea and a mint chocolate truffle (thanks Alma!).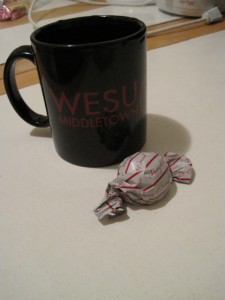 Question: Are you a fan of ketchup? Sometimes I think I like ketchup more than the things I'm eating alongside it.
In the News
How much exercise do you really need?
The weather has been cold, cloudy, and snowy lately and you probably aren't getting enough Vitamin D. Is it affecting your running?
If you're going to eat packaged foods, you might as well choose from the 125 best food options for women. I like that cookies have their own category 🙂