Megan says: I'm traveling this weekend, so Jesse has a special guest post for you. Enjoy!
Infused oils are an excellent way to add fun flavor into whatever you're cooking, unfortunately buying these oils is quite expensive at the store.  So, I decided to make my own garlic oil.  It's really quite easy.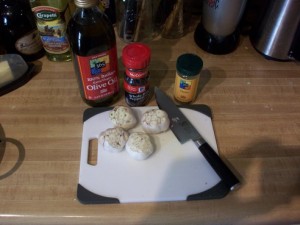 What you'll need:
– 4 (or more) heads of garlic
– About 1 1/2 – 2 cups of Good Olive Oil
– A teaspoon or so black peppercorns
– Pinch of thyme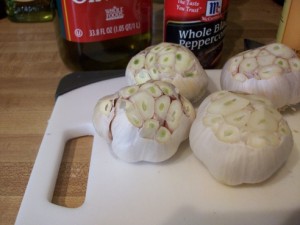 The first step is to cut off the tops of the heads of garlic so that each clove is exposed (make sure the cloves on the side are cut open too).  Don't cut off too much of the head or you'll loose precious roasted garlic!
Place the garlic heads face down in an oven pan with the peppercorns and thyme then pour the oil over the cloves.  Cover the pan and bake at a low temperature.  I tried 275 but I think I'll bump it up to 300 degrees next time.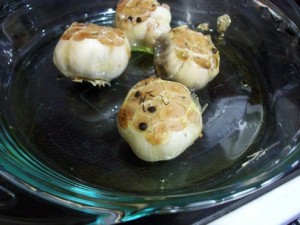 After about an hour the garlic cloves should be nice and soft.  If you'd like to toast the tops of the heads a little more try pulling them out of the oil and baking them face up for a few minutes in a separate pan (turn the heat up to 350 or so).  They might start bubbling a bit and your whole house will smell like wonderful roasted garlic!! Yum!
Allow the oil to cool considerably then strain into a glass jar.  I've seen that infused oil like this will last about a month in the refrigerator.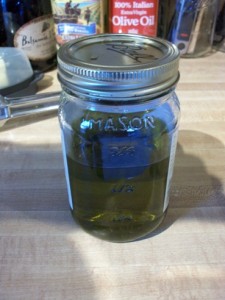 Once the heads of garlic have cooled as well dig out each clove into a storage container. Be sure not to miss any of the small cloves – this stuff is precious!
The flavor is a bit sweeter than fresh garlic but just as delicious.  There are countless uses for roasted garlic.  It's yummy all by itself spread on crackers or bread. I've used it in soups like my roasted squash soup or spread on roasted chicken or beef.   You can also use it for spreads like hummus or pesto.  Use your imagination!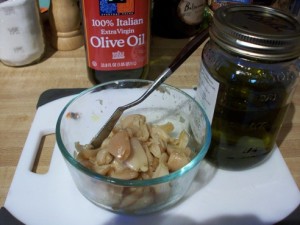 Note: The other way I've had success with is cutting off the tops, drizzling olive oil generously over the heads, placing them upright in an oven pan, and baking them covered for about 30-45 minutes at 350.
What are your favorite uses for roasted garlic?