I was up in the air about my long run this week – when should I do it? Where should I run? The temps on Saturday were pretty chilly – 21 degrees (11 with the wind chill!), but I had a group of running buddies to keep me company, so an outdoor long run didn't seem too daunting.
My pre-run routine included the usual coffee with a splash of milk: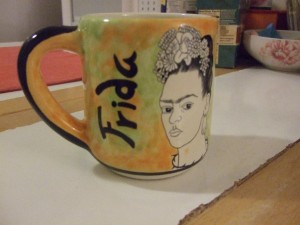 Herbal tea (to warm me up even more!), a sliced apple sprinkled with cinnamon, peanut butter, and a luna bar.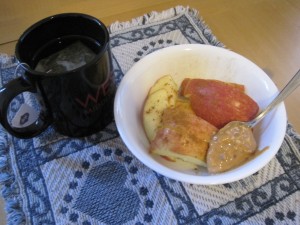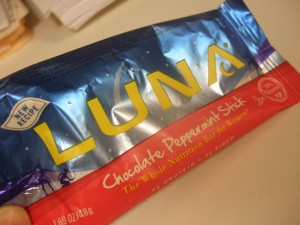 The run itself was pretty uneventful, a little chilly, but at least the sun was shining. I ended up running a relaxed 10 miles in about 1 hour, 28 minutes (~8:48 pace). I wore my Wesleyan cross-country zip-up and someone gave me a shout out at mile 5. Running into (pun intended) friends and acquaintances in Central Park is one of my favorite things – it makes me feel like I'm "at home" in this city of 8 million people 🙂
After a quick change-a-r00 (definitely a made-up word) I headed to Hell's Kitchen to meet Joe for some eats. I selected Route 66 Cafe as our destination and it served a decent brunch. The decor is a little strange (nothing to do with Route 66 or the American West), but the food is always fresh and tasty.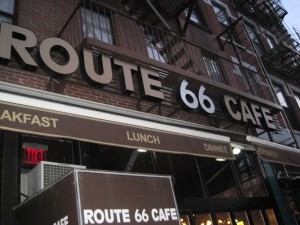 Bonus: Our waiter brought us complimentary apple cake to start! I was hungry after my run, so this was much appreciated. Joe was ready to dig in: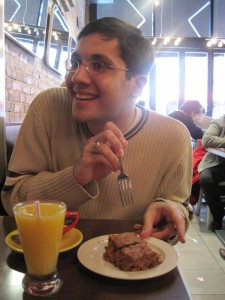 Lately I've been craving meat (iron + protein), so I listened to that desire and ordered the Bison burger. It came with coleslaw, a pickle, and french fries and was exactly what I wanted. This was a pretty hearty platter of food and I was able to finish about 75%. Post-long run meals are the best – everything tastes better when you're hungry!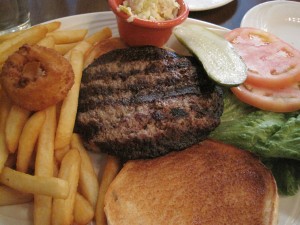 I spent the rest of the afternoon walking around, shopping, and spending too much $$ enjoying a decaf misto from Starbucks.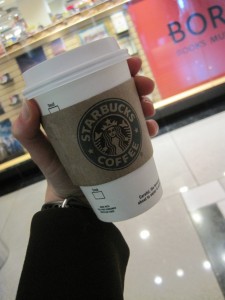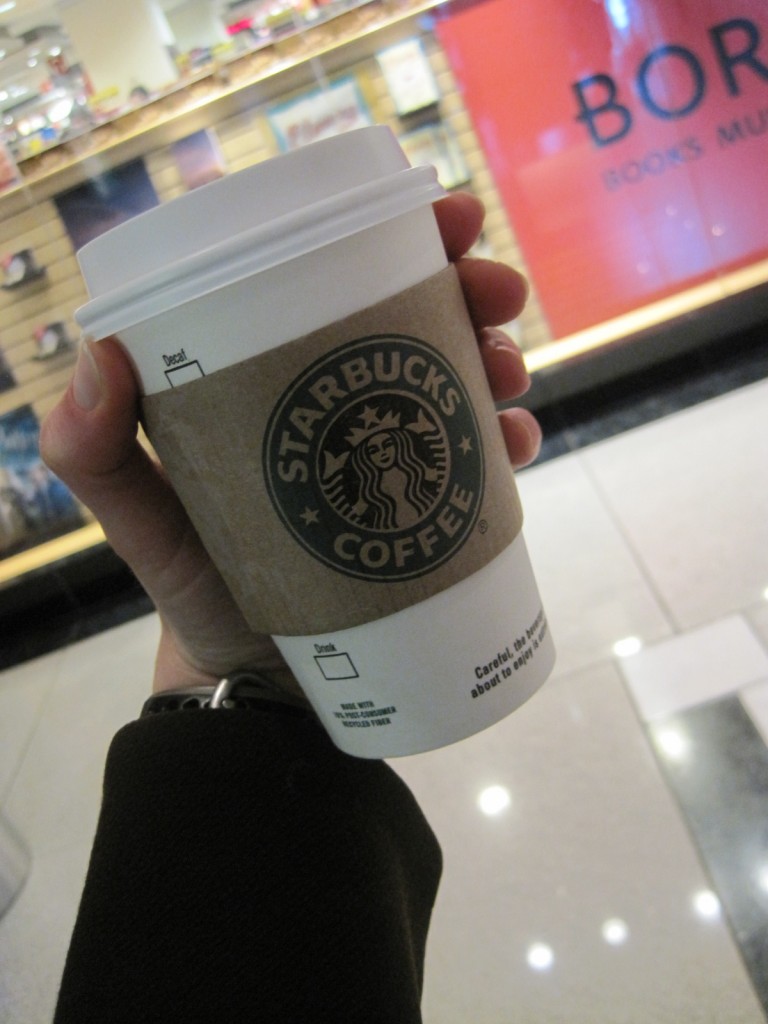 And then a few squares of sea salt dark chocolate when I returned home. This chocolate is my favorite thing of the week!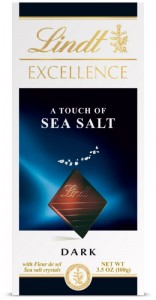 After pretty-a-fying (another made-up word?) ourselves, Alma and I headed out on the town for the annual Central Park Track Club holiday party. It was held at the Harbour Lights Restaurant in South Street Seaport and the views of the Brooklyn Bridge were great!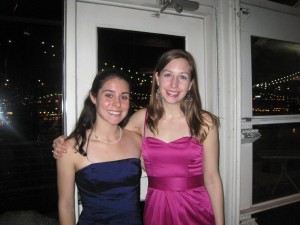 Some nibbles went un-documented throughout the night, but I started off with a glass of white wine and some bruschetta for an appetizer.
Yikes, I'm still getting used to my new camera – I definitely should have changed the settings for the food photography! Sorry about the blur…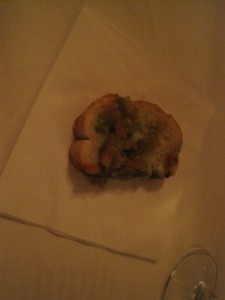 Dinner involved lots of green – salad with dressing, steamed veggies with a sprinkle of parmesan, red bliss potatoes, and a bit of salmon.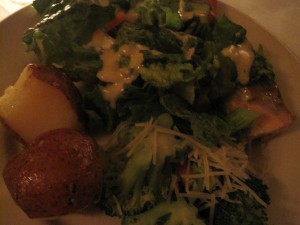 And a little taste of everything for dessert – the mini cheesecake was my favorite. The dessert selection at this year's holiday party was far superior to last year's offerings – thank goodness! Crappy desserts (or worse – none at all!) make me a very unhappy girl.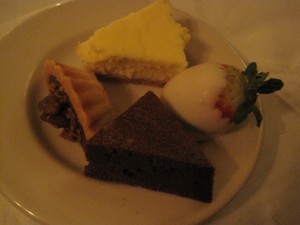 2 glasses of wine + heels + dancing + 1am bedtime was probably not the best pre-triathlon routine (umm…yes, that was scheduled for the very next morning!), but I had a lot of fun with my teammates and the holiday party only comes once a year! I DID survive my first triathlon, so stay tuned for a recap 🙂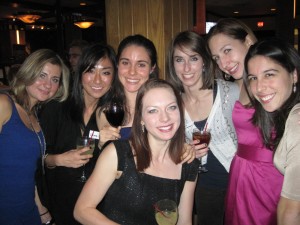 Over at True/Slant Matt and I discussed the effects of sleep on running and race performances – check it out!
Question: What's your winter-time workout routine? Do you stick to the gym? Run outside no matter what? Hibernate 'till April?