At least once a week I receive an email from a reader asking for advice about IT band pain. The iliotibial (IT) band is a group of muscle fibers that runs along the outside of the thigh, from the hip to the knee. The IT band functions as a stabilizer during running and is one of the most common overuse injuries. The pain generally presents itself on the outside of the knee, but hip pain can be a symptom as well.
If you're currently experiencing pain –  I know how frustrating it is! My injury started off in my hamstring and then migrated to my IT band and knees. I truly believe that muscles and ligaments all work together and if one gets out of whack, everything can start to hurt! Luckily, after almost a year of trying nearly everything in the book, I can honestly say that the pain in my right hamstring and IT band is GONE. Woo-hoo! I'm having a little left side back/butt pain at the moment, but that's a whole other story… I guess running isn't running without the occasional ache and pain!
I'm not a doctor or a phsyical therapist, but I do have some tips on re-habbing your IT band.
1) Reduce your mileage and/or take time off from running. Eventhough I only ran once a week throughout the summer, things still weren't getting much better. Finally, in August I got an ear infection (blessing in disguise?) and had to take nearly 2 weeks off of running/exercise. I think the absolute rest really helped! And it's worth noting – if your shoes have more than 400 miles on them, get some new ones! Worn out running shoes definitely aren't going to make things better.
2) If the pain is mild and you still want to run – avoid hills, apply ice (10-15 minutes at a time), and take ibuprofen afterward.Taking anti-inflammatories before exercise can mask pain and cause you to push yourself past safe limits. Plus it can cause stomach upset!
If you're going to ice in the dead of winter – I advise pairing that cold pack with a cup of tea and a cozy bed 🙂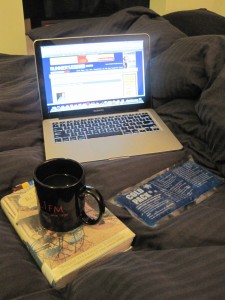 3) Stretch, strengthen, stretch! Runner's World has some great articles on IT band syndrome – check them out here and here.
And now for my own stretching/strengthening demonstrations!
The foam roller: Place the outside of your affected leg face-down on the foam roller and use your body weight to roll back and forth over the tight muscle fiber. Roll back and forth for about 20-30 seconds at a time, rest, and repeat. If you're new to foam rolling – this will probably hurt a bit! The foam acts as a mini massage, loosening up the muscle and un-kinking the knots. Make sure you are pressing hard enough – you want to get deep into the muscle tissue.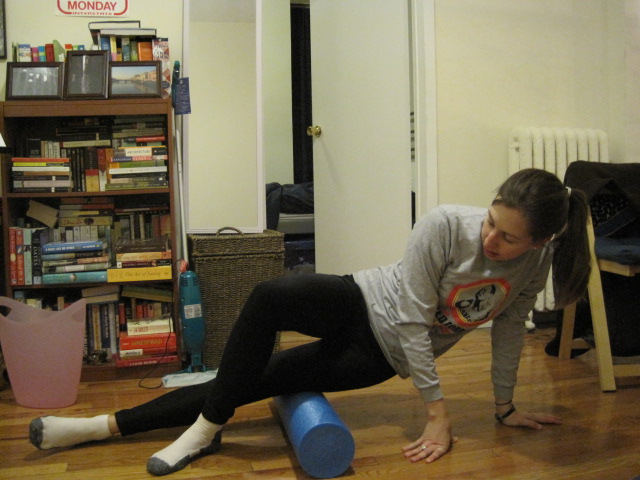 Basic IT band stretch: Stand up straight and cross your "good leg" (i.e. the side that isn't bothering you) over the other leg. Using the wall for support, jut out the hip on your "bad" leg until you feel a stretch running from your hip to your knee. You can remain standing up right or lean over. It takes a little trial and error before you hit that stretching sweet spot.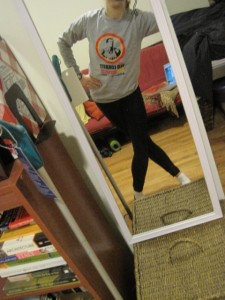 The hip flexor/butt stretch: Eventhough I feel this stretch mostly in my hips, I think it still loosens up the IT band a bit. Bend your knees slightly, pick up your bum leg and place the heel of that leg on the knee of the other leg. Continue to squat down until you feel a stretch through the butt, hip, and knee. You can also do a variation of this while sitting at your desk chair!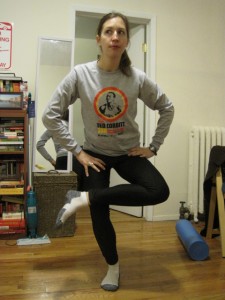 3) Wear an IT band strap and KT Tape to stabilize the IT band and limit friction between the muscles and bones. You can purchase these from most running shops.
4) Even when I wasn't running, I would often have pain and stiffness. Sitting at my desk all day really aggravated my IT band/hamstring/knee. Now I sit on a tennis ball or baseball and massage out the muscles – it seems to help! If you're on the go a lot (travelling, etc) – check out the stick. It's great for giving yourself a mini massage when you don't have access to a foam roller.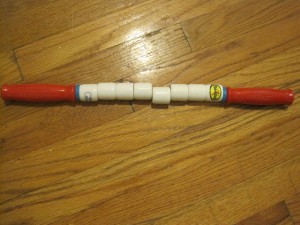 Finally, I know that cross-training doesn't quite compare to running, but high intensity cycling or elliptical workouts can help you stay in good cardiovascular shape while avoiding the pounding that occurs on the roads. And don't forget about yoga! Stretching and strengthening the whole body can do a lot for muscle imbalances.
Been there, done that and still having IT band issues? Find out more about alternative sports medicine treatment.
Good luck and happy running!